Kids join anti-Act protests
Anti-CAA spirit was also witnessed during a bhaona (religious play) on the Khanda Naamghar premises in Dhing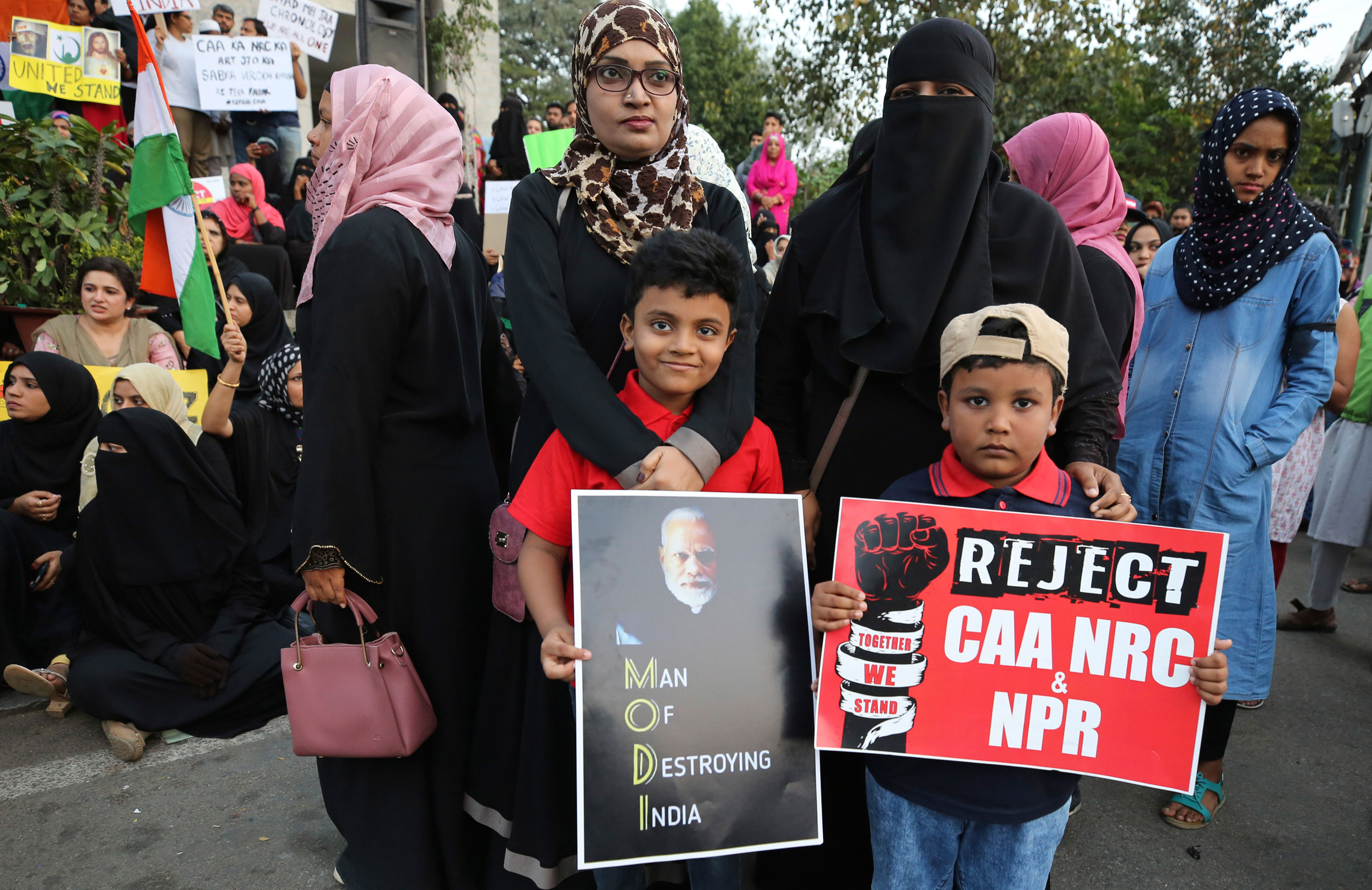 A Cotton University student, who played the role of Kalamba Akhura, wore anti-CAA badges with "CAA aami namanu" (We will not accept CAA) written on them
File picture
---
Doomdooma
|
Published 09.02.20, 07:19 PM
|
---
Voices of children filled the air as they sang Aa aa ulai aa, hojag jonata (Come, come, be aware, Assamese people), a protest song against the Citizenship (Amendment) Act.
During a rally against the Act at Kakopathar playground in Tinsukia district on Saturday evening, children joined hundreds with adults and raised the slogan, Jai Aai Akhom (Long live Assam).
"The Act will be withdrawn. Foreigners who illegally entered the state will have to leave. An economically sound Assam will be constructed through the movement," said a protester.
Power plays
Anti-CAA spirit was also witnessed during a bhaona (religious play) on the Khanda Naamghar premises in Dhing on Saturday evening.
Hirak Jyoti Bora, a Cotton University student, who played the role of Kalamba Akhura, wore anti-CAA badges with "CAA aami namanu" (We will not accept CAA) written on them.
The Khanda Naamghar in Dhing organised the bhaona, Yudhisthirar Rajxui Yagna.
Bhaonas are mythological theatrical performances created by the 15th century saint Srimanta Xankardeb. The plays carry religious messages.
"The Hindutva ideology that the Centre is trying to impose is against the preaching and teachings of Xankardeb whose works have been a unifying factor of people belonging to different castes and creeds. If Assam's social fabric is dismantled by the repressive factors like that of CAA there will be no audience for the bhaonas," said Bora.
The Cotton University students have been protesting Act since it was introduced. The students' fraternity of the Northeast has been playing an active role in the anti-CAA movement.
Additional reporting by Hiranya Barman in Guwahati