Kibithu Military Garrison named after Bipin Rawat
As a Colonel, General commanded his battalion, the 5th battalion of the 11 Gorkha Rifles, in 1999-2000 at easternmost sector along Line of Actual Control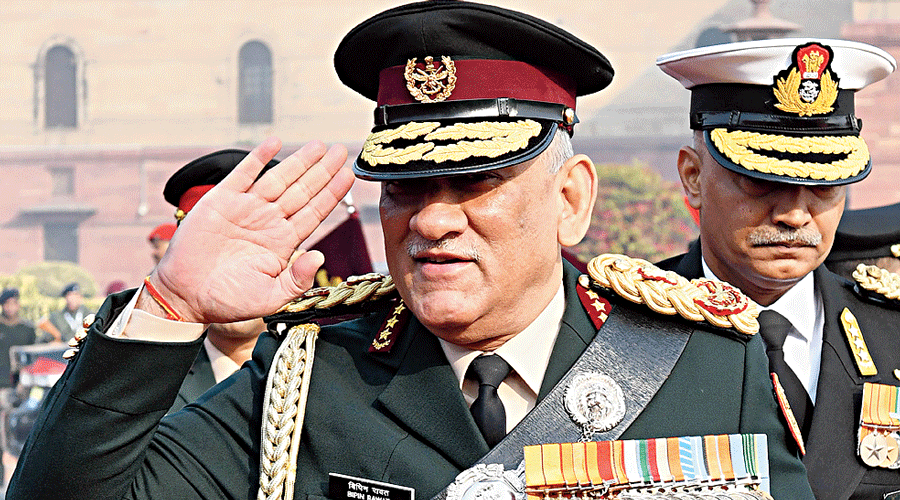 General Bipin Rawat.
File photo
---
Guwahati
|
Published 11.09.22, 12:45 AM
|
---
The Kibithu Military Garrison in Anjaw district of Arunachal Pradesh, located close to the LAC with China, was on Saturday renamed General Bipin Rawat Military Garrison in honour of India's first Chief of Defence Staff, who also had a personal link with the place.
As a Colonel, General Rawat commanded his battalion, the 5th battalion of the 11 Gorkha Rifles, in 1999-2000 at Kibithu, the easternmost sector along the Line of Actual Control. He contributed immensely in strengthening security structure of the area, the army said.
The CDS passed away along with his wife and 12 military personnel in a chopper crash last December.
Along with the renaming of the military camp, the 22km Kibithu-Wallong Road, was also renamed General Bipin Rawat Road. A gate to the garrison built in traditional style was also inaugurated besides the unveiling of a life-size mural of Rawat.
Arunachal Pradesh chief minister Pema Khandu further announced that the state government has earmarked Rs 10 crore for making the General Bipin Rawat Military Garrison "as one of the best garrison in the country as a mark of respect to the extraordinary services of Gen Rawat and contributions of our brave armed forces protecting the borders of our Arunachal Pradesh".
Twelve districts of the frontier state share border with China which claims Arunachal Pradesh to be an extension of south Tibet. There is huge military presence of army personnel in the state.
Khandu also informed that border villages such as Kibithu, Kaho and Wusai will be developed as model villages. Kibithu, a small hamlet in the eastern most part of India, is a strategically located military camp guarding the LAC.
Paying glowing tributes to the late General during the renaming event, Arunachal Pradesh governor Brig. (Dr.) B.D. Mishra hoped the garrison will reflect General Rawat's "revolutionary steps" to raise the capability, credibility, fighting ability and deterrence values of the Indian Army and the strategic integration of the various arms and services of the Indian Armed Forces.
Mishra said General Rawat was a friend of the people of Arunachal Pradesh and that he always took the best steps for supporting all welfare projects in the state. As the first CDS, General Rawat had endorsed waiving off a very large sum of dues of the state with Indian Air Force which was long pending due to bureaucratic red-tapism, the governor said.
The dedication ceremony was witnessed by the residents of Kibithu and Walong, further synergising civil-military relations.
Besides Mishra, Khandu, Lt General Rana Pratap Kalita, General Officer Commanding -in-Chief, Eastern Command and MP Tapir Gao , the event was graced by senior military and civilian dignitaries and the daughters of General Bipin Rawat.