Kevin Pietersen salute for rhino conservation of Assam
Pietersen has been working on his documentary on rhino conservation at Kaziranga National Park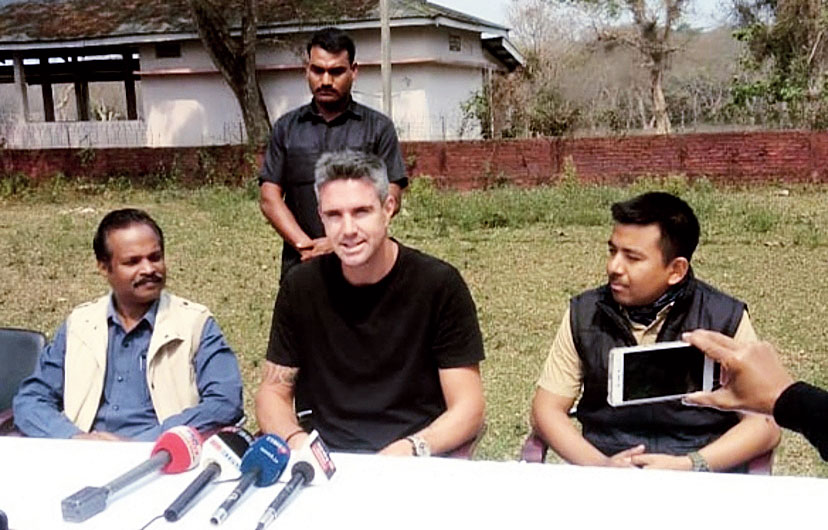 Kevin Pietersen speaks at Kaziranga National Park on Wednesday. Park director P. Sivakumar is to his right
Picture by Sanjoy Hazarika
---
Bokakhat
|
Published 11.03.20, 06:42 PM
|
---
Former England captain Kevin Pietersen on Wednesday claimed Assam was the leader in rhino conservation.
Speaking to reporters at the forest inspection bungalow at Bagori range of Kaziranga National Park, the former cricketer-turned-conservationist of South African descent said there were big problems in wildlife protection in the African nation, where a rhino is killed every eight hours, while in Assam, everybody appeared keen to save the animal.
"The conservation efforts being carried out in Kaziranga are so successful that the effort can be an example for the rest of the world," Pietersen said.
"With a smile, all people here are dedicated to save the rhino, for which it has become the iconic symbol of Assam," he added.
"Everybody in Kaziranga is ready to help and cooperate for conservation of wildlife. Everybody in Kaziranga has understood the value of the rhino. I will come again to Kaziranga to witness its wildlife and interact with the people of the area," he said.
Pietersen has been busy working on his documentary on rhino conservation at the park since March 4.
He later tweeted: "India is going to be so proud of the beauty we show off in their state of Assam. This is one stunning learning experience..."
He said the documentary will come out in July. "Don't worry, you won't miss it! We'll be doing a big promotion. The story deserves it," he tweeted.
Park director P. Sivakumar and assistant conservator of forests Ritupaban Bora were present at the news conference.
Local coordinator for Pietersen's visit to Kaziranga, Manash Das, said the former cricketer had completed shooting the documentary and he would leave on Thursday morning.
Assam's rhino population at present is in the 2,650 to 2,680 range.