Kevin Pietersen praises wildlife efforts, rhino protection
Few key measures that helped minimise poaching were boosting the morale of the frontline staff by raising ration allowance by Rs 2,000 per month and providing them with modern weapons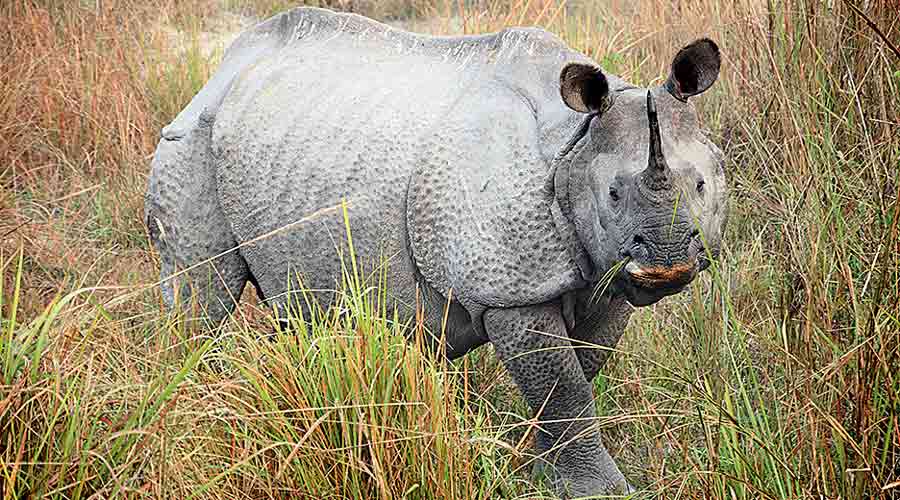 A one-horned rhinoceros in Assam.
File photo.
---
Guwahati
|
Published 20.01.22, 01:19 AM
|
---
Former England cricketer and wildlife conservationist Kevin Pietersen on Wednesday hailed efforts for protecting wildlife in India while responding to a tweet on the sharp decline in rhino poaching in Assam.
"Bravo, @narendramodi and bravo to all the men and women who sacrifice their lives in protecting the animals in India too. I've met lots of them and I respect you immensely!", Pietersen tweeted in response to the death of only one rhino at the hands of poachers in 2021, the lowest in 21 years.
One of the best batsmen of his generation, Pietersen has had a ringside view of Assam's wildlife scenario while shooting for the National Geographic documentary Save This Rhino in 2020. He had visited Kaziranga, home to the one-horned rhinoceros, at that time. The documentary, released in September 2020, had focused on the condition of the rhinos in India and conservation efforts.
Assam chief minister Himanta Biswa Sarma thanked Pietersen for the acknowledgment, adding that the state government has launched an aggressive programme to curb poaching.
Rhino poaching cases have gone down in the past five years. "There were nine cases in 2017, seven in 2018, three in 2019, two in 2020 and one in 2021," principal chief conservator of forest (wildlife) in Assam, Amit Sahai, told The Telegraph. The lone rhino poaching case took place in April 2021 at Kaziranga National Park.
Overall of 190 rhinos have been killed in the state since 2000, the worst years being 2007 (16), 2013 (27), 2014 (27), 2015 (17) when the Congress was in power in the state and then 2016 (18) when the BJP assumed power in the state for the first time. A lot of efforts have gone into checking poaching, including the government's "zero tolerance" towards poaching policy, Sahai said. A total of 644 poachers have been arrested till date of whom 25 have been convicted, he said.
Few key measures that helped minimise poaching were boosting the morale of the frontline staff by raising ration allowance by Rs 2,000 per month, providing them with modern weapons, setting up of the Rhino Task Force covering all rhino bearing areas, setting up of fast track courts in 10 districts to try poaching case.
The move to burn 2,470 rhino horn stockpile by the state government last year to bust the myth that there "is no medicinal or magical properties in this organ of a dead animal" has also played its part in checking rhino poaching.