Id celebrated with bonhomie
Aanjuman-e-Khademul Islam promised full co-operation over the NRC process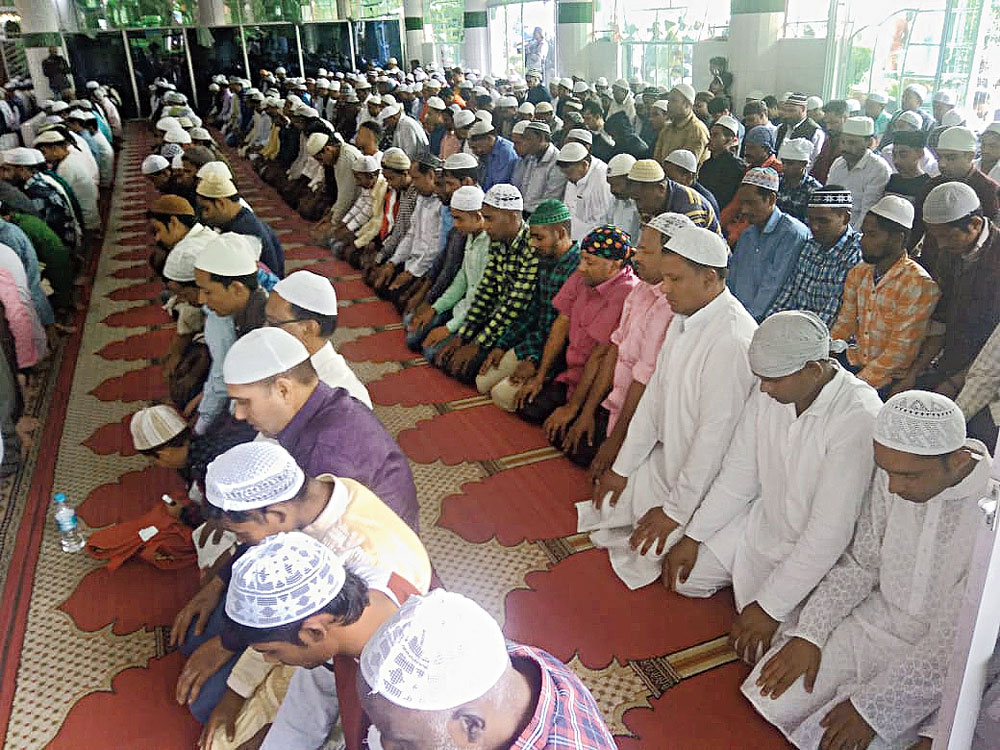 People prayer at Madina mosque in Shillong on Wednesday
Picture by Andrew W. Lyngdoh
---
Goalpara
|
Published 05.06.19, 06:42 PM
|
---
An organisation in Goalpara district, Aanjuman-e-Khademul Islam, on Wednesday promised full co-operation to the administration in the ongoing National Register of Citizens (NRC) verification process.
"We extend our full co-operation to the administration in the ongoing NRC upgrade process. Genuine Indian citizens have nothing to fear in the process," the organisation's president, Ismail Hussain, said in his address to nearly 10,000 devotees gathered for Id namaz in Goalpara town Idgah field.
"For those who have been declared foreigners, the government will take appropriate measures," he added.
The executive president of Goria-Moria-Deshi Jatiya Parishad, Saif-ul-Islam, said, "We have observed in recent NRC cases that even genuine Indian citizens are harassed by a section of people."
Aanjuman-e-Khademul Islam represents more than 20 groups of the district and looks after Wakf properties.
Id was celebrated on Wednesday with namaz at Haflong Masjid where large number of devotees prayed for peace and harmony.
In Guwahati, clear weather allowed people to perform namaz in idgahs on Id, unlike in many places in Upper Assam where it rained, forcing people to perform the special Id namaz in mosques.
Hundreds flocked to idgahs in Machkhowa, Islampur and Hatigaon along with mosques in Lakhtokia, Kamarpatty, Panbazar, Ambari and other areas.
People exchanged Id greetings and feasts were held in every Muslim household. Children, dressed up in new clothes, went from house to house for their idi and sweets.
The mosques were decked up for the occasion. Areas like Lakhtokia and Machkhowa have been decorated with lights for the whole month of Ramadan.
In Shillong, people greeted each other on the occasion. Muslims across Meghalaya celebrated Id, which marks the end of the holy fasting month of Ramazan.
People prayed at Madina Masjid, the Northeast's only glass mosque, at Umshyrpi in Laban, Shillong.
Greetings the people on Id, chief minister Conrad K. Sangma said, "Let the celebration remind us of a sense of responsibility to bring people together in harmony and may it bring abundant joy and prosperity amidst peace, love and hope."
Additional reporting by Suroj Barman in Haflong, Ali Fauz Hassan in Guwahati and Andrew W. Lyngdoh in Shillong