Human chain for Akhil's release
Akhil is in jail in a case being investigated by the NIA for having alleged nexus with Maoist rebels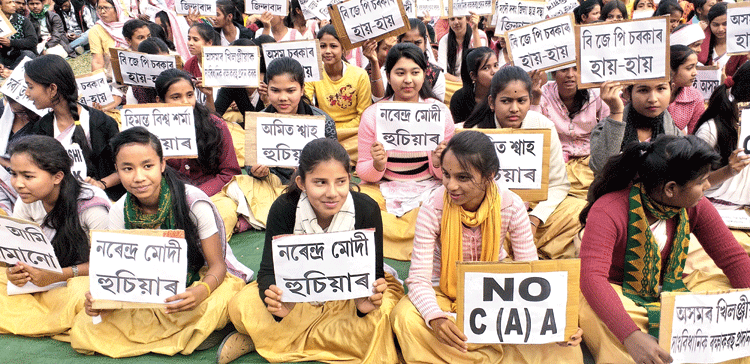 ---
|
Guwahati
|
Published 20.01.20, 07:07 PM
---
Thousands formed a human chain in the shape of the map of Assam in Jorhat district on Monday, demanding immediate release of Krishak Mukti Sangram Samiti (KMSS) leader Akhil Gogoi.
Akhil, who has been spearheading Citizenship Amendment Act (CAA) protests across the state, is in jail in a case being investigated by the National Investigation Agency (NIA) for having alleged nexus with Maoist rebels.
Last month, teams of NIA officials reached Gogoi's residence at Nizarapar locality and the Gandhi Basti office of the KMSS.
They took away several files, some containing details of issues he was working on, an old laptop, his hand-written diary of the time spent in jail earlier and other materials.
Akhil's mother Priyada Gogoi also participated in Monday's protest held at Baisahabi playground in Selenghat, a few kilometres from her house. Last month, she had gone on a hunger strike to demand the release of her son, who she believes has been "framed".
Participating in the rally, popular singer Manas Robin asked the people to keep patience as the anti-CAA movement will continue till it is repealed. "Today, Akhil Gogoi may be behind bars but he wants every Assamese to fight for the rights of the people of the state. So we have to continue this fight on his behalf," he said.
Meanwhile, BJP ministers and leaders continued to face black-flag protests.
In Goalpara district, Assam agricultural and animal husbandry minister and AGP president Atul Bora was shown black flags by AASU members at Bhalukdubi, the entrance to Goalpara town. Hundreds of protesters blocked the main road and raised slogans.
Faced with the protests, Bora's convoy had to stop on the road for a moment. However, acting promptly, police personnel engaged on duty cleared the road immediately. Later, referring to Mahatma Gandhi's three wise monkeys, Bora told reporters, "I don't see evil, I don't speak evil and I don't hear evil".
In Tinsukia district, Lakhimpur MP Pradan Barua and Sadiya MLA Balin Chetia were shown black flags at Dhola, near Bhupen Hazarika Setu on National Highway 37, by AASU members and locals while coming from Sadiya to take part in a BJP workers' meeting. The protesters sat in the middle of the road, shouting slogans against CAA and the BJP. The activists cordoned off the leaders at two places — on the bridge and at Horu Dolong.
The protest was supported by the Asom Jatiyatabadi Yuba Chatra Parishad, All Moran Students' Union, All Assam Chutia Students' Union and other organisations.
The protest was led by AASU's Tinsukia unit vice-president Sagar Sonowal and assistant general secretary Puheswar Sonowal, who were arrested along with 13 others by Dhola police.
Dhola police station officer-in-charge Bisadu Singpho told The Telegraph, "We detained 15 people, including Sagar, this afternoon. They were released in the evening."
Sagar said, "Instead of opposing CAA, BJP legislators and parliamentarians are supporting the Act which is anti-Assam and unconstitutional."
Additional reporting by Manoj Kumar Ojha in Doomdooma, Sofikul Ahmed in Goalpara and Devajit Baruah in Jorhat