Mill staff to rally during Modi visit
Modi's Lok Sabha poll campaign in the Northeast to witness agitation for inaction towards revival of Cachar Paper Mill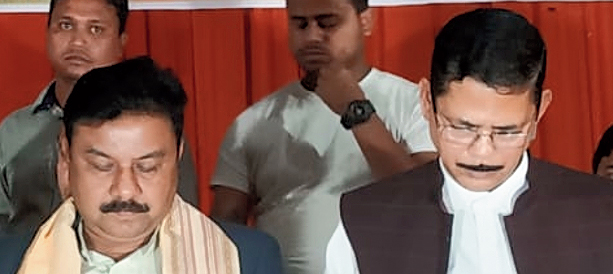 ---
---
The HPC Paper Mills Revival Action Committee has decided to organise a protest rally ahead of Prime Minister Narendra Modi's visit to Barak Valley on January 4.
The committee has informed Cachar deputy commissioner S. Lakshmanan that "they will go on agitation because of the negligent attitude of the government" towards revival of Cachar Paper Mill.
Modi will kick-off the BJP's Lok Sabha poll campaign in the Northeast from Silchar.
A convener of the committee, Azizur Rahman Mazumdar, said Modi had announced before a huge gathering at Kalinagar in Hailakandi district on March 27, 2016, that the Cachar Paper Mill would be revived if the BJP was voted to power in the state. "But this has not materialised and 49 employees of Cachar and Nagaon paper mills have died due to starvation and without treatment. The employees of both the mills have not been paid any salary for the last two years," he said.
Mazumdar demanded Rs 20 lakh for the families of the deceased employees. He said non-payment of salary to the employees was "unexpected" in a welfare state like India. He questioned why Modi was again coming "to assure the people in Barak Valley".
Mazumdar said, "Despite our relentless agitation, the government is not respecting the sentiments of the people who handed them power to rule the country. Hence, we will organise a rally on January 4, demanding the release of pending salary and revival of the mill."
State BJP president Ranjeet Kumar Dass visited Karimganj on Thursday and will visit Hailakandi on Friday to oversee the preparations. He had discussed with party leaders in Silchar on Wednesday about ensuring a good crowd at the rally. All mondal committee presidents have been instructed accordingly, said a BJP leader in Silchar.
The rally will be held in a field at Ramnagar near the inter-state bus terminus, 7km from Silchar. Assam chief minister Sarbananda Sonowal and some central and state ministers are scheduled to accompany Modi. Senior police officers on Thursday reviewed the security at the venue.
Sources said the Prime Minister has been briefed by Sonowal on the problems created by exclusion of over four lakh applicants from the final draft NRC and the Citizenship (Amendment) Bill, 2016, among others. It is expected that Modi will speak about these issues.