Hopes up for Assam pugilists
Lovlina Borgohain, one of the best boxers of the country, said boxers from Assam are not mentally weak anymore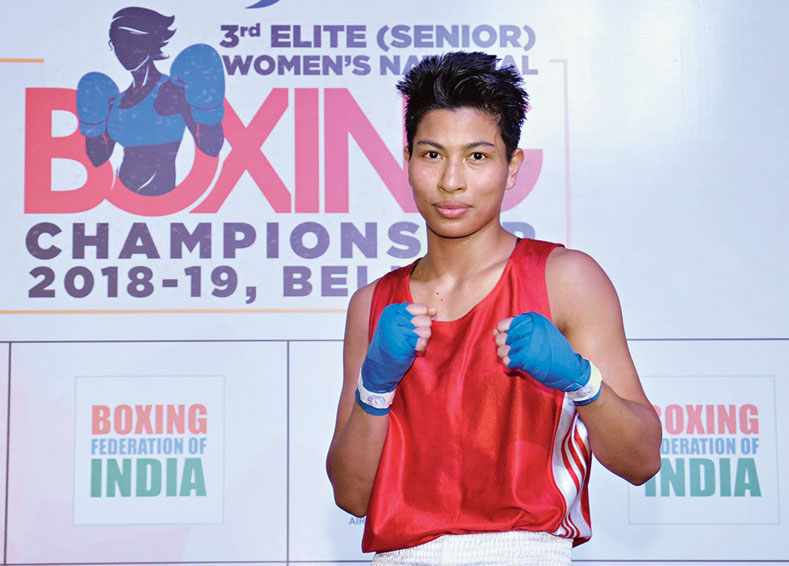 Lovlina Borgohain
Telegraph picture
---
Guwahati
|
Published 16.01.20, 07:47 PM
|
---
One of the best boxers of the country, Lovlina Borgohain, who hails from Assam, is hopeful regarding the junior pugilists of her state who are participating in the 3rd edition of Khelo India Youth Games (KIYG) here.
Lovlina who is preparing for the Olympic qualifiers in China next month, said boxers from Assam are not mentally weak anymore.
"We have a great team. I am sure they are going to win a good number of medals in the Khelo Games. We have Ankushita Boro (64kg under-21) who is capable of winning a gold. The others are also good. Among the boys, we have Irfan Khan (49kg under-21) who is really good. Then we have Bulen (Buragohain) who has also competed at the international level. I am
pretty hopeful of the team," Lovlina told The Telegraph from New Delhi on Thursday.
The Assam Amateur Boxing Association (AABA) has announced a strong team of 35 boxers in four categories. Lovlina felt that with the exposure, the players have learnt to be mentally tough.
"Now things have changed with more exposure and with the usage of social media. They are now exposed to the outer world. They are also smarter now. Nothing to fear. Plus it's also happening in Assam. They will get the support of the crowd," Lovlina, who won medals at the consecutive World Boxing Championships in 2019 and 2018, added.
On Assam chief coach Amar Deka, she said the youngsters are lucky to have him as a guide.
"Amar (sir) Deka is one of the best coaches. He has found and groomed several talented boxers, including Shiva Thapa. I am sure under his guidance, these young boxers will excel. These players are lucky to have an experienced coach like him," Lovlina added.
Deka also expressed hope that Assamese boxers will win many medals in the third edition of the competition.
"We are very confident that this time Assam will produce good results in boxing. Last time, we won three medals in the competition. This time, we have 35 boxers participating in the tournament, so we are hoping for a lot of medals. Let's see what happens," said Deka.
Apart from the pressure of showcasing one's talent, the Assamese boxers will have to deal with the pressure of being the host state as well.
"As we are the host team, there is a lot of pressure on all the Assam boxers to perform well in the Khelo India Youth Games. Everyone has been coming and telling us that since we are the hosts, our medals tally will increase," said Deka.