Groups seek anti-Citizenship Bill aid
The groups said 1.7 crore Hindus living in Bangladesh will enter the state very easily if the bill became a law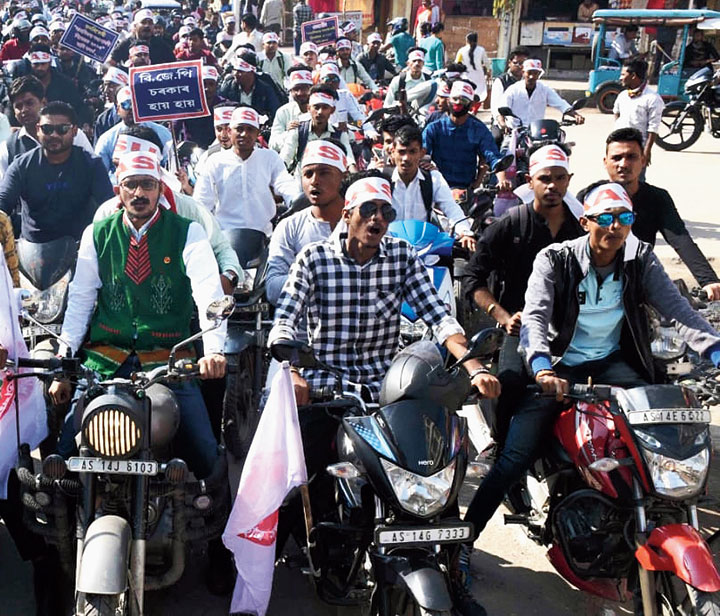 ---
|
Duliajan
|
Published 03.12.19, 09:09 PM
---
Several student groups are distributing leaflets and posters among the people in this Upper Assam town and its neighbouring areas seeking help organise a mass convention and protest march against the Citizenship (Amendment) Bill at the old bus stand here on Friday.
The leaflets said the Narendra Modi-led BJP government at the Centre has been trying to table the bill in the winter session of Parliament by violating the Constitution and recognise non-Muslim migrants, who entered India before December 31, 2014, to escape religious persecution. They also said 855 martyrs sacrificed their lives during the Assam Agitation for deportation of illegal migrants, irrespective of any religion, who entered the state after March 24, 1971. But the BJP government plans to violate the Assam Accord and table CAB, they said. The leaflets also said if this bill becomes a law, then nearly 20 lakh illegal migrants settled in the state will get Indian citizenship.
The groups said 1.7 crore Hindus living in Bangladesh will enter the state very easily if the bill became a law, according to the foreigner-related notice of September 7, 2015. The Assamese people will lose their identity, existence, self–respect, culture, linguistics and demography and they will be reduced to a minority in their own land, if the controversial bill was passed in Parliament.
They also alleged that the political scenario would be changed and "foreigners" would capture a majority of seats in panchayats, municipalities and Assembly, leading to loss of jobs, business and sale of land by Assamese people, adversely affecting the economy.
The organisations appealed to the people, including students, intellectuals, writers, players, artists, traders, farmers and women to take part in the mass convention and protest on Friday and urged them to unite for protection of Asomiya jaati.
The mass convention would be held under the aegis of the Dibrugarh unit of Asam Sahitya Sabha, Asom Jatiyatabadi Yuba Chatra Parishad, Krishak Mukti Sangram Samiti, All Tai Ahom Students' Union, Sadou Asom Muttock Yuba Chatra Sanmilan, All Assam Minority Students' Union, Tai Ahom Yuba Parishad, All Adivasi Students' Association of Assam, Koch Rajbongshi Yuba Chatra Sanmilan, Brihottar Asomiya Mahila Manch and Anusuchit Jati Yuba Santha, among others.