Golaghat farmers script green success story
Youth and elders unite to cultivate paddy in Assam village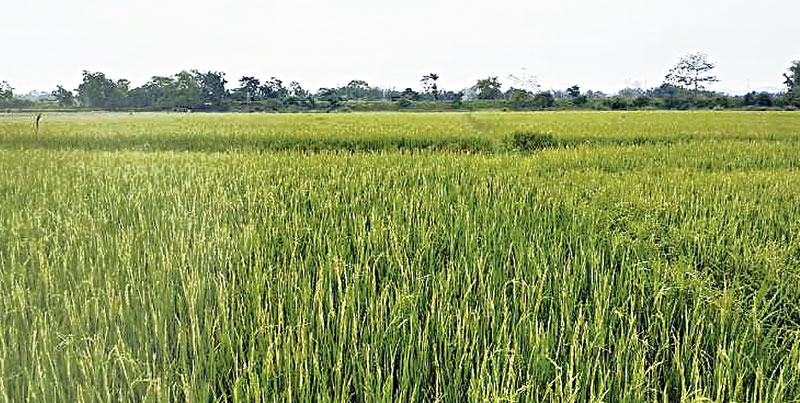 The paddy field at Number 2 Parangania.
Picture by Sanjoy Hazarika
---
Bokakhat
|
Published 18.05.20, 07:36 PM
|
---
Amid the lockdown blues, comes the heartening news of a green revolution.

In the flood-prone Number 2 Parangania in Upper Assam's Golaghat district, boro paddy cultivation by several educated youths, an octogenarian and a septuagenarian has brought smiles to the farmers of the village.
The village is located 4km off National Highway near Rajabari in Bokakhat and is at present revelling in the greenery of lush paddy cultivation.
Talking to this correspondent, farmer Dulal Bora said they were happy to see the paddy growing.
He, along with the others, cultivated a 37-bigha plot of land and is expecting a good harvest within a month.
They cultivated the hybrid species IR 6444 supplied by Bokakhat agriculture sub-divisional office free of cost, along with a new variety, Disang, procured
from Titabar Rice Research Station, at a cost of Rs 40 per kg.
The paddy production is expected to be around 6-7 quintals per bigha with a net profit of about Rs 10,000.
Disang is a friendlier variety as far as time is concerned. The IR 6444 takes longer to harvest, which might be a problem because of the floods.
However, Bora alleged that the Bokakhat agriculture sub-division office did not help them with a diesel pump or the fuel when they approached the authorities concerned.
Retired teacher and progressive farmer, Bubul Dutta, said the youths and elderly were delighted to participate in the cultivation.
"This will certainly change the attitude of the young from idle to active," he said.
Octogenarian Bhalou Hazarika and septuagenarian Lilai Hazarika also expressed their satisfaction over the activity.
Krishna Hazarika, Ratul Bora, Arun Hazarika, Montu Bora. Babu Bora, Paresh Hazarika, Promod Hazarika, Sunil Gogoi, Bhupen Bora are cultivating the paddy, among others.
The agriculture officer, Ranjit Sarma, said the pumps and fuel were with the district agricultural engineering office at Golaghat and they were only the forwarding authority.
"I will communicate with the authorities to supply these from Bokakhat, which will be convenient for the farmers here," he said.