From 12 hours to 5-1/2: How Bogibeel brings Arunachal closer
NFR has started 2 Inter-city trains between Naharlagun in Arunachal and Tinsukia in Assam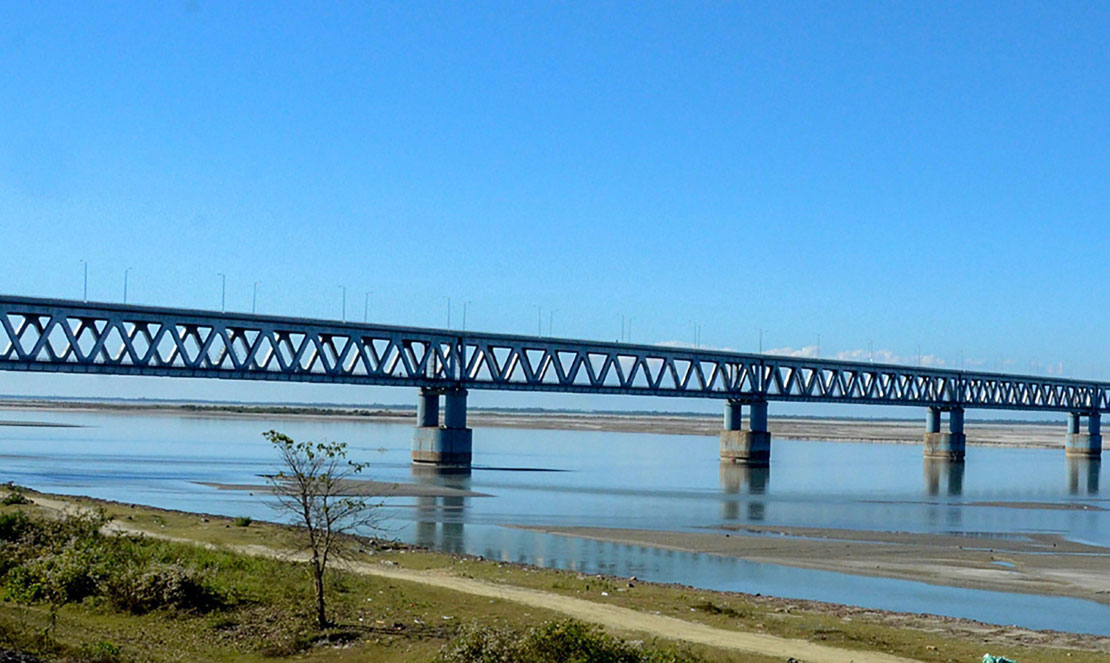 A view of India's longest rail-road bridge 'Bogibeel Bridge' in Dibrugarh on Monday, December 24, 2018
(PTI)
---
Dhemaji
|
Published 26.12.18, 06:57 PM
|
---
Yamto Bui, 58, reached Tinsukia in Assam from Naharlagun in Arunachal Pradesh in five-and-a-half hours, instead of the 12-hour journey earlier, thanks to the newly inaugurated Bogibeel bridge.
"Travelling was a nightmare. The boat journey, which was the only option, used to take one to two days to reach Namsai (Arunachal), where I live," said Bui, a passenger on the Naharlagun-Tinsukia Inter-city Express, here on Wednesday.
"We were spending more than Rs 1,000. But today, I am travelling in an AC train at Rs 360. Now, I will have to spend around Rs 100 to Rs 200 more to reach my destination (Namsai) from Tinsukia in a bus. I have saved both time and money, which is like a dream come true. I am thankful to the government for the initiatives," he said.
The Inter-city, which will run five days a week, left Naharlagun at 5.30am and Tinsukia by 11am, covering 225km, stopping at seven intermediate stations. It arrived at Dhemaji at 8.15am.
Earlier, the people of the southern districts of Arunachal Pradesh had to travel by train for nearly 700km via Guwahati or nearly 500km on road via the Kaliabhomora bridge in Assam's Sonitpur district, to reach Itanagar.
The shortest route was crossing the Brahmaputra.
The Northeast Frontier Railway (NFR) has started two Inter-city Express between Naharlagun and Tinsukia via the Bogibeel bridge.
One train will run weekly, while the other will run five days a week. Train number 15908 will leave Naharlagun at 5.30am every Monday, Tuesday, Wednesday, Friday and Saturday and arrive at Tinsukia at 11am.
On the return trip train number 15907 will leave Tinsukia at 4pm on Monday, Tuesday, Wednesday, Friday and Saturday and arrive at Naharlagun at 9.15pm having stopped at Harmuti, Lakhimpur, Gogamukh, Dhemaji, Dhamalgaon, Dibrugarh and Tinsukia in Upper Assam.
Train journeys between Dibrugarh and Delhi will be cut short by three hours if a train is introduced on the route, as mentioned by Prime Minister Narendra Modi during the inauguration of the Bogibeel bridge on Tuesday.
Similarly, from Dibrugarh to Rangiya, a train travels 605km, which will come down to 467km once it takes the bridge route.
The Assam State Transport Corporation also introduced a bus service from Majuli to Dibrugarh via Dhakuakhana, which will reduce travel time for the people of the the river island by nearly three hours. Earlier, the people from Majuli used to travel to Dibrugarh via Jorhat crossing at Neematighat.
Along with Majuli, bus services have started from Golaghat to Jonai in Dhemaji district and vice-versa on Tuesday.
Both the buses will travel from Golaghat to Jonai through Bogibeel bridge. One will start at 7am at Golaghat and from Jonai at 6am daily.