Free, but left in the lurch
Madhubala was a victim of 'mistaken identity' on part of the authorities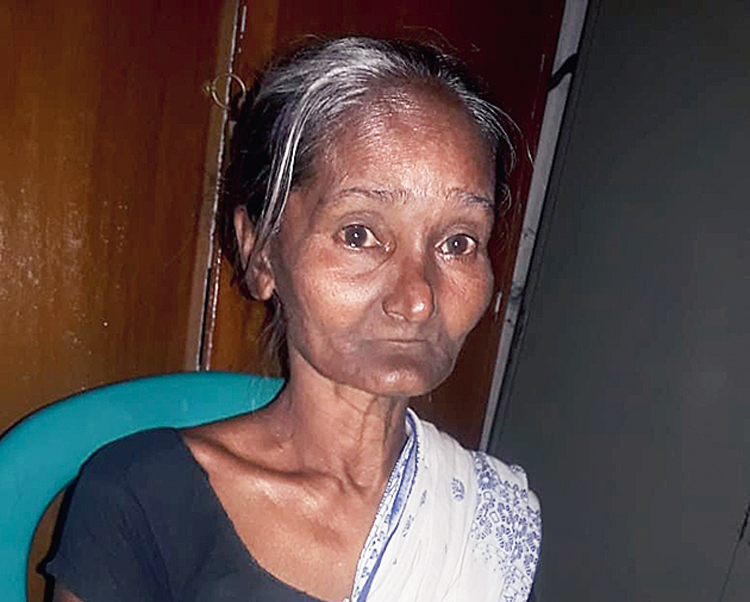 Madhubala Mandal
A Telegraph picture
---
Guwahati
|
Published 26.06.19, 07:13 PM
|
---
Madhubala Mandal walked out of Assam's Kokrajhar detention centre for "foreigners" on Wednesday after two-and-a-half years of incarceration, a trauma she had to suffer for no fault of hers.
Madhubala, in her late fifties, was a victim of "mistaken identity" on part of the authorities.
Poor and without much education, Madhubala of No. 1 Bishnupur in Chirang district of Assam used to work at a domestic help until she was picked up by police in 2016 on the suspicion of being a foreigner. She was lodged at Kokrajhar detention centre, one of the six such centres in Assam, and the only one for women, where citizens deemed "foreigners" by foreigners tribunals are put behind bars for an "indefinite time". It was subsequently alleged that the police had committed an error by not picking up one Madhumala Namodas.
On March 5, 2016, the Chirang foreigners tribunal had issued a notice to Madhumala Namodas, wife of late Makhan Namodas, based on a report filed by the border police, which had doubts about her citizenship, in 2008. On April 4, 2016, Madhumala was asked to appear before the tribunal with papers to prove her case.
Chirang superintendent of police Sudhakar Singh said, "The case was brought to me after I joined in January this year. Investigations revealed that it was a case of mistaken identity. I then approached the local foreigners tribunal. The court order of her release was brought to us on Tuesday. I did my duty."
After her release, Madhubala said the onus is on the state government to help her and her daughter Phulmala, 37, who is hearing and speech impaired, and granddaughter Jayanti. Besides, Madhubala has developed a vision problem at the detention centre.
"I can't see properly. With each passing day in jail, I prayed to God that I would be freed and go to my daughter who has been anxiously waiting for me. They were staying at my brother's place for all these years. I cannot work now. I need help from the government," she said.
Madhubala's case would have gone unnoticed if Ajoy Roy, a local politician, hadn't taken up the case. Upon learning that the lawyer pursuing her case was doing nothing, Roy decided to help her.
"It was quite heartening to see her get freedom after almost three years. I got to know about her case through an officer who stays close to her village, following which I and some other people decided to help her. Her husband is dead," Roy said.