For Tripura's first lady air controller, sky's the limit
Bipasha Hrangkhwal joins state airport after successful stint in Mumbai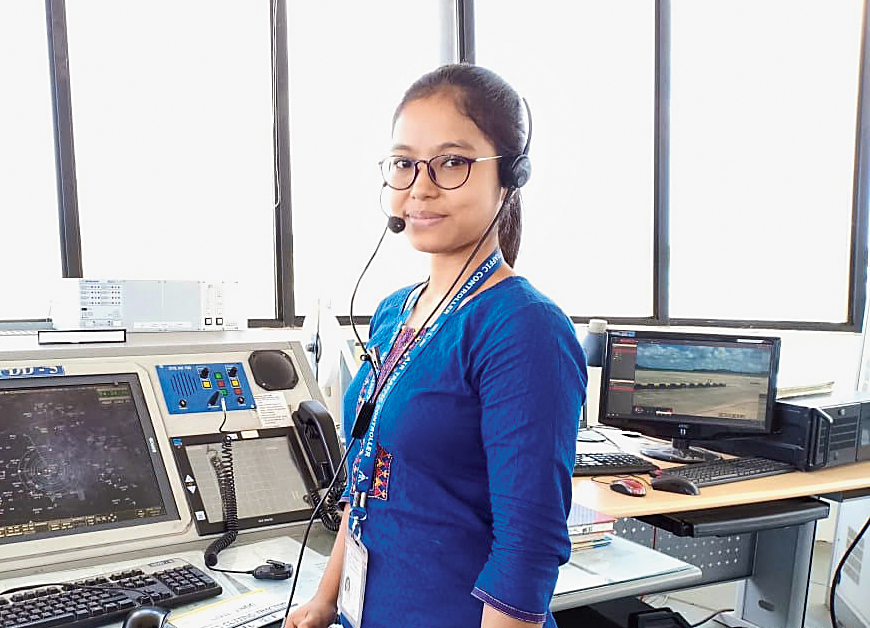 Bipasha Hrangkhwal at her air traffic control station.
Picture by Tanmoy Chakraborty
---
Agartala
|
Published 06.08.19, 09:00 PM
|
---
The duty of an air traffic controller (ATC) is vital in the aviation sector because a split-second delay in taking a decision can cause a disaster. Meet Bipasha Hrangkhwal, 26, the first woman ATC of Tripura who works at the Maharaja Bir Bikram Airport here.
Bipasha, who hails from remote Rangamura village near Teliamura town in Khowai district, told this correspondent that it was her father's dream to see her as an ATC.
"My father liked watching air shows on National Geographic and Discovery channels and urged me to fulfil his dream," she said.
Bipasha studied in Don Bosco School here and has a Bachelor degree in electronics and telecommunication engineering from Mumbai University.
"When my father was transferred here in 2002, we all shifted to Agartala," she said.
Bipasha said on completing graduation in 2015, she worked as a marketing executive in a private company for 10 months in Agartala.
"From November 2015 to August 2016, I worked as a marketing executive here. I left the job and started preparing for government jobs. In 2017, I cleared quite a few written exams," she said.
Bipasha's father asked her to apply for tests regarding recruitment of junior executives at the ATC in the Airports Authority of India (AAI) in 2016. She passed and joined the ATC in 2017.
"I had no idea about an ATC. Before the interview, I had to do almost a research about it. Finally, I came to know that the job is about people who control the air space to avoid collision between planes," Bipasha said.
She was undergoing training for six months which, she said, was very difficult for her.
Bipasha did her initial course in one of the AAI's training centres in Gondia, Maharashtra. After training, she started working at the Chhatrapati Shivaji International Airport in Mumbai.
"I was initially posted in Mumbai and worked very happily as an assistant ATC. In 2018, I was there for around seven months. My father suffered a brain stroke last year in June and did not recover fully. I thought about my mother and my younger sister and applied for a transfer. I was lucky to be back in Agartala and joined as an ATC," she said.
Bipasha said she did not know that she would one day become the "first lady air traffic controller" of Tripura.
"I did not know that I will become the first woman ATC of Tripura. When my seniors informed me I was so happy. Just a few months back my family got to know that I am the first woman ATC. They were very happy but my mother said 'Itna mat uro, kaam karo' . She is a homemaker and loves me a lot."
She said the work is challenging because in a second an ATC has to take a decision.
"An ATC's job is considered one of the most stressful jobs in the world as you are constantly handling aircraft operations. You have to take a decision very quickly. We have very less leisure hours. If anyone among us says: 'I am not at all afraid', he or she is lying. A mistake can cause major accident, leading to loss of lives," she said.
Asked about her dream, she replied, "My dream was...Oh there were a lot, but I wanted to work for forest and was very passionate about it."
ATC's job is very stressful, but Bipasha said she loves her job as she has been able to fulfil her father's dream.
Bipasha loves to read books and spend time with her dogs.
The director of Maharaja Bir Bikram Airport, V.K. Seth, said: "Bipasha is the first lady air traffic controller of Tripura. We have also another female staff at our airport, but Bipasha is the first lady ATC in Tripura. She is a fantastic controller."