Fading memories of Khasi sacrifice in WW1
Khasi men were taken to WW1 as porters to aid the Allied forces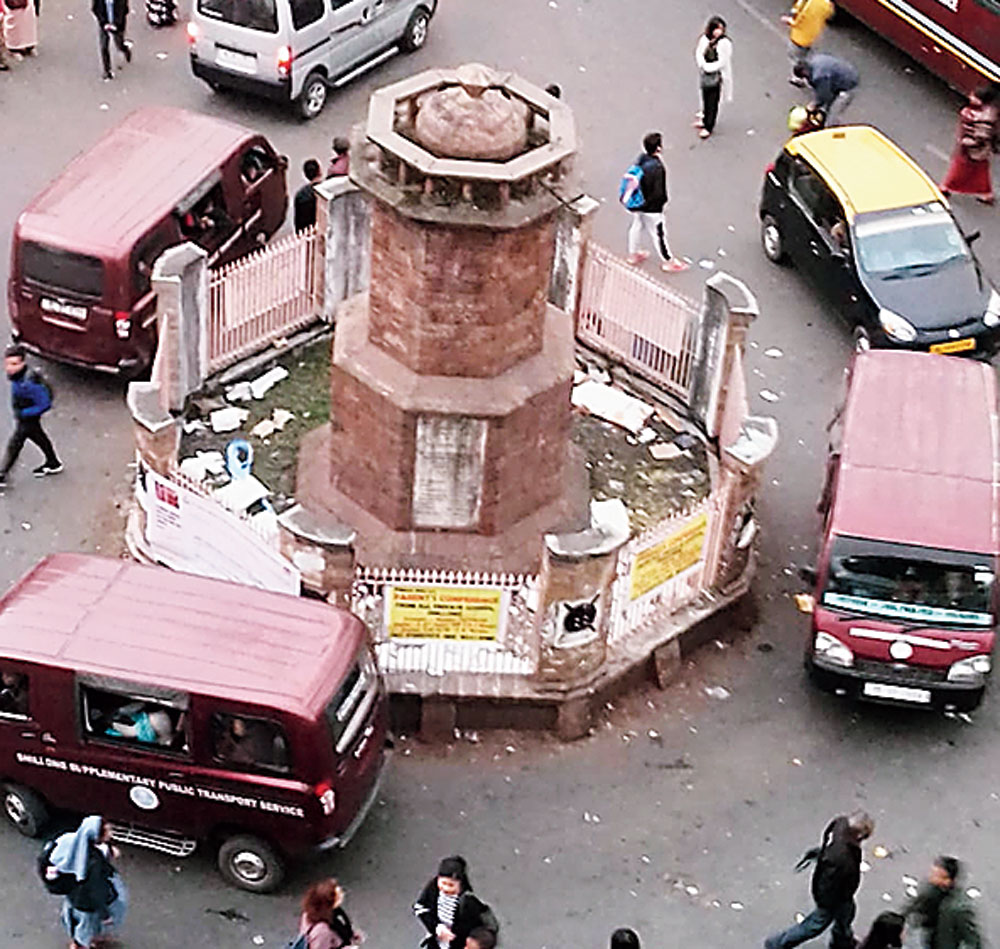 The Mot Phran in Shillong was built by the British as a tribute to 67 Khasi men of the 26th Khasi Labour Corps who went to aid the forces in WW1
Telegraph file picture
---
Shillong
|
Published 13.11.18, 07:48 PM
|
---
When world leaders gathered at Paris to commemorate the centenary of The Armistice of November 11, 1918, which ended the fighting during World War I, a monument here built in the memory of Khasi men who assisted during the war went unheralded.
Mot Phran, a monument located in the heart of the city which welcomes thousands of footfalls everyday, stood undecorated.
Mot implies a commemorative monument while the word Phran came into being as most of the Khasis since those years, after the erection of the monument, could not pronounce France correctly.
The monument, located on a busy junction leading to Meghalaya's largest market, Iewduh, was built by the British as a tribute to 67 Khasi men of the 26th Khasi Labour Corps and inaugurated in 1924.
These men were taken to the theatres of the WW1, which broke out in 1914 in Europe between the Allied powers and Germany, as porters to aid the fighting Allied forces. However, none of the 67 men returned home. They were all dead.
Some of their names, as inscribed on the monument, are Lyngka, Kyrwai Synteng, Nakshir, Pkan Marngor, Sholishon, Ren Sing, Don Marbaniang, Kyrdit, Jir Wallang, Pahoh Thabah, Muluk Nongrum, Mohon Khyriem, Likshon War, Hummu Marwein and Kdep Khongsir.
Unlike in Garo hills, where people still commemorate the Garo Labour Corps Day annually on July 16, the 67 Khasi porters have been forgotten and reduced to just names inscribed on the monument. The monument, though, was renovated a few years ago.
Notwithstanding the fading collective memories for the Khasi men, a documentary filmmaker, Wanphrang K. Diengdoh, had last year released a film, Because We Did Not Choose, a first of its kind about the Khasi Labour Corps. It documented the journey of the Khasi men to the theatres of WWI in France and Mesopotamia.
There is also a memorial stone at Jowai, West Jaintia Hills, bearing the names of the Khasi men who died. It was built by the traditional chiefs there.
In Garo hills, the 69th Garo Labour Corps was formed in 1917 in response to the British government's call to assist the Allies. A majority of them never returned, losing their lives on the warfront.
Those who survived the war, arrived in Tura on July 16, 1918. The people gave them a rousing reception and, since then, July 16 has been observed as the Garo Labour Corps Day.
Although the armistice ended the fighting, it was the Treaty of Versailles, which was signed on June 28, 1919, and took effect on January 10, 1920, that officially brought the War to a close.