Brinda Karat urges Himanta Biswa Sarma to halt eviction drives
She sought immediate relief to those displaced in the Darrang district pocket where two persons died during police action on September 23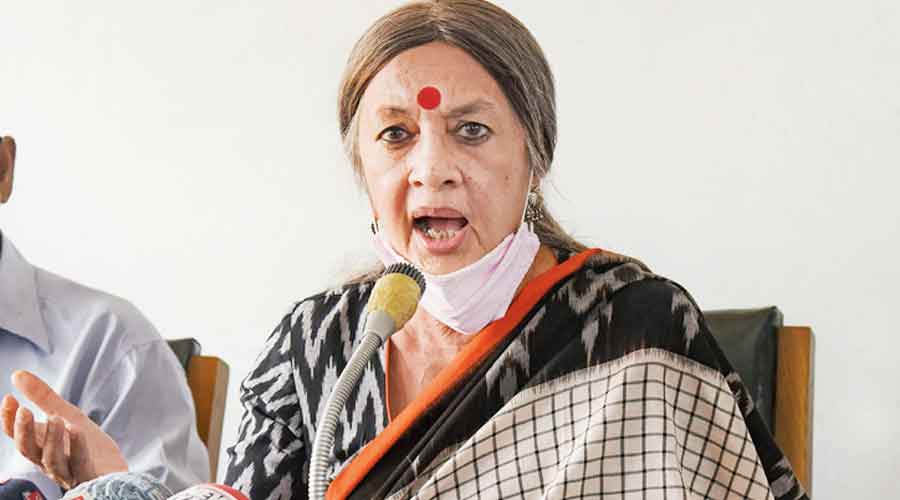 Brinda Karat in Guwahati on Thursday.
PTI photo
---
Guwahati
|
Published 01.10.21, 01:47 AM
|
---
CPM politburo member Brinda Karat has urged Assam chief minister Himanta Biswa Sarma to immediately halt eviction drives while seeking immediate relief to those displaced in the Darrang district pocket where two persons died during police action on September 23.
Brinda suggested that evictions should not be carried out without proper land survey and verification of the affected. She mailed a letter to the BJP's Sarma after a stock-taking visit on Wednesday to the minority-dominated settlement at greater Dhalpur where violence had broken out. She was accompanied by party leaders from the state including CPM central committee member Suprakash Talukdar and MLA Monoranjan Talukdar.
In her letter released to the media on Thursday, Brinda also narrated the plight of the affected locals, terming the drive to oust encroachers in the riverine area a "clear violation" of human rights, an "attack" on the Constitution and on laws pertaining to eviction, resettlement and rehabilitation.
Over 1,000 poor peasant families have been affected in the eviction drive carried out on September 20 and 23 to set up a mega community farming project. Though the drive on September 20 was peaceful, it turned violent on September 23, leading to clashes between locals and security personnel in which two persons died and 25 were injured.
Seeking a halt to evictions without survey and verification, Brinda said: "Even if the claim of the Government that this is encroached land is taken at face value, the Government has not conducted any survey to verify or reject the claims. Moreover, it is shocking that less than 12 hours' notice was given for the eviction. This entire process is totally illegal and inhuman. No rehabilitation plan has been made, nor has any land been offered. Since September 23, no government officials have visited the people.… Again without settling the claims the Government is taking illegal measures to grab the land."
She said that the affected, who have been "tilling" the land for 50 years, have all the papers required to show their occupation and in some cases ownership of the plots. "I myself saw many such documents in the public hearing we held," Brinda wrote.
Suprakash Talukdar told The Telegraph: "How can we know who are landless and who are victims of flood and erosion? That is why there should be land survey and verification…. What happened in Dhalpur was arbitrary and politically motivated. Muslims were selectively targeted."
Criticising the role of the administration and the police that "was worse than an occupying force", Brinda said the "plight" of the displaced was "worse than (those of) prisoners of war".
The only reason for the eviction drive "unfortunately and regretfully", Brinda said, "lies in a narrow political agenda of stripping minority communities of their rights, even though the Government itself knows that they are citizens of India. In other words, in this area of Assam, citizens of India are deprived of their rights only because they are Muslims".