Eco-friendly idol for Saraswati puja
Anjan Tamuly, an advocate by profession, makes eco-friendly idols for different occasions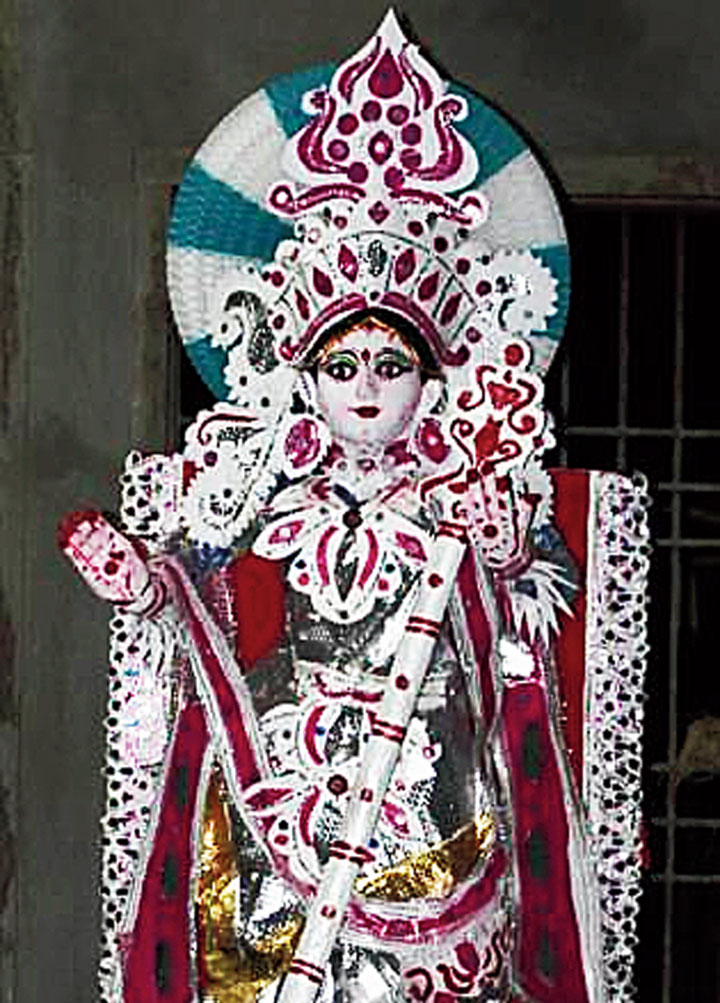 The Saraswati idol made of waste materials.
Picture by Sanjoy Hazarika
---
Bokakhat
|
Published 29.01.20, 06:40 PM
|
---
An eco-friendly idol will be worshipped on Saraswati Puja at West Jorhat Jatiya Vidyalaya, about 6km from Jorhat town, in Jorhat district of Upper Assam on Thursday.
The idol, made with flour, paper and other bio-degradable materials, has been made by Anjan Tamuly, 26, whose mission in life is to spread the message of environment conservation.
Tamuly, son of Dimbeswar and Charu Tamuly of Roroiwahjan Kathanibari village, about 10km from Jorhat town, has been making eco-friendly idols since he was in school.
He had made his first idol, of goddess Durga, out of paper in 2009 when he was in class IX. He has since made several eco-friendly idols, earning wide praise for his work.
For the past five years, he has been doing Durga Puja at his residence with self-created idols.
Tamuly, an advocate by profession, says he has an affinity for arts and had always wanted to do something for environment conservation and to prevent pollution.
"I mainly use waste paper to make idols along with art papers, coloured papers and pieces of wood. To mould the idol, I use cotton thread and flour, which is eco-friendly. I use bio-degradable colours as well," he said, adding, "I learnt everything by myself."
West Jorhat Jatiya Vidyalaya principal Ranjit Kumar Borah said Tamuly's efforts were really praiseworthy. "As the materials Tamuly uses are eco-friendly, I am interested in his idol and urge all to use such idols in pujas," he said.
About 1.5kg flour has been used to make the idol. So it will be good for fishes after immersion," he added.
Biren Ch. Saikia, president of Aashray, an NGO working for environment conservation, said, "I urge everyone to use such eco-friendly idols."
Saraswati Puja is being observed over two days, on Wednesday and Thursday, this year. Several educational institutions are organising the puja on Thursday.