Dhubri steps up bid to contain coronavirus
Administration permits retailers to supply essential commodities to residents living in containment zones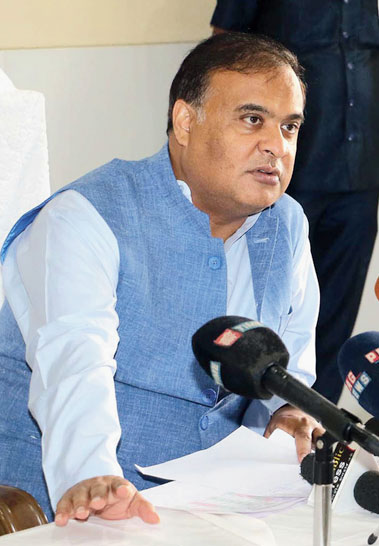 Himanta Biswa Sarma addresses the media in Golaghat on Friday.
Picture by UB Photos
---
Dhubri
|
Published 17.04.20, 06:48 PM
|
---
The Dhubri administration has declared four containment zones, house-to-house visits by medical teams daily and sanitising key localities, after four persons were detected Covid-19 positive.
The administration has also permitted retailers to supply essential commodities at the doorsteps of those living in the containment zones to keep them indoors. Dhubri is one of the four districts, along with Golaghat, Nalbari, Morigaon and Goalpara, to be declared corona hotspots with clusters on Wednesday.
Golaghat, with the highest (nine) positive cases in the state, has since moved to the orange zone. Four of the nine positive persons were discharged on Friday and no fresh cases have been reported for over 14 days.
Health minister Himanta Biswa Sarma reviewed the Golaghat situation on Friday and also inaugurated the building of the Mother Child Hospital (MCH) at the civil hospital in Golaghat and christened it as a Covid hospital. The MCH includes 56 quarantine beds, 40 isolation wards and 24 intensive care units (ICU).
The administration has permitted retailers to supply essential commodities at the doorsteps of those living in the containment zones to keep them indoors.
The four confinement zones in Dhubri are Kazipara Part IV under Chapar block, Hakma Part I under Raniganj block of Bilasipara subdivision while two others are Jhagrarpar Part III under Dharamasala block and parts of Dhubri town under Dhubri Urban block of Dhubri subdivision, deputy commissioner Anant Lal Gyani told The Telegraph.
Joint director of health services, Dhubri, S.M. Emdadullah said 456 surveillance teams are active in district and altogether 209 samples of Covid-19 have so far been collected and sent for testing. Of the 209 samples, 143 returned negative, while 62 test results are awaited.
Nearly 734 households have so far been visited by over 120 medical team members in the confinement zones. Altogether 280 persons are in six quarantine camps while 2,548 are under home quarantine.
All positive cases from Dhubri (four) are under treatment at Mahindra Mohan Choudhary Civil Hospital (MMCH) in Guwahati.
The Goalpara administration has also taken similar measures, besides making widespread public announcements to create awareness and painting the official walls with messages.
At present, there is one Covid-positive person in civil hospital while the remaining three were released on Thursday. There are 92 people in quarantine. Six villages have been sealed.
Morigaon, one of the hotspots, saw tight security arrangement to enforce the lockdown. Both its deputy commissioner and superintendent of police are in quarantine after they came in contact with two positive persons detected on Thursday.
Altogether six persons from the two pockets, Jagiroad and Lahorighat in Morigaon district, had tested positive and all of them are in Guwahati hospitals.
Like Morigaon, security has also been tightened in Nalbari district, also in lower Assam, to check violators. Four persons from Uttar Pradesh, who had attended the Nizamuddin congregation, tested positive.
On Thursday, the police arrested five persons and five vehicles for lockdown violations. Nalbari deputy commissioner Bharat Bhushan Dev Choudhury said the administration had sealed Mallapara as a containment zone after the first case was detected on April 1, regular health check-up and screening are going on regularly. Essential commodities are being provided in the area. Local residents as well as district administration are hopeful that Nalbari district will move to the orange zone very shortly.
Additional reporting by Neelim Akash Kashyap in Nalbari, Sarat Sarma in Nagaon and Sofikul Ahmed in Goalpara