Storm damages quarantine centre, 9 injured
Covid-19 cases cross 600, Assam chief minister mulls strict steps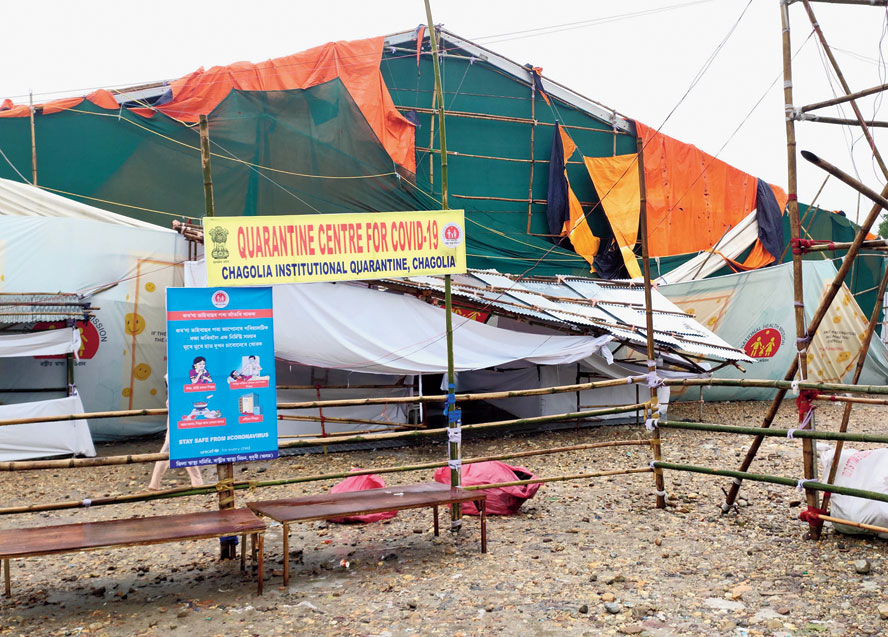 ---
Dhubri
|
Published 26.05.20, 10:33 PM
|
---
A key screening-cum-quarantine centre near Chagolia checkgate, on the Assam-Bengal boundary, was damaged by storm on Tuesday, injuring nine.
The day also saw Covid cases rise to 616 in the state, a rise of 68 cases since Monday, and Dispur calling strict enforcement of quarantine measures to check community transmission. Assam now has 547 active cases.
The spike in cases was discussed at a cabinet meeting chaired by chief minister Sarbananda Sonowal, who called for stringent quarantine measures. "Henceforth, people coming from outside will be sent for institutional quarantine and no home quarantine will be allowed," the meeting decided.
Health minister Himanta Biswa Sarma said one lakh people have returned and another one lakh are on the way.
"Around two lakh have registered. We feel the rush will subside after June 15. If we can handle the rush of arrival for the next 15-20 days, we will be able to check community transmission," he said. He warned that those in quarantine centres should adhere to social distancing because if they get infected, they would have to spend 28 days in quarantine.
Given the rise in cases, there was concern over the damage at the Chagolia centre, about 350km from Guwahati and 50km from Dhubri town, as is one of the biggest in the state. Screening by thermal testing and registration of all persons entering Assam by road is done here and at Srirampur inter-state checkgate, about 100km away, in Kokrajhar district.
The spike in cases over the past week has been attributed to the returnees, especially from Mumbai, Chennai, Bangalore and Calcutta. Thousands will also return by flights which became operational on Monday. Golaghat district leads the tally with 83 positive cases, most of them arriving from Egmore in Tamil Nadu by a train which has now been dubbed "corona express". A group of returnees from Chennai, travelling in a Lakhimpur-bound bus, have also tested positive.
The storm, which peaked around 3am, damaged makeshift arrangements at the screening-cum-quarantine centre, tearing away the plastic roof and damaging chairs and tables. Officials said its hanger portion was damaged and water entered the facility which houses more than 850 people. The nine inmates, who sustained minor injuries, were treated at nearby primary health centres.
The centre's inmates were shifted to nearby schools and other mass quarantine facilities but returned in the evening following rapid repair work under the supervision of Dhubri deputy commissioner Anant Lal Gyani.
Joint director of health service, Dhubri, Dr S.M. Emdad Ullah said 40,774 people had been screened at Chagolia till Monday while 13,055 people have been kept in 119 institutional quarantine across the district which has registered 10 positive cases.
Rebuild plans: The State Innovation & Transformation Aayog (SITA) handed over four impact assessment studies and action plans to Sonowal on Tuesday to support the state government's efforts to rebuild the economy, hit by the coronavirus-induced nationwide lockdown.
The reports, prepared by SITA include Report on Economy drafted in collaboration with OKD Institute of Social Change and Development, Report on Agriculture and Allied Activities of Assam in collaboration with international consultancy services organisation KPMG, Report on Tea Industry of Assam in collaboration with Ernst and Young and Report on Industry and Commerce of Assam in collaboration with Assam Chambers of Commerce, Confederation of Indian Industry, Federation of Indian Chambers of Commerce and Industry, Federation of Industry and Commerce of North Eastern Region and Indian Chamber of Commerce. Sonowal said there were enough avenues to rebuild the economy and the reports would help the government to do so.
Additional reporting by our special correspondent and Rokibuz Zaman in Guwahati