Curfew in hills, mobile Internet shut
Mobile Internet and messaging were suspended for 48 hours from 5pm on Thursday to prevent potential threat to public safety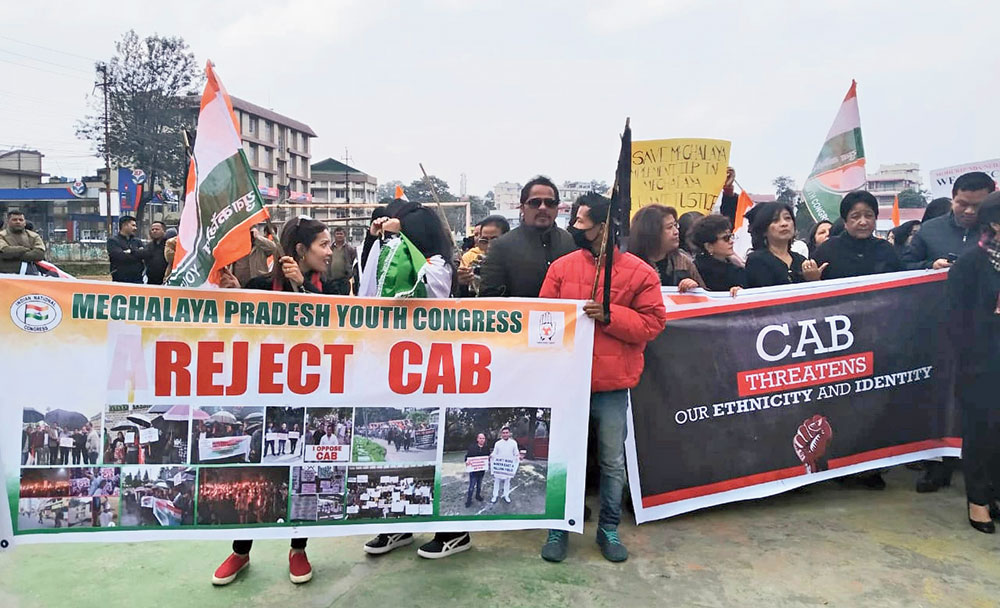 The Meghalaya Pradesh Congress Committee members take part in a rally in Shillong on Thursday
Picture by UB Photos
---
Shillong
|
Published 12.12.19, 07:46 PM
|
---
Trouble erupted in Shillong, compelling the district administration of East Khasi Hills to impose curfew in a few areas of the city from 10pm on Thursday until further orders.
Following unrest in the Northeast in the aftermath of the passage of Citizenship (Amendment) Bill in Parliament, mobile Internet and messaging were suspended for 48 hours from 5pm on Thursday in entire Meghalaya to prevent potential threat to public safety through SMS, WhatsApp, Facebook, Twitter and YouTube.
This was informed by additional secretary to the government of Meghalaya (home, police department) C.V.D. Diengdoh.
The areas that came under curfew were whole of Jaïaw, Mawkhar, Umsohsun, Riatsamthiah, Wahingdoh, Mission, Mawprem, Lumdiengjri, Lama Villa, Qualapatty, Wahthapbru, Sunny Hill, Cantonment, Butcher Road, Mawlonghat excluding localities beyond Umshyrpri bridge.
The areas also included the whole of Khyndai Lad (Police Bazaar), Jail Road, Keatinge Road and Polo.
"In view of the urgency of the matter, this order has been made ex parte," the deputy commissioner East Khasi Hills district, Matsiewdor War Nongbri, said.
Earlier, violence triggered panic among city residents as goons went on the rampage and torched vehicles.
They vandalised a few shops along the stretch from Motphran to Khyndai Lad on Thursday.
The police said they started attacking shops all of a sudden at Motphran. They ran towards Umsohsun and torched a vehicle parked in front of Hanumanbux Motilal Merchant Shop around 3pm.
They hurled petrol bombs at a vehicle (ML05-N-6001) belonging to the owner of the shop. The fire was doused by a fire tender.
The goons also ran up to Khyndai Lad and set ablaze clothes of a vendor opposite Dreamland cinema hall. Glass shards of some vandalised shops lay scattered on footpaths.
As the news of the incident spread, people, especially shopkeepers, downed their shutters in panic from Ïewduh to Khyndai Lad. Shoppers scurried for safety.
Immediately security personnel were rushed to take control of the area.
The police were deployed in the Motphran and Khyndai Lad areas.
Later, a motorbike was set ablaze at Jaïaw Langsninag and a Maruti van was torched near Presbyterian Church Jaïaw.