Culling of pigs not necessary: Atul Bora
'The virus can spread from pig to pig through humans and mortality rate is in the range 90 to 100%; so, isolation is the only solution'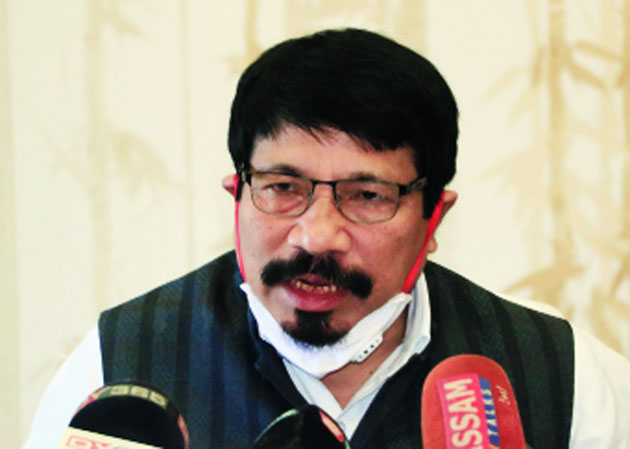 Atul Bora speaks to reporters in Golaghat on Sunday.
Picture by UB Photos
---
Bokakhat
|
Published 10.05.20, 08:01 PM
|
---
 Assam animal husbandry and veterinary department minister Atul Bora on Sunday said culling of pigs would not be necessary immediately to arrest the spread of African swine fever (ASF) affecting pig population in nine districts of the state. He emphasised on quarantining.

While talking to reporters in Golaghat, Bora said 13,382 domestic pigs had died of ASF till Sunday. He said as there were no medicines or vaccines, only quarantine or culling can control the spread of the fever.
Explaining the strategy, Bora said the area of 1km radius from the affected point has been declared as the quarantine zone while 10km area is declared as the surveillance zone. The minister said Majuli and Golaghat were the two badly affected districts.
In Majuli 3,404 pigs died of the fever while in Golaghat, 808 pigs have died till now.
"The virus can spread from pig to pig through humans and mortality rate is in the range 90 to 100 per cent. So, isolation is the only solution. Sale of pigs to other states has been banned. The dead pigs should be buried with lime and sodium hypochloride," Bora said.
The members of the task force formed by the state government to help it check ASF said the state government would take up culling as the last resort to curb the spread of the disease.
The task force suggested to the government that no pigs in a commercial farm should be culled even if it is within 1km radius of the epicentre without tests. Regarding compensation to farmers, a task force member said that a farmer would be given compensation only after culling. "If quarantine can be effective to contain the spread of the fever then culling can be forbidden," another member said.