Cruise connect along Brahmaputra and Padma
RV Ganga to travel from Calcutta to Guwahati through Dhaka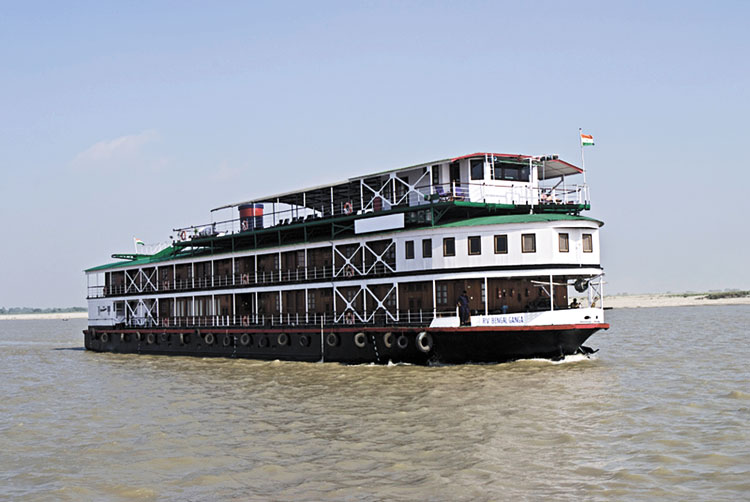 ---
|
Guwahati
|
Published 21.02.19, 07:14 PM
---
Care for a restful cruise spanning two countries through the Amazon of the East, the Sunderbans?
A new vessel is expected to start plying from March 31 in a trial run between Calcutta and Guwahati via Bangladesh capital Dhaka, through the Bay of Bengal, the Brahmaputra and the Padma to boost tourism between the two countries.
The cruise ship, RV Ganga, will start from Calcutta and cover 1,539km through the Bay of Bengal and the Sunderbans, enter Bangladesh and then travel the Brahmaputra upstream to Guwahati.
A Calcutta-based Heritage Cruise that operates a luxurious cruise, Ganga Voyagers, will run the cruise.
"The cruise service has been finalised. We are in talks regarding the intake of tourists. We will co-ordinate with tour operators in Calcutta and Guwahati in India and in Dhaka," Shah Mohammad Tanvir Mansur, the assistant high commissioner of Bangladesh, said.
The cruise will have 10 double and four single cabins and include a gym, salon and sundeck. It will have a capacity of over 58 people and the duration will be over a week.
"The cruise is being launched to promote tourism between the two countries. It is found that the people of Calcutta wish to visit the Sunderbans and various tourist sites in Bangladesh. Same goes for the people of Assam who like forest tourism. This tour will give both sides a good look into Bangladesh," Mansur said.
The two countries had agreed to start river cruise services in October last year.
Another cruise, Charaidew II, will also start from May between Jorhat, Guwahati and Dhaka.
Mansur also said the Bangladesh government will start dredging the Padma simultaneously with the Assam side as a continuous process to help more traffic on the waterways.
"The Indian government had released Rs 250 crore to Bangladesh for the dredging and our government has also released a sum for the same. The dredging will continue for five years as a continuous process," Mansur said.
The World Bank had, in August 2016, sanctioned Rs 980 crore to dredge the Brahmaputra to develop waterways to Bangladesh and other Southeast Asian countries to boost trade and tourism in the Northeast.