Quarantine centres fill up as cases rise in Golaghat
A govt order says new patients should be sent to Jorhat Medical College and Hospital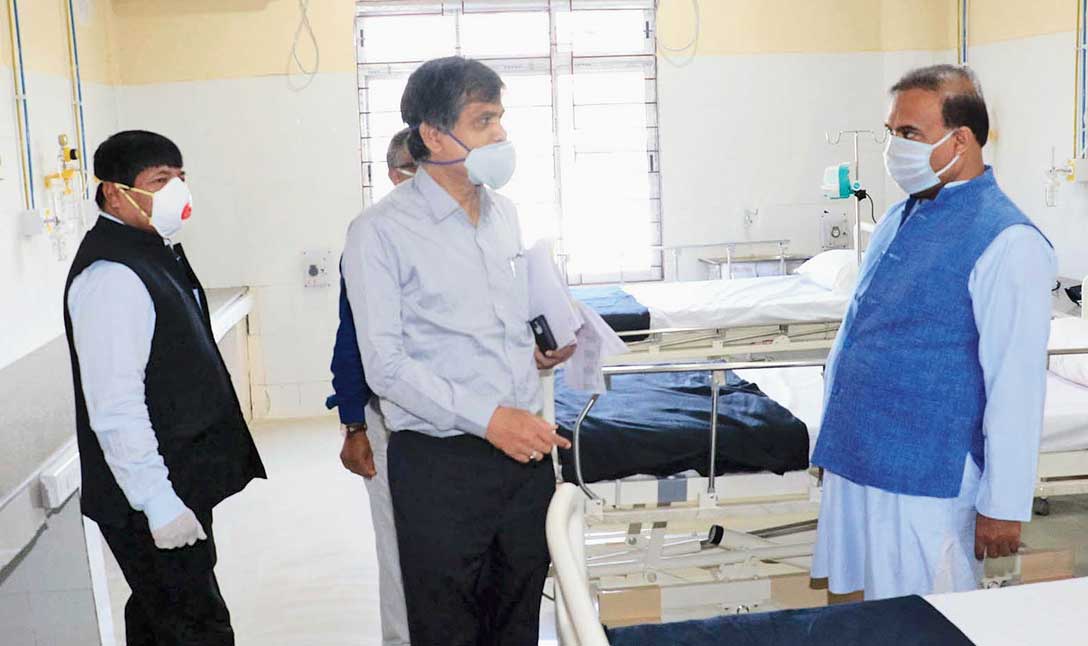 ---
|
Bokakhat
|
Published 27.05.20, 07:58 PM
---
The capacity of the Covid-designated hospital in Assam's Golaghat district needs to be increased as the number of cases is increasing at an alarming rate.
The Swahid Kushal Konwar civil hospital in Golaghat town has a 120-bed capacity. Golaghat deputy commissioner Bibhash Chandra Modi said 112 patients are admitted in the civil hospital while 15 other Covid patients from the district, including a cancer patient, were admitted to Jorhat Medical College and Hospital (JMCH) on Wednesday.
"Since the Golaghat hospital's capacity is almost full, a government order says the new patients should be sent to JMCH. The cancer patient from Bokakhat and 14 others from Sarupathar were sent to JMCH," Modi said.
Regarding a misconduct reported by a section of Covid patients at Golaghat hospital on Tuesday night, Modi said such an act would not be tolerated. "If such activity continues, strict action will be taken according to the Disaster Management Act," he added.
Though the Golaghat Covid hospital is almost full, there are no plans to start another one. Dr Rupam Dowerah, in-charge of the Covid hospital Golaghat, said the opening of a Covid hospital was not an easy task. "Several measures need to be taken to open a Covid hospital. Hence patients are being sent to the JMCH as of now," he said.
A source said the government is considering whether the model hospital at Kohora can be converted into a Covid hospital.
In Dhubri district, Nurjamal Sheikh, 29, who was sent to home quarantine after spending over a week in an institutional quarantine centre, was called back by Dhubri civil hospital authorities on Wednesday after he tested positive on Tuesday.
Health officials said Sheikh had come from Maharashtra on May 17, was screened at Chagolia checkgate on the Assam-Bengal boundary and sent to an institutional quarantine centre at Bidyapara Boy's Higher Secondary School in Dhubri town.
On May 21, his swab sample was collected and sent for testing to Barpeta Medical College and Hospital. After completing his seven-day mandatory institutional quarantine, he was sent for home quarantine on May 23 where he met his family and friends.
After he tested positive on Tuesday, he was recalled from his house at Siberalga village, a remote sar (sandbar) area in Dhubri district, and sent to Barpeta Medical College and Hospital on Wednesday. Eleven persons, including seven of his family who came in contact with him, were isolated at Dhubri civil hospital.
Earlier, five other patients of Dhubri district had also been released from institutional quarantine centres and called back from home quarantine after they tested positive.
Dhubri has so far reported 13 cases, of which five have recovered. Till Wednesday, 10,189 swab samples had been collected in the district, of which 4,499 tested negative while the test reports of 5,690 were awaited.
At Chagolia screening-cum-mass quarantine centre, which was damaged by a storm on Tuesday, 41,276 persons have been screened so far, including the 502 persons who have been screened since Tuesday evening after services were restored. Dhubri has 110 institutional quarantine centres, having 12,547 inmates. On Wednesday, 594 persons were quarantined till the filing of this report.
Additional reporting by Mukesh Kumar Singh in Dhubri