Covid-19 hits Assam's leading hospitals, capital
Fresh cases put spanner in city hopes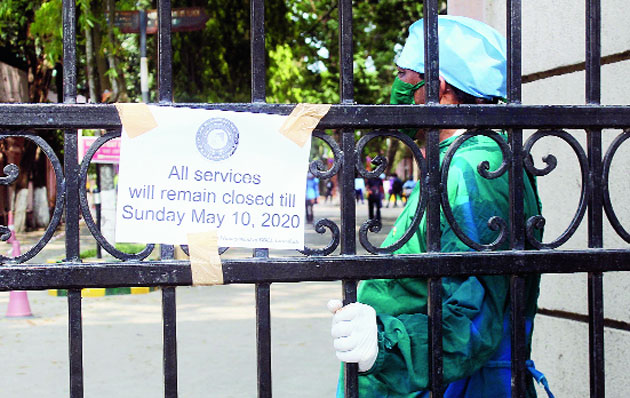 The closure sign pasted at the entrance to B. Borooah Cancer Institute in Guwahati on Friday.
Picture by UB Photos
---
Guwahati
|
Published 08.05.20, 10:42 PM
|
---
The city's attempt to get back to its normal bustling self after relaxation of lockdown restrictions has taken a massive hit following the detection of three fresh Covid cases having no contact or travel history.

Of the four Covid cases detected in the city on Thursday night, only one person had come from Siliguri in West Bengal. The other three, a post-graduate medical student, a housewife and a deceased teenager, had no travel history, sparking off widespread concern over "untraced source" on the loose in the city.
Health minister Himanta Biswa Sarma said, "In the earlier positive case of a trader in the city also the source of infection was not found. In these three cases too, none has any travel or contact history. This means there is an untraced source in the city. That's why the state government requests everyone having influenza-like illness (ILI) or diarrhoea to contact nearest medical help urgently."
The city's last positive case was detected over a month ago. He has since been discharged after testing negative. Out of Thursday's four cases, three reside in the city while one with travel history resides on the outskirts.
The district administration has declared at least four areas of the city as containment zones — two boys' hostels of Gauhati Medical College and Hospital and the staff colony of B. Barooah Cancer Institute were declared containment zones after a post-graduate medical student of GMCH and a relative of a support staff of BBCI tested positive. Amiyo Nagar in Chandmari was declared a containment zone after a housewife in the area tested positive.
Sarma said, "It's still unclear whether Guwahati will continue to be in the green zone or will be placed in another category, as it's done by the Centre. We have not got any official order so far. But it's time for the denizens here to take utmost caution."
As the administration went into battle mode to check an invisible enemy, the city was a picture in contrast. Fear and apathy were witnessed in equal measure.
While some seemed worried and demanded strict enforcement of the lockdown, many appeared indifferent to the developments.
Despite restrictions, many parents were seen on the streets with toddlers and traffic movement was unaffected at several locations, forcing the health minister to observe, "I have personally witnessed that many parents were out with their young children. Why? Why can't we adhere to the lockdown norms? To win this fight, society at large also needs to understand the gravity of the situation."
Already, the administration had allowed opening of shops and private offices in the city but by maintaining social distancing and other hygiene protocols.
A section, however, has thrown caution to the winds, something most fear would only lead to extension of the lockdown.
"A few more cases and I am sure the lockdown will be extended. It is a scary situation to be in. If not Covid, then insensitive people will get us," said Apurba Barua, who had come to visit an ailing relative at the GMCH.