Can treat 5000 Covid-19 patients: Himanta Biswa Sarma
Health minister claims that Assam tested more than Kerala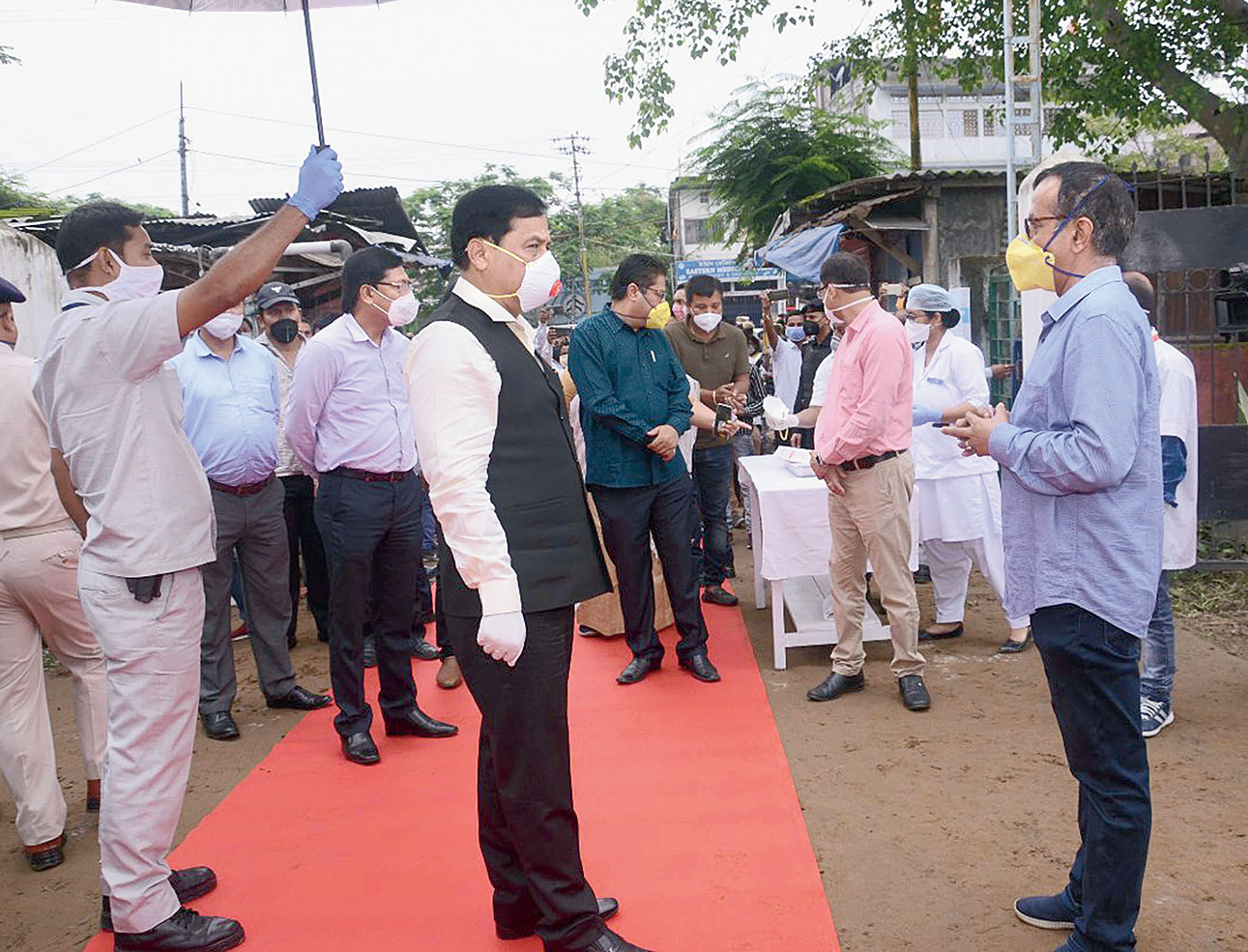 Chief minister Sarbananda Sonowal visits a quarantine centre in Sivasagar on Sunday.
Picture by UB Photos
---
Guwahati
|
Published 24.05.20, 09:08 PM
|
---
Dispur on Sunday evening said there has been a sharp rise in Covid-19 cases in the state over the past week but ruled out community transmission because 90 per cent of the patients were from the quarantine centres.

He also claimed rural towns is free from the virus.
Apprehending a rise in cases, which stood at 378 by evening, with the rush of stranded passengers increasing with resumption of domestic flights from Monday, state health minister Himanta Biswa Sarma asserted it has hospital facilities to treat 5,000 Covid-19 cases. It could also carry out about 5,000 tests within the next seven to 10 days.
He said Hojai has the maximum cases at 77 followed by Kamrup (metro) at 44 and Nagaon 19. Dhemaji has no case till date.
That the state was trying to ramp up both hospital beds as well as testing at the earliest was evident from health minister Himanta Biswa Sarma's tweets in the morning that it has surpassed Kerala by carrying out 55,862 tests so far which was higher than Kerala's (52771), a "state known for its healthcare excellence" conveying our "excellent team work and our steely resolve to do the best in a crisis like #COVID19".
He also gave a break-up of the tests done at its six centres — five medical colleges and RMRC, Lahowal, with GMCH leading the way with 15,807 tests.
Sarma said he was pleased to announce Assam, which started testing in March, has tested more than Kerala, a state praised for its efforts to tackle the virus. Till Saturday evening, Kerala had over 750 positive cases.
The state has facilities to treat 1,500 cases in and around Guwahati. "If required, we can have 2,500 beds in GMCH," he said. There are about 16,000 people in quarantine centres in the state.
The health department has turned the Jagiroad Paper Mill, the Morigaon civil hospital, the Government Ayurvedic College into exclusive Covid hospitals on Sunday. On Saturday, it had converted Kalapahar TB and Sonapur hospitals into Covid hospitals. "Of the 358, over 277 are from quarantine centres, all having travel history. That is 90 per cent of total cases. Thanks to our ruthless quarantine policy, we don't have a community spread. Another good thing is that our rural belt and small towns are free from the virus. I once again appeal to those returning to stagger their arrival," he said amid complaints about facilities at quarantine centres.
The minister said people would complain about facilities at quarantine centres but had it not been for their ruthless policy, there would have at least 150 to 200 cases from each district. He also said those jumping quarantine will be dealt with firmly because he was on a mission to protect the state.
Sarma said the spike in cases has seen its recovery go down to 16 per cent. The state had 100 cases till Sunday, rising to 210 on Thursday and 329 on Saturday.
The jump from 200 to 300 took only two days, mostly attributed to the return of the natives, mostly from Maharashtra, West Bengal, Delhi and Chennai. Of the 358 cases, 39 are linked to the Tablighi Jammat congregation in Delhi in March while the source of six cases is yet to be ascertained.
The BJP-led government in Assam completed fours years in office but there were no celebrations or meetings to mark the day. Sonowal, who was touring Dibrugarh and Jorhat, kept it simple, thanking the people and extending his deep gratitude their "unstinted support and cooperation" to his coalition government in the state which completed four years on Sunday, hoping he will get the support of the people of Assam in future as well.
The BJP came to power in 2016 with its allies AGP and BJP by unseating the well-entrenched Congress.
In the past four years, Sonowal said he had put in its best efforts for the holistic development of the state.
State BJP unit vice-president Vijay Gupta told The Telegraph that the entire focus of the state government was on meeting the challenges posed by Covid19.
"Celebrations can wait. Party members are also supporting the government machinery at the grassroots. We have deployed two members with each quarantine centre to help local MLAs looking after Covid-related issues in their constituencies," Gupta said.
Party spokesperson Rupam Goswami said that they were elected to serve the people and they are doing exactly that. Opposition Congress leader Debabrata Saikia said there was nothing to celebrate for the government and the party. "If they are so busy, why did the state BJP president last week ask for report card of individual MLAs? What will they celebrate? There is nothing to show, it has been four years of unfulfilled promises," Saikia said.
Additional reporting by Devajit Baruah in Jorhat