Yeoman service by women on the frontline
Nurses, Asha, Anganwadi and SHG workers lead fight against covid-19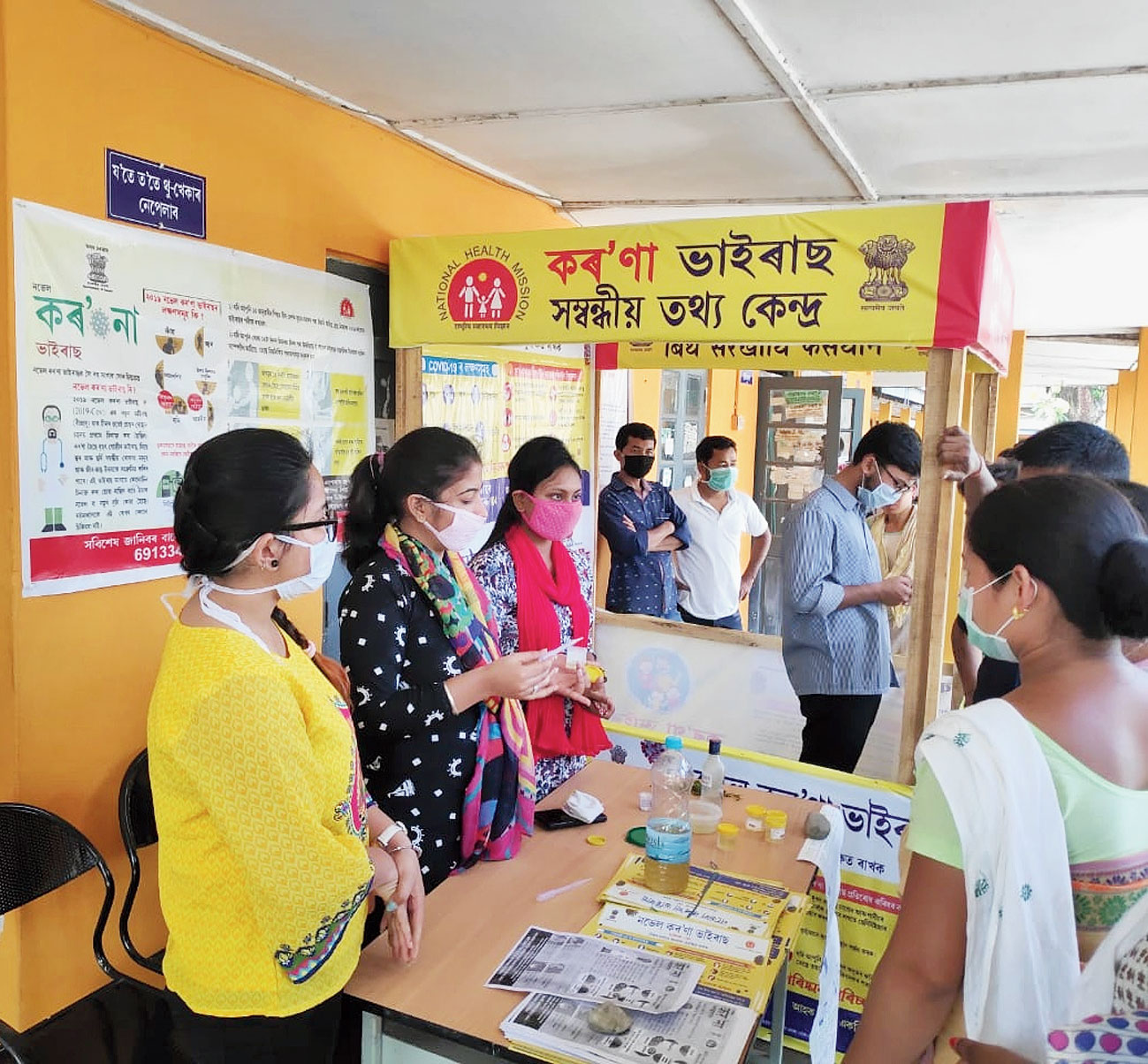 Manpreet Kaur, Henrita Boro and Khyati Rupa Sharma conduct an awareness programme at Tangla community health centre in Udalguri district on Saturday.
Picture by Shajid Khan
---
Udalguri
|
Published 17.04.20, 07:52 PM
|
---
Women of Assam are on the frontline and playing a key role in the battle against coronavirus.
From accredited social health activists (Asha), nurses, Anganwadi workers to self-help groups (SHGs), lakhs of women across the 33 districts are working as foot soldiers in the fight against Covid-19.
Manpreet Kaur and Henrita Boro, both 21, and Khyati Rupa Sharma, 22, who hail from Tangla in Udalguri district and are pursuing paramedical courses in Karnataka, Punjab and Assam respectively, are busy conducting awareness drives against the coronavirus pandemic and are helping the villagers in making cloth masks and sanitisers at home.
"We are friends since school and are pursuing paramedical courses. As we have a common goal — serving the people — we thought sensitising the people is the right way to help in the fight against the pandemic," Manpreet told The Telegraph.
"Over three lakh women are leading the fight against Covid-19 in Assam and helping the state to combat the dreaded virus," said state revenue and disaster management minister Bhabesh Kalita.
"Over 30,000 SHGs, 1.20 lakh surveillance or Anganwadi workers, helpers and 44,000 Asha workers of the state are involved in the fight against novel coronavirus. It is a matter of great pride for Assam that a major section of women is involved in the frontline battle against the pandemic," Kalita added.
According to government sources, over 30,000 SHGs are working to make masks and conducting awareness camps in different parts of the state.
"Asha workers are doing a commendable job by going around the villages across every block and creating awareness about Covid-19. They are taking stock of the houses where residents are under quarantine and creating awareness among neighbours, asking them not to visit the marked homes," said a health official.
Namita Talukdar, 45, a homemaker of Borbari here, has been also providing her fair share of work by leading a self-help group of 10 women involved in making masks.
"There are 10 members in our self-help group who are preparing masks. We have distributed over 2,000 masks among the people, who couldn't afford to buy one from the market. We are also selling masks at a reasonable price," Namita said.
Girimallika Saikia, 36, of Dibrugarh has prepared colourful and fancy masks and also distributed them among the labourers at Barbaruah tea garden in the district.