Boarders claim time to vacate not enough
A major concern was proper storage of documents, comprising certificates and marksheets, and valuable items like laptops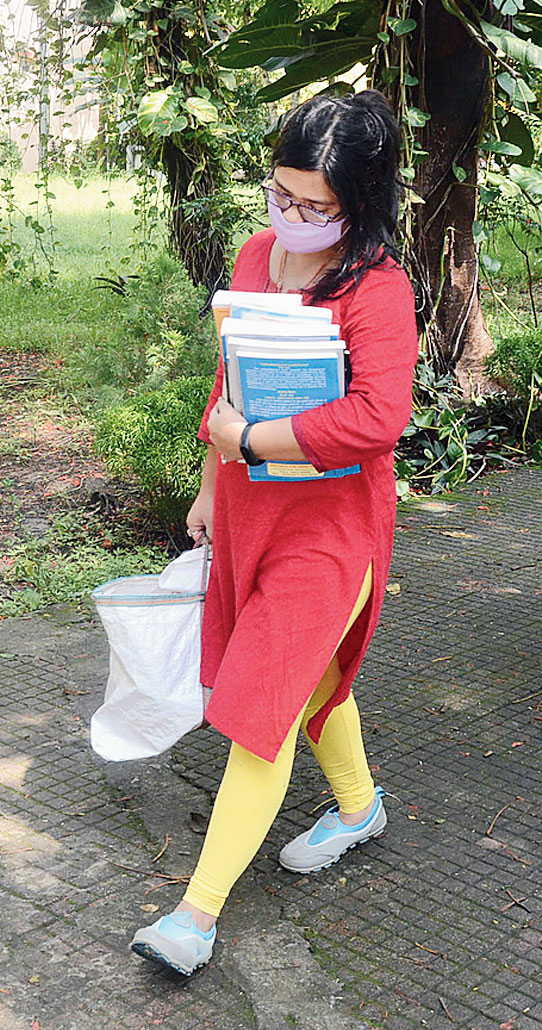 A Cotton University boarder leaves with her books and other belongings on Tuesday.
Picture by UB Photos
---
Guwahati
|
Published 26.05.20, 10:31 PM
|
---
Boarders at hostels at Cotton and Gauhati universities, designated as quarantine centres for returning passengers from Wednesday, were hard-pressed to vacate as the time allotted was not enough.
The Kamrup (metro) administration on Monday asked the university authorities to get the hostels vacated by 4pm on Tuesday. The time was extended for another 24 hours after the realisation that many boarders from far-off places could not travel to the universities owing to lockdown restrictions and unavailability of regular transport.
A major concern of student leaders was proper storage of documents, comprising certificates and marksheets, and valuable items like laptops, of boarders who could not come to collect.
"Most of us only carried a change of clothes, toothbrush and a few books home for a week of lockdown. We had been told our exams will start from April 1 and we could return to our hostels. We were not prepared for the extension of the lockdown. The students are suffering academically as only few possess smartphones and can access online classes," Cotton University Students' Union general secretary Rahul Bordoloi told The Telegraph, while still on the bus from Lakhimpur to Guwahati.
He said at least three to four days were required for the boarders to collect their belongings and vacate the hostels.
"We support the use of our hostels as quarantine centres under the Disaster Management Act. We proposed to the university authorities that our classrooms be used for the purpose. Storing the belongings and labelling them will require a great effort by students and labourers," he pointed out.
Gauhati University Postgraduate Students Union general secretary Moon Talukdar, while echoing many of the concerns raised by his Cotton compatriot, said, "Sixty to 70 per cent of our boarders will manage to collect their documents and belongings and vacate the hostels. The rest will find it hard to do so. We only pray the academic atmosphere is not vitiated and the surroundings kept clean. Proper sanitisation is needed afterwards so that students do not have any health concern."
Talukdar alleged that the district administration was not extending any help and that the students, with the help of university authorities, have been made to cope with the burden of vacating nine boys' hostels. A strongroom for valuables and a storeroom for the other belongings is being set up, he said.