Wear mask to buy fuel in Hailakandi
Decision taken after the district administration passed an order making use of face cover mandatory in public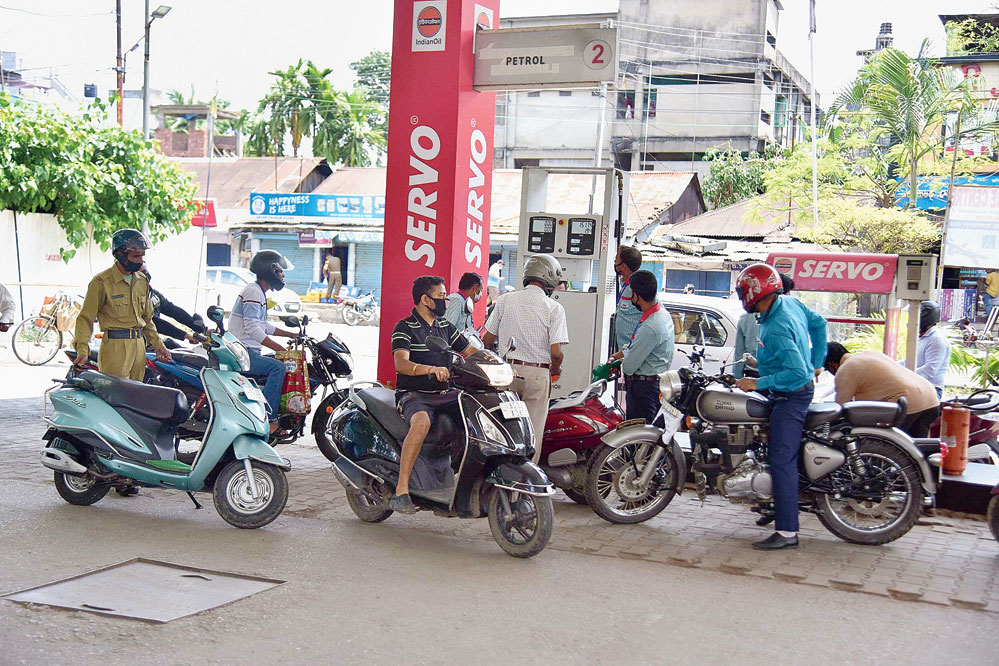 ---
---
All petrol pumps across Hailakandi district on Friday stopped issuing fuel to motorists without face masks.
The petrol pumps/fuel stations took the decision after the district administration passed an order making use of face cover mandatory in public and work places amid the Covid-19 outbreak and put up banners such as "No mask, no fuel".
A petrol pump in Hailakandi town even put up a banner saying "A mask is better than a ventilator" to create awareness about the importance of using face masks to keep the novel coronavirus at bay.
"The decision has been taken to strictly enforce the administration's order, making wearing of face masks or face cover mandatory while stepping out of homes," said an employee of a fuel station, adding that the move would help to protect the employees and the customers from the dreaded virus.
The employees have been asked to adhere to the social distancing norm strictly at their fuel outlets.
In view of shortage of N95 masks in medical stores, the administration has asked citizens to use either a face mask or a piece of cloth or handkerchief with multiple folds, covering the nose and the mouth, while going out of their houses.
The Hailakandi and Lala municipal boards are also distributing masks to sweepers to protect them from the virus.
Ekota, an NGO, is providing free masks to the frontline warriors who are susceptible to infection.
It has already distributed 5,000 masks procured from local women self-help groups at a reasonable rate. Its target is to distribute 10,000 masks among various sections, including personnel of municipal boards, police and civil administration.
Members of Nehru Yuva Kendra Sangathan (NYKS) were also seen distributing masks at several places in the district headquarters.
Its district coordinator Kalpana Ganguly said many NGOs, working under the aegis of NYKS, were manufacturing masks which were being distributed among the people.
Newspaper hawkers were also provided masks, gloves and ration by individuals and NGOs.
Sweet shops open: South Assam's Karimganj district on Saturday opened all its licenced sweet shops to sell milk, milk products, sweets and other confectionery items only through home delivery, on the first day of Ramazan.