People continue to flout norms in Guwahati
In some vegetable shops, it was noticed that people standing in queues did not maintain the permissible distance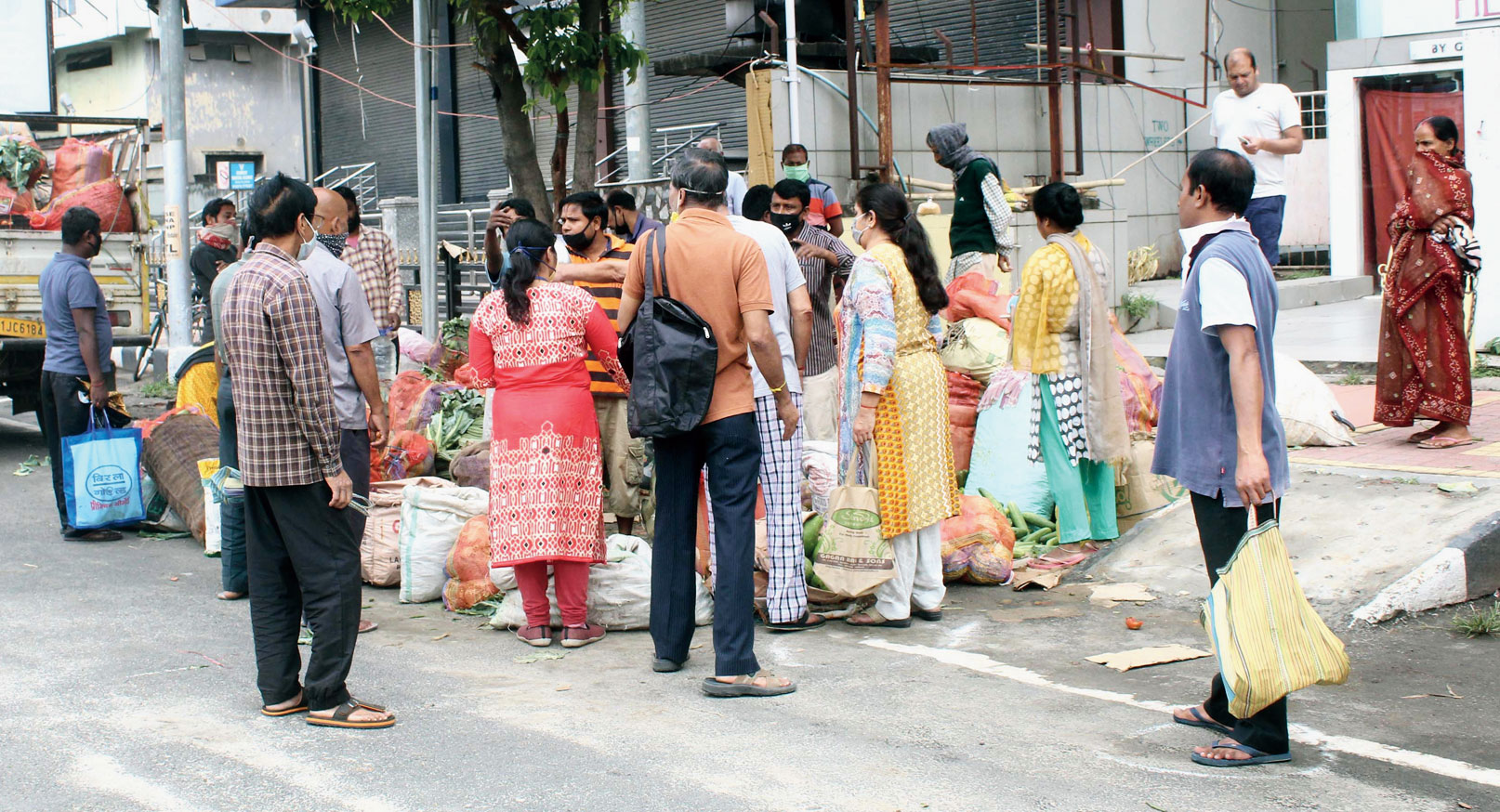 People gather in a vegetable shop at Ulubari in Guwahati on Friday.
Picture by UB Photos
---
Guwahati
|
Published 17.04.20, 07:43 PM
|
---
Several people in the city allegedly continued to defy regulations on Friday, the third day of the second phase of the lockdown.
A police source said scores of people had gathered at the Uzan Bazar fish market on Friday morning and most of them did not take any precaution or follow any lockdown norms. The police later managed to control the situation and several people were also warned about the consequences.
Later, in some vegetable shops, it was noticed that people standing in queues did not maintain the permissible distance and several had come to the market in their vehicles. This is prohibited.
Deputy commissioner of police (traffic), Mayank Kumar Jha, said they would detain any private vehicle without permit. Nobody has been allowed to use a vehicle for coming to the market during the lockdown, he added.
Jha said city police have detained over 6,500 vehicles and imposed fines amounting to Rs 33 lakh so far for flouting lockdown norms.
Additional director-general of police (law and order), G.P. Singh, said, "According to the guidelines on Covid-19 management under the Disaster Management Act, 2005, there would be strict implementation on wearing of face mask or cover, ban on pillion riding on two-wheelers and in terms of private cars, only the driver and one passenger on the back seat will be allowed."
He said spitting in public places was also banned.
He added that cars and two-wheelers would be allowed to move only for essential services which have been exempted, emergency services and medical needs.
Apart from these, the Kamrup (metro) administration has clarified that in the second phase of the lockdown, passes will be issued only for medical emergency and essential services. No permit will be issued for private vehicles.