NGOs cry out for Assam government help
The Kamrup (metro) administration told that 47,397 families in the district were provided relief by 73 NGOs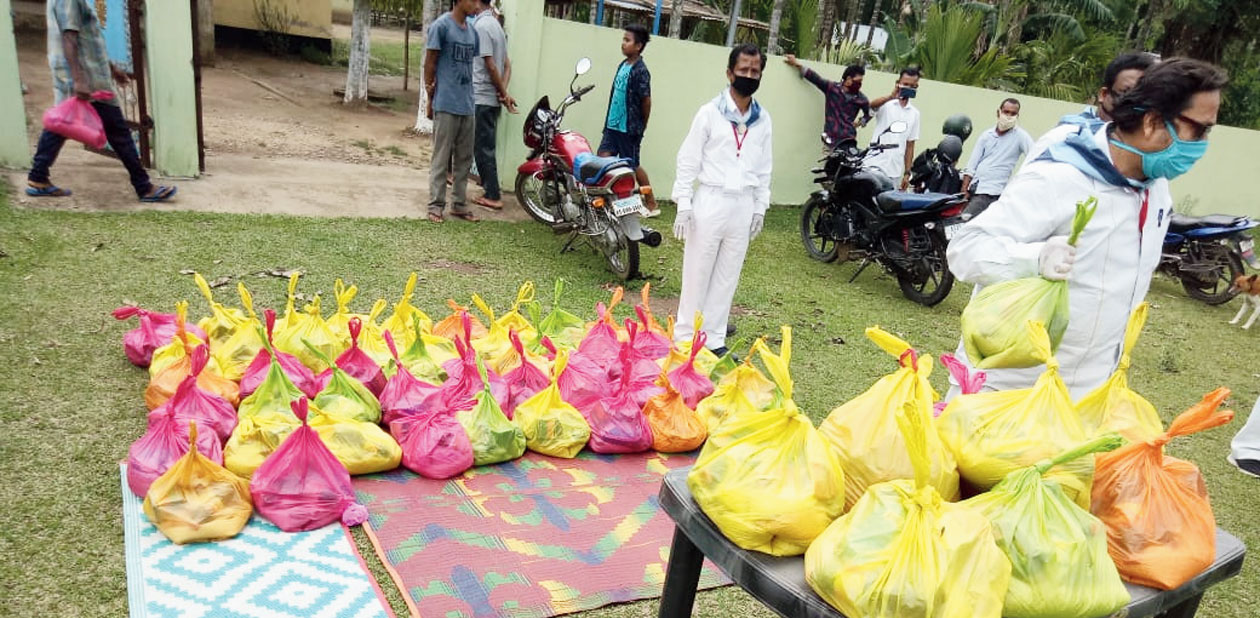 Members of Sri Sathya Sai Seva Organisation distribute relief packets.
Picture by Ali Fauz Hassan
---
Guwahati
|
Published 24.04.20, 10:57 PM
|
---
As many as 73 NGOs are providing relief to the poor, stranded and marginalised families across the city with logistical backing from the Kamrup (metro) administration but there has been no direct government support to these organisations, either in cash or kind.
The Kamrup (metro) administration told The Telegraph that 47,397 families in the district were provided relief by 73 NGOs, while the state government supplied seven-day ration to more than 31,000 in and around the city. "The lists of beneficiaries in different areas were compiled by the respective political leaders, government officials and local people," said additional deputy commissioner Ratul Pathak, who is supervising distribution of relief in the district. Others like Guwahati Foodie, an online community of more than 1,00,000 food lovers, distributed necessary daily ration to 150 needy families in Bharalumukh, Panjabari, Odalbakra and Sarumotoria areas of the city on Tuesday and food packages containing rice, dal, mustard oil, soap, salt and milk to 196 families in and around Azara revenue circle on Friday.
Most feel that the administration could directly assist them by providing relief in kind so that they could cook the food items and distribute under the administration's supervision to check waste or siphoning off. "After all, the administration distributes relief during flood and other calamities. They can do the same by using these NGOs under strict supervision," one of them said. Most also floated the idea of setting up community kitchens with the help of the administration. The daily earning of a large number of people in the city comprising daily-wage workers, small businessmen, vendors, rickshaw-pullers and others from unorganised sectors have been affected by the lockdown because of the Covid-19 pandemic. Many are suffering for want of food. NGOs, individuals and the state government personnel have stepped in to provide relief to these people, either by providing ration or cooked food.
City-based Khalsa Centre North East has been leading the others in providing cooked, hot food through its langars. The organization initially distributed cooked food to around 500 patients and attendants at B. Borooah Cancer Institute every Wednesday but now they are providing cooked food to 4,000 a day. This facility for bulk food cooking and distributing came in handy for the organisation as the members, led by committee chairman Pushp Paul Singh, swung into action a few days into the lockdown.
"The problem is increasing every day, with more hungry people, as the lockdown continues. We have served people from Sonapur in the east of the city to Rani in the west. We crossed one lakh meals on the 27th day of our operations today. To mark the occasion, we served nutritious khichdi to 5,000 people. A little bit of help from the government would have helped," Singh told The Telegraph, a strong advocate of community kitchen under the administration.
Fancy Bazar Gurdwara Prabandhak Samiti distributed cooked food to needy people with the assistance of police personnel. A community kitchen is also being operated at Lakhtokia and around 500 people are getting cooked food.
Assam Mountaineering Association (AMA), in its second phase of distributing relief materials, helped around 104 needy tribal families at village Sijuguri under Sonapur revenue circle of Kamrup (metro) district, according to AMA general secretary Manash Barooah.
City-headquartered Sri Sathya Sai Seva Organisation has distributed relief in several parts of the state, including Dhubri. Assam down town University distributed relief to about 600 families in villages near its campus at Panikheti like Rajabari, Panikheti Kali Mandir, Tamulbari, Junakinagar, Gandhi Nagar, Amgaon and Garo Basti on Friday and will continue the operation on Saturday.