Mosque bans entry of Tablighi Jamaat members
Sources said the Pub Sahanpur Jame Masjid Committee had decided to stop the entry of the Nizamuddin attendees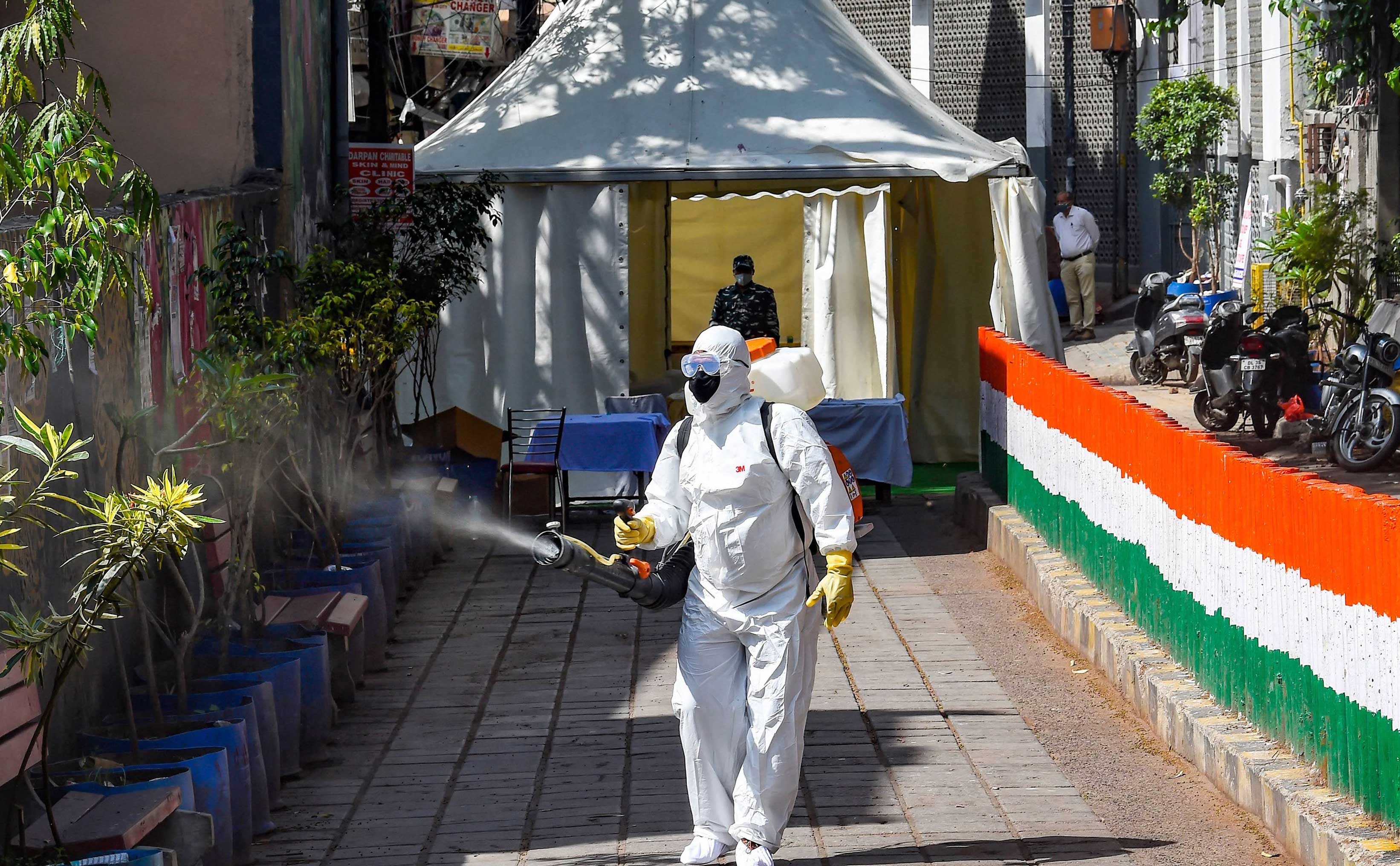 A health worker sanitises an area near Nizamuddin mosque after people attended the religious congregation at Tablighi Jamaat in New Delhi
(PTI)
---
Nalbari
|
Published 09.04.20, 07:51 PM
|
---
Residents and a masjid committee of Pub Sahanpur village at Rangia in Assam's Kamrup district on Thursday banned the entry of the Tablighi Jamaat members, who had attended the congregation at Nizamuddin in New Delhi, in the local mosque.
Sources said the Pub Sahanpur Jame Masjid Committee had decided to stop the entry of the Nizamuddin attendees. The committee even put up a notice to amerce the pilgrims in view of the "no-entry" declaration. Besides this, the committee also requested the people to offer namaz on Shab-e-Barat at home. Sources said on Thursday that only three persons attended the namaz at the mosque on the occasion.
As 27 of the 28 people who had tested positive for Covid-19 in Assam so far are attendees of the Nizamuddin event in March, several people in the state have praised the decision of the Pub Sahanpur mosque committee. Many have also appealed to other mosque committees to follow in its footsteps. Many users on Thursday uploaded the "no-entry notice" of the mosque committee on social media.
Sanitisation: The Nalbari district administration has sanitised the Mollapara area here, where four persons from Uttar Pradesh, who attended the Delhi event, had tested positive.
Bhagyashree Motors sanitised Swahid Mukunda Kakati Civil Hospital premises on Thursday, including vehicles and ambulances. "As a citizen, I have a duty to create a powerful and healthy society. So, we have done this work," proprietor Dilip Kumar Das said.
A training programme on Covid-19 was organised for Nalbari-based doctors. Dr Sasanka Sekhar Chakravarty, Dr Monjuri Borkotoky and Dr Lina Nath trained 43 doctors.