Family refuses to accept daily wager in Tripura
No entry into home without 14-day quarantine, says wife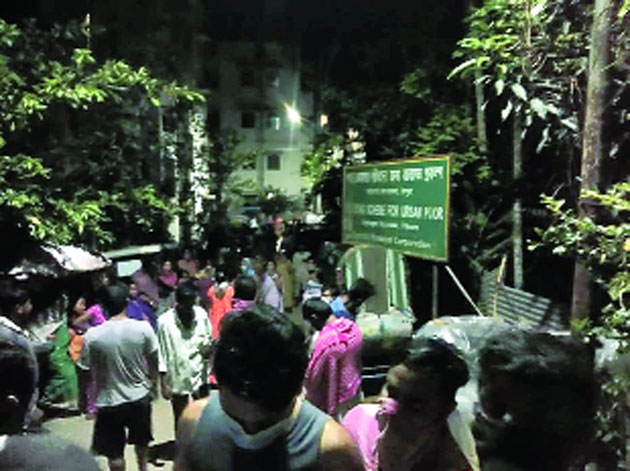 ---
|
Agartala
|
Published 11.05.20, 07:21 PM
---
Daily wager Gobinda Debnath made a 72-hour and expensive journey at his own peril from Assam to Tripura to be by his wife and daughter but they refused him entry though he tested negative for Covid-19.

His family said though he had tested negative at the checkgate, they would not allow him in without a 14-day quarantine as they don't want to take the risk of spreading the virus.
Gobinda lives with his wife Mampi, minor daughter and parents-in-law in a small flat, which was allotted to his mother-in-law Bhanu Das a few years ago under a housing scheme for the urban poor, at Joynagar near here.
"I had gone to visit my brother-in-law at Silapathar (Dhemaji district) in Assam and got stuck there when the lockdown was announced. But as I wanted to return home to my wife and child, I hired a vehicle at Rs 30,000 and, having travelled about 542km and almost two straight days and a night, returned home late on Sunday night," Gobinda said.
"I was tested for Covid-19 at a quarantine centre near Churaibari checkpost on the Tripura-Assam boundary and my report came negative. When I reached home, my wife and daughter told me not to enter the house. I was speechless," he told reporters. He feels his wife was under pressure from neighbours and was afraid to let him in.
Mampi said she was not under pressure but could not allow Gobinda in as the people living in the complex wouldn't be comfortable.
"I had asked my husband not to return during the lockdown but he did. I have a young daughter and my mother, in whose flat I live, is ill. In this situation, how can I allow him to stay here? He can come back only after staying in quarantine for 14 days," she said.
The neighbours came out in support of Mampi, blocked the entrance and did not allow him to go up to his flat. "What if Gobinda shows signs of the disease in the next 14 days?" one of them asked. Some of the residents informed health officials who shifted him to a quarantine centre here late at night.
A health official said the residents of the complex were not ready to understand that the test proves whether someone is infected or not. He said some of them even misbehaved with the healthcare personnel who went to assist Gobinda who was stranded below his house. Similar cases have been reported from Indranagar, Dhaleshwar, Joynagar and other places, where people have rejected their own kin out of misplaced fear after they had travelled miles to reach home.