Assam government in fix over incoming multitude
It's going to be a tough job if everyone wants to come back: Himanta Biswa Sarma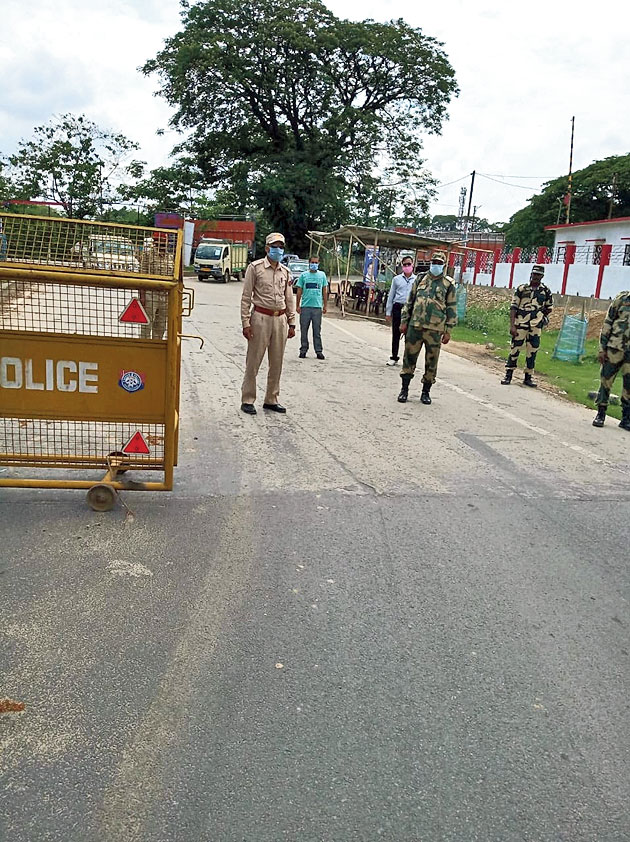 A checkpoint in Assam's Hailakandi district.
Picture by Satananda Bhattacharjee
---
Guwahati
|
Published 03.05.20, 11:04 PM
|
---
The Assam government is in a dilemma over how to bring back lakhs of stranded citizens who want to return home.
Nearly 90,000 people are stranded in Karnataka alone, the biggest chunk among all states. In Tamil Nadu and Telangana, around 50,000 each from the state are stranded. In Gujarat, Maharashtra, Delhi, Goa and Bengal, there are around 20,000-25,000 stranded people each from Assam.
Senior cabinet minister Himanta Biswa Sarma said on Sunday: "According to the Centre's guidelines, only those who have been stranded should return and not those who are working or residing outside the state. The state government is in discussion with railways but we can only bring back 1,200 people on a single train while maintaining social-distancing norms. So, it's going to be a tough job if everyone wants to come back."
The state helpline number has received a number of SOS calls from some stranded people, while Dispur has estimated that around eight lakh families were currently outside the state.
On Sunday, as the state government started allowing citizens from other northeastern states to return for the first time after the lockdown was imposed, long queues were witnessed at various inter-state borders. Assam opened its inter-state borders from Sunday morning and allowed stranded people from six other northeastern states to enter under strict medical observation.
"Many migrant labourers who went to Arunachal Pradesh to work in a construction site and then got stuck came back after undergoing screening. All of them were stamped and asked to stay in home quarantine for 14 days," said a police officer at the Banderdawa checkpoint along the border with Arunachal Pradesh. Sarma said, "From Arunachal Pradesh, around 1,000 people returned today. Similarly, 900 from Meghalaya, 312 from Tripura, 50 from Mizoram, 60 from Manipur and 15 from Nagaland returned."
The state government has also found that Nagaon district has the highest number of stranded people, around 25,000.
Hailakandi superintendent of police Pabindra Kumar Nath said police and medical teams have been deployed at Katakhal and at Thandapur, bordering Cachar and Karimganj districts, at Bilaipur-Dholcherra border outpost and at Bandukmara and Ramnathpur checkposts along the border with Mizoram.
Altogether 805 people have returned from different parts of the state since April 25. Altogether 380 people have been put under home quarantine for 28 days.
In Imphal, 92 people, who had been stranded in Guwahati and Aizawl for the past month, have tested negative for Covid-19. Additional director of health services Dr L. Arkay said all of them have been instructed to stay in home quarantine for 14 days. Those from far-off districts have been taken home in government vehicles. However, they all will be under surveillance by district chief medical officers, he said.
Additional reporting by Satananda Bhattacharjee in Hailakandi and Brozendra Ningomba in Imphal