Assam cops alerted on entry from Bengal
Of the 58 positive cases in the state, 22 are active cases, 34 patients have been discharged and one had died earlier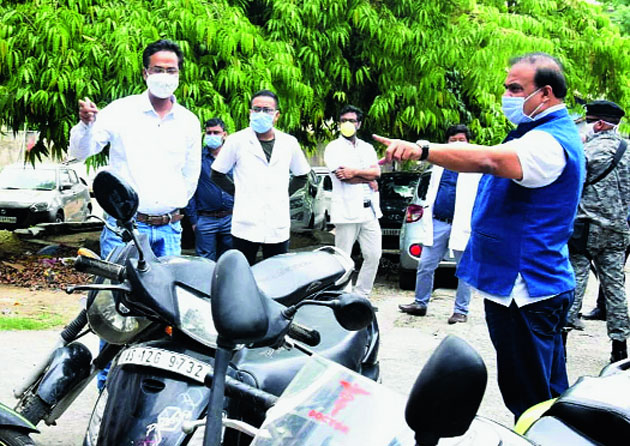 Himanta Biswa Sarma at GMCH in Guwahati on Friday.
Picture by UB Photos
---
Guwahati
|
Published 08.05.20, 10:42 PM
|
---
Assam's Covid-19 cases touched 58 on Friday with five more passengers of the Ajmer-Silchar bus testing positive in Cachar district.

The day also saw Dispur advising police not to allow anyone from West Bengal to enter the state after two persons, one of the four in the city who tested positive on Thursday and an earlier case, were found to have a history of travel to the neighbouring state.
The government also transferred the Cachar deputy commissioner following criticism over the administration's handling of the Ajmer-Silchar bus issue.
The five persons who tested positive in Cachar on Friday were passengers of the bus which had ferried 42 people from Ajmer Sharif Dargah in Rajasthan to Silchar. One passenger had tested positive on Wednesday, the day the bus reached Silchar after a five-day journey, and four had tested positive on Thursday.
Of the 58 positive cases in the state, 22 are active cases, 34 patients have been discharged and one had died earlier. One city patient tested positive after death on Thursday.
The detection of new cases has also affected the state's two leading hospitals, Gauhati Medical College and Hospital (GMCH) and B. Borooah Cancer Institute (BBCI). The government has decided not to admit new patients for three days after a GMCH doctor and a 16-year-old girl living in the BBCI colony were found positive, the girl after her death. She was neither in home nor institutional quarantine nor undergoing treatment. Her swab was collected after her death on Thursday. (See Metro)
Health minister Himanta Biswa Sarma said the government would ask the Centre if the girl could officially be declared a Covid-19 death case. If yes, she will be the second such case in the state.
He said one of the four persons who tested positive in Guwahati on Thursday had travelled to Midnapur in West Bengal. After his return, he was kept quarantined at Sarusajai Sports Complex.
"We have advised police not to issue passes to people to enter Assam from West Bengal except on humanitarian grounds like cancer patients willing to return home," he said.
So far 979 people have entered the state through Srirampur gate and 32 persons through Chagolia gates, both bordering West Bengal.
The detection of three cases (out of four in Guwahati on Thursday) without any travel history forced Sarma to announce that some spread of the disease in the state might have gone undetected.
Meanwhile, many people have requested Sarma through messages or on social media not to allow Assamese people living in other states to return home, fearing that they might be carriers of the highly contagious disease.
"We cannot ban residents of our state from returning home on moral or legal ground. However, I would request our people living in other states to stay back wherever they are. In case you return, please cooperate with the government," Sarma said.
He said the Ajmer-Silchar bus did not have the Assam government's permission and had travelled with permission from the deputy commissioner of Ajmer.
Responding to a Twitter follower's comment that allowing returnees to go for home quarantine instead of institutional quarantine was a "blunder", Sarma said largescale institutional quarantine was not possible because of common bathroom. It creates risk for otherwise negative people, he said.
Sarma said people's cooperation was the main instrument in the fight against Covid-19. He spoke of how quarantined people had clashed with medical staff thrice at Sarusajai on Thursday alone, how seven people were found travelling in a vehicle against the prescribed three and how he saw at least five children below 10 years on streets with their parents this morning.
He appealed to people to immediately contact doctors or dial 104 if they suffer from Covid-19 symptoms. "Please do not ignore these symptoms," he said.