Conrad launches muga mission in Meghalaya
The mission entails a financial implication of more than Rs 138 crore from 2019 to 2024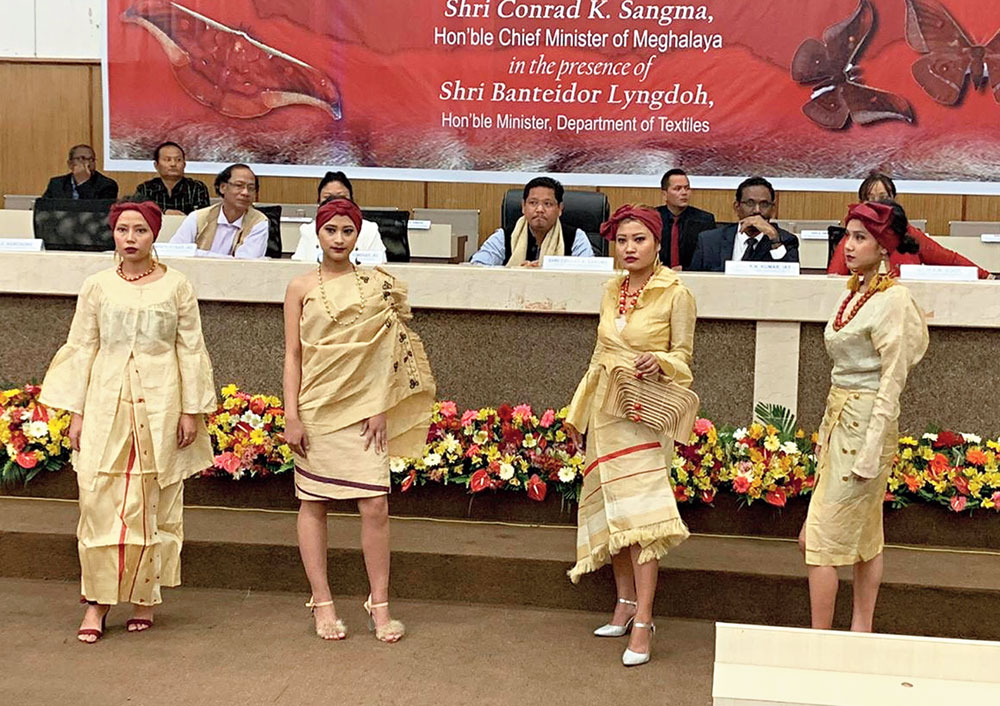 Models walk the ramp during the launch of the mission in Shillong on Tuesday
Picture by UB Photos
---
Shillong
|
Published 29.05.19, 12:21 AM
|
---
The Meghalaya muga mission was launched by chief minister Conrad K. Sangma on Tuesday to boost muga production over the next five years.
The mission entails a financial implication of more than Rs 138 crore from 2019 to 2024.
According to the mission document, muga silkworm rearing is found only in the northeastern region of the country, mainly in the Brah-maputra Valley and in the foothills of Meghalaya, Arun-achal Pradesh and Nagaland.
In Meghalaya, muga is traditionally cultivated in West Khasi hills, East Garo hills, North Garo Hills, West Garo Hills and Ri-Bhoi districts.
A muga farmer requires at least an acre of land to cultivate about 450 muga host plants. About 10,000 muga cocoons can generate about 2kg of raw silk, producing 21 sq. metres of silk cloth; from which one can obtain six pieces of muga silk jaiñsem which will take about 75 days, to get the finished product from a single loom.
During 2017-18, India produced 158 tonnes of muga silk, out of which 30.37MT was produced in Meghalaya.
The mission aims to cater to the needs of the farmers, reelers and silk weavers which thereby, will boost production.
Through the mission, around 1,350 farmers will be identified as beneficiaries in 34 blocks across different districts. Many areas under these blocks have been identified as congenial for practicing muga culture, and where muga culture has been traditionally practised.
"Right until now our farmers mostly have been producing the raw silk, which is mostly sold to Assam. Increasing the production and ensuring value addition to the available resources in the form of finished products will greatly improve the economic status of muga farmers," Conrad said.
He said tying up with industry partners, fashion houses and designers would give a major fillip to muga farmers.
Conrad said the state government would soon roll out MeghaMart, an online platform to facilitate the sale and purchase of products sourced from local entrepreneurs. "The government has prepared a database of 2,000 enterprises and more than 10,000 products that will be available through the website. It will be the Amazon for made in Meghalaya products'."
A procurement policy will come up to make it mandatory for government departments to source certain amount of their supplies from local entrepreneurs.
Additional chief secretary K.N. Kumar said most of the raw silk is sold to Assam which has, over the years, positioned itself as the geographically indicated region for muga silk, leading to a huge price mark up for the same in the neighbouring state.
The investment of more than Rs 138 crore would be used for area expansion, development of infrastructure, building of human capital and inputs for developing final finished products, including its sale and marketing.
Kumar said the target output in the next four to five years would be 43 metric tonnes.
A muga farmers' training centre would be set up at Resubelpara in North Garo Hills to facilitate scientific training and equip the farmers with the necessary skill sets.