Conrad harps on economy
'Meghalaya's economy also needs to double in the next five years and become a $10 billion economy'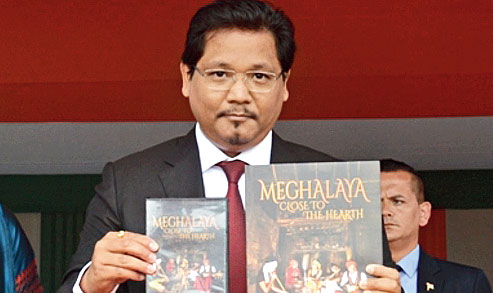 Meghalaya chief minister Conrad K. Sangma at the Independence Day celebration in Shillong on Thursday
Telegraph picture
---
Shillong
|
Published 15.08.19, 06:33 PM
|
---
Meghalaya aims to double its economy in the next five years to reach at least $10 billion from the current $4.2 billion while announcing that a programme —MOTHER — would be launched to improve infant and maternal mortality rates.
This was announced by chief minister Conrad K. Sangma while delivering the customary Independence Day speech at Polo ground here on Thursday.
"To achieve the goals and aspirations of three million Meghalayans, our economy needs to grow more strongly than in the past decade. Today, the size of Meghalaya's economy is about Rs 30,000 crore or $4.2 billion," Conrad said after unfurling the Tricolour and taking the salute.
He said while the size of the Indian economy is $2.6 trillion, Prime Minister Narendra Modi aims to make it a $5 trillion by 2024-25.
Conrad said Meghalaya's economy also needs to double in the next five years and become a $10 billion economy.
"This will mean that our growth rates should be higher than 10 per cent in the next few years. To make such growth rates possible, investments by both the government and private sector are necessary. The government will make every effort so that the size of the economy expands and that this expansion will lead to the greater well-being of all our citizens," he said.
The chief minister also mentioned the Supreme Court ruling which allowed coal mining to be undertaken under statutory regulations.
Terming the judgment as "a big victory for the people of the state", Conrad said that the apex court upheld the government's contention that the indigenous people of Meghalaya have rights over land and the extracted mineral.
"Perhaps for the first time anywhere in the country, the government argued for protection of tribal rights, the unique culture and identity of the people before the highest court of the land. This government walked the talk on the issue and I feel a great sense of satisfaction today. The judgement of the court is historic and its implications extend beyond the realm of coal mining. Once tribal identity has been acknowledged by the Hon'ble Supreme Court, the customs, practices and traditions will remain protected," Conrad stated.