Citizens decry NRC torment
Demonstration over NRC applicants having to suffer during the claims and objections process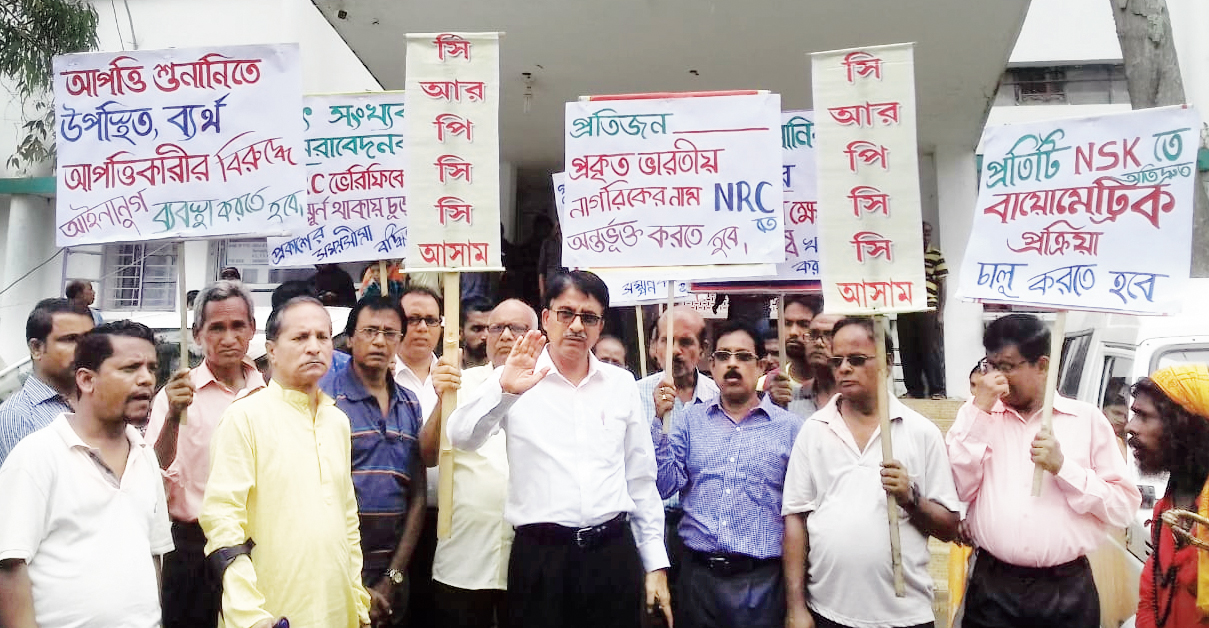 ---
---
The Citizens Rights Protection Coordination Committee on Friday demonstrated in front of the deputy commissioner's office in Karimganj district of Assam against the "harassment" NRC applicants are having to suffer during the claims and objections process.
They also sent a memorandum to the Registrar General and Census Commissioner of India and the NRC state coordinator of Assam through the deputy commissioner.
The memorandum was signed by the committee's Karimganj district president Sunit Ranjan Das and secretary Nandan Kumar Nath and the general secretary of its central committee Arunangshu Bhattacharjee. A large number of people participated in the demonstration.
The memorandum demanded extension of deadline for publication of NRC final list, completion of document verification and biometric profiling in the claims and objections process at the same NRC Seva Kendra at the same time, summary rejection of an objection in the absence of objector, bringing to book and penalising false and absent objectors and inclusion of all Indian citizens in the NRC.
The memorandum tried to draw the attention of NRC authorities "to inexhaustible harassment of Indian citizens involved in the claims and objections process owing to insensitive and irresponsible administrative mechanism".
It expressed fear that if the NRC final list is published without completion of full verification, it would be an arbitrary denial of citizenship to a large number of applicants.
The memorandum said, "…the biometric profiling has been initiated without proper infrastructure. It is evident that all the NSKs are not equipped with technical instruments and personnel required for biometric profiling, for which the applicants in the claims and objections process are summoned to one NSK for verification of documents and instructed by the NSK concerned to attend another NSK for biometric profiling".
It termed the process as "a great harassment" to people and asked the authorities to provide necessary equipment to all NSKs.