Chetia urges Ulfa to free Arunachal tea worker
Ulfa (I) cadres abducted tea worker Debabrata Deb who worked for the Arunachal deputy CM's wife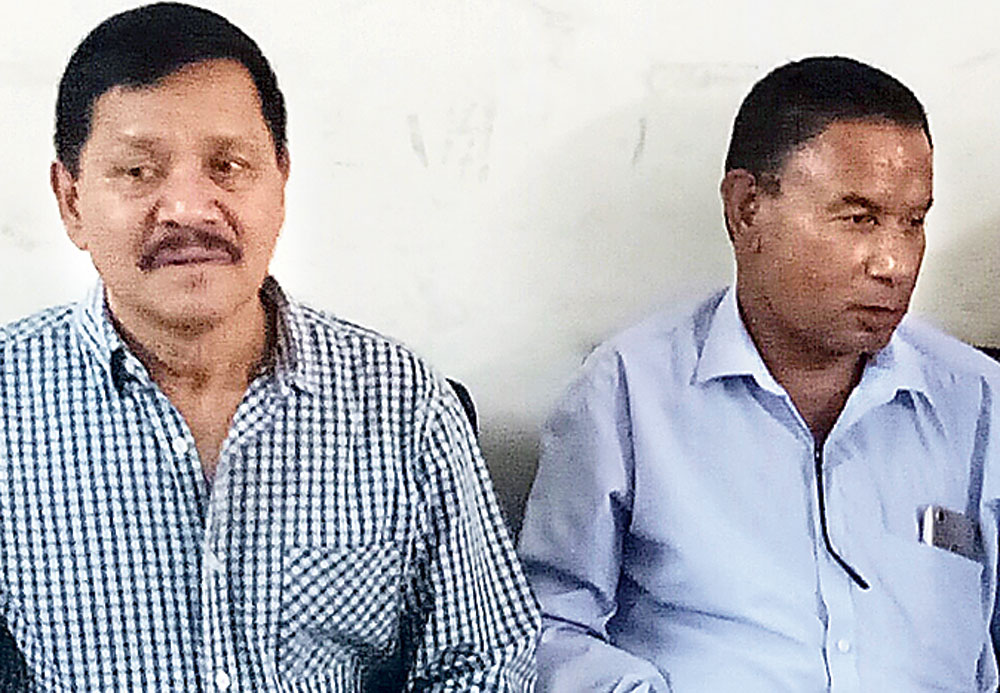 Anup Chetia (left) and Prabal Neog in Guwahati on Tuesday.
Picture by Ali Fauz Hassan
---
Guwahati
|
Published 13.11.18, 07:48 PM
|
---
Pro-talks Ulfa leaders Anup Chetia and Prabal Neog on Tuesday requested Ulfa (Independent) commander-in-chief Paresh Barua to ensure that the kidnapped tea garden employee from Arunachal Pradesh is returned unharmed to his family.
Suspected Ulfa (I) cadres had kidnapped a tea garden employee, identified as Debabrata Deb, storekeeper with Sati Tea Estate, from Namsai in Arunachal Pradesh on Saturday evening. The garden is owned by N. Sati Mein, wife of Chowna Mein, deputy chief minister of Arunachal. The kidnappers demanded a ransom of Rs 3 crore.
Speaking to reporters here, Chetia said, "We have come to know from Arunachal residents that Rs 3 crore has been demanded for the safe release of the employee of the tea garden owned by the wife of Arunachal deputy chief minister Chowna Mein. We request Ulfa (I) commander-in-chief Paresh Barua to ensure that the person is returned unharmed to his family. Ulfa (I) should also ensure that the brotherhood existing between the people of Assam and Arunachal is not affected."
He, however, added, "We don't know whether Ulfa (I) is really behind the kidnapping or some other group has done it in the name of the group." He said according to information received by them, a group of six to seven Ulfa (I) deserters were active in the area and were demanding money from locals in the name of the organisation.
He said Ulfa (I) leadership had announced that action would be taken against them for anti-organisation activities.
"Chowna is originally from Sadiya in Assam and he has been maintaining good relations with the people in our state. This will lead to a loss of faith. The demand of ransom for Deb came over phone. The family denied having received the demand through letter. The involvement of Ulfa (I) is also in doubt as no prior notice for any money was received. Ulfa (I) cadres move through the area and gave no inkling of this kidnapping to the residents with whom they are on friendly terms," Chetia said.
Neog blamed the situation on the citizenship bill, saying that a large number of youths have joined Ulfa (I) and Kamtapur Liberation Organisation (KLO) recently.
Neog also revealed that around 400 demand notices had been recovered from a suspected Ulfa (I) cadre. He said a group of Ulfa (I) deserters were involved in sending demand letters to individuals in Changlang and the newly formed Patkai district in Arunachal Pradesh.