Cancer carers very few: B. Borooah Cancer Institute director
There are around 6,500 trained oncologists for a country with 130 crore population: Amal Chandra Kataki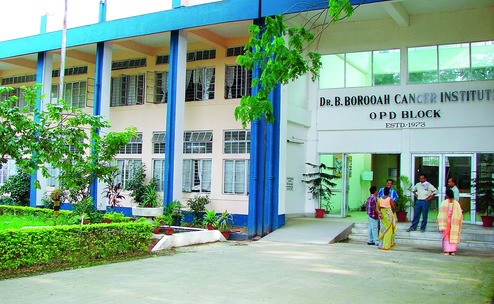 Dr B. Borooah Cancer Institute in Guwahati
File picture
---
Guwahati
|
Published 27.02.20, 08:14 PM
|
---
The director of B. Borooah Cancer Institute (BBCI), Amal Chandra Kataki, on Thursday said of the seven cancer hospitals in Assam, only four are well equipped.
Kataki said there is a nationwide shortage of professionally trained manpower in the field of cancer care.
"In India, there are around 6,500 trained oncologists for a country with 130 crore population. This is coupled with a shortage of more than 600 tele-therapy machines, which is most commonly used for cancer treatment. According to the requirements laid by World Health Organisation, one teletherapy machine is required per 10 lakh population," he said.
Kataki said every year, 39,000 new cancer patients are diagnosed in the Northeast, of whom around 30,000 patients are from Assam alone.
He said for early detection and treatment for cancer patients, Assam needs more cancer hospitals, good infrastructure and manpower.
"At present, of the seven cancer hospitals in Assam, only four are well equipped. There are about 26 radiation oncologists, 37 surgical oncologists, 19 medical oncologists and 10 in preventive oncology and palliative medicine in Assam. The state is in need of more surgical oncologist and medical oncologist," he said.
Kataki said four doctors from Africa have joined BBCI under the Merck Fellowship for training in surgical, gynaecological, and medical oncology last year.
The cancer institute here recently received permission from the Medical Council of India to start three super-specialty courses in oncology.
With this, the institute now conducts five superspecialty courses on DM (medical oncology), MCh (surgical oncology), MCh (head and neck surgery), MCh (gynecological oncology), and DM (onco-pathology) under Srimanta Sankardeva University of Health Sciences.
Debabrata Barman, the principal coordinator of BBCI Academia, said, "So far, 42 doctors have been trained in cancer management at the institute."