BJP finger at conspiracy in Tinsukia killings
BJP president said if such incidents continue to happen in the state it would adversely affect the investment climate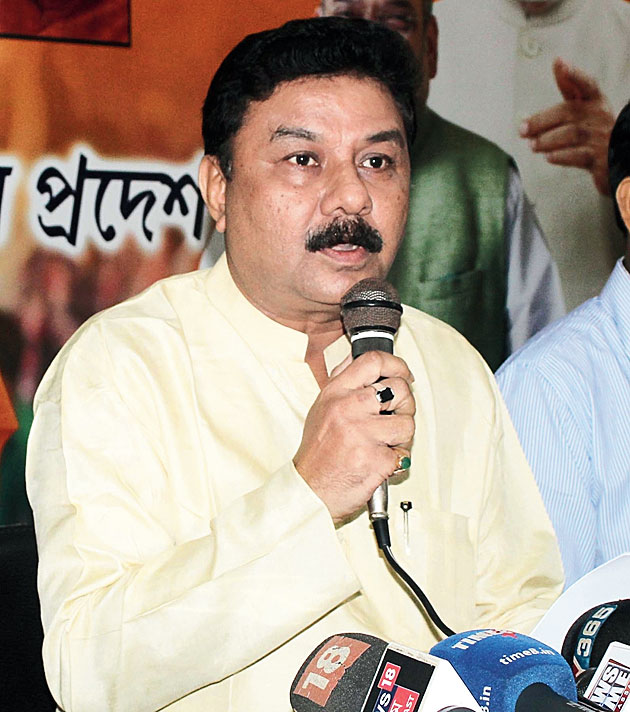 Ranjeet Kumar Dass speaks at the news meet on Friday.
Picture by UB Photos
---
Guwahati
|
Published 02.11.18, 06:55 PM
|
---
Assam BJP president Ranjeet Kumar Dass on Friday said the killing of five men in Tinsukia district on Thursday could be the result of a bigger political conspiracy to create unrest in the state over the Citizenship (Amendment) Bill.
Dass said the incident was the fallout of provocative statements made by a section of people and organisations in the past few days. "I not only condemn it but also urge the state government to arrest them to unearth the bigger conspiracy. We suspect a political party could be behind all this," he said.
The state BJP chief, however, refrained from naming the political party.
"It is an attempt to derail development and progress in the state," he said.
He also attacked the Congress saying "the BJP unites but the Congress divides".
Dass said the Congress is creating confusion and misleading people on the Citizenship (Amendment) Bill but we will not allow them to succeed.
"The Congress has one stand on the bill in Barak Valley and another in the Brahmaputra Valley," he said.
"Our government will do everything to protect the integrity of the country and to ensure security of the people," he said.
He also appealed to the media not to telecast or publish anything provocative that could foment further trouble and trigger more violence in the state.
On being asked what action will be taken against Hojai BJP MLA Shiladitya Dev for making provocative statements, Dass said, "Anybody who makes a provocative statement, even an MLA, will not be spared."
"Dev has been asked to exercise restraint while making statements and not hurt the sentiments of any community. If he continues to make provocative statements, we will write to the party's parliamentary board against him," the BJP president said.
"We do not want to curb anyone's freedom of speech but at the same time nobody should make any statement that could lead to bloodshed," he said.
Dass said if such incidents continue to happen in the state it would adversely affect the investment climate in the state and negate the state government's efforts to bring in investment.
Spokesperson for the Assam unit of the BJP, Rajdeep Roy, said it was an act of "cowardice".
"We condemn the killings. The incident proves that Ulfa is not civilised yet. We have urged the government to take action against those involved and provide adequate compensation to the victims' kin," he said.
Additional reporting by Swapnaneel Bhattacharjee in Silchar