Shah accuses Mizoram govt of funds misuse
At his second poll rally in the state, Shah also blames Congress govt for lack of development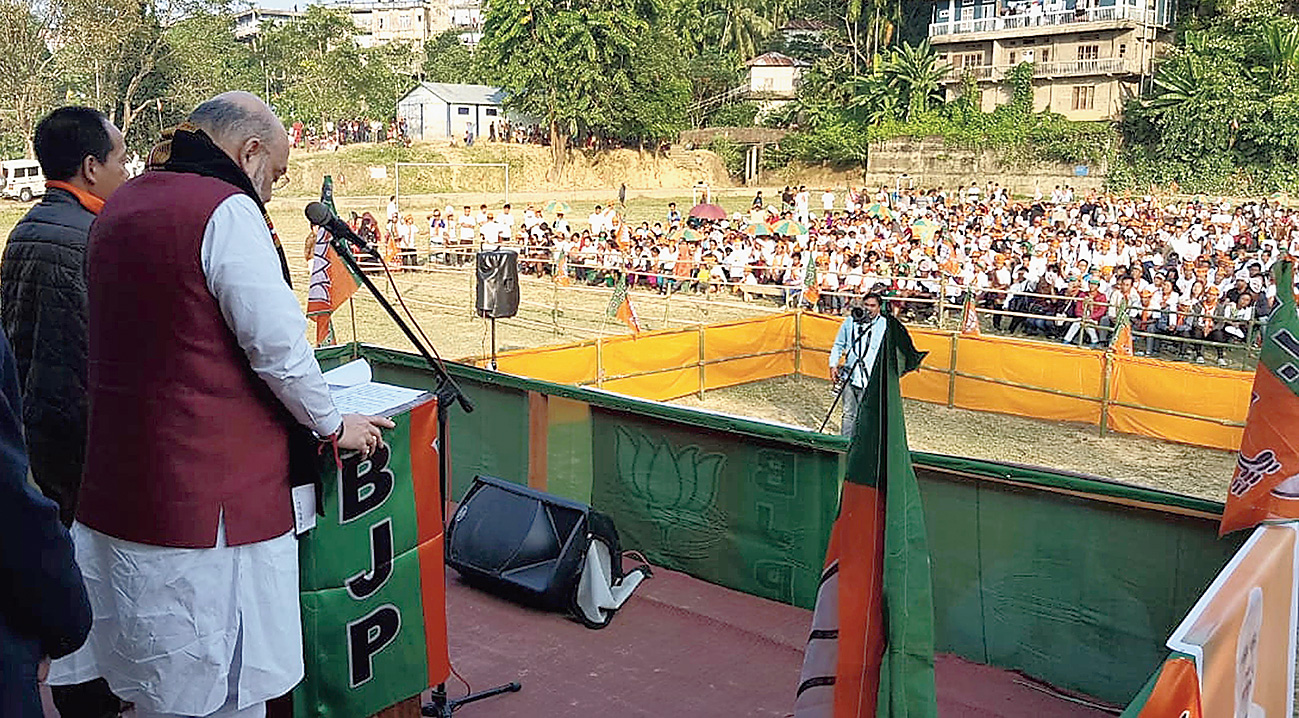 ---
|
Aizawl
|
Published 20.11.18, 06:42 PM
---
BJP national president Amit Shah on Tuesday slammed the Congress-led Mizoram government for lack of development in the state and accused it of misusing funds sanctioned by the Centre for development projects.
Addressing a poll rally in southern Mizoram's Lawngtlai town, Shah said the Centre has given utmost importance to the development of the Northeast, especially to the minorities.
This is the second poll rally by Shah in the state. He had opened the party office and addressed a public rally here in October.
Shah said the BJP leaders at the Centre had visited the Northeast more than 200 times in the four-and-a-half years of NDA rule and made relentless efforts to develop the tribal people and religious minorities.
The BJP is wooing the minority Brus and Chakmas and is expected to do well in five seats where these communities are a decisive factor. He said the BJP has evolved strategies for the uplift of the minority communities and the party has to be in power in the state to develop education, public health and road communication.
Shah alleged that the Congress-led Mizoram government had misused the funds that the Centre gave it for development projects.
He said the BJP, if voted to power, would create 50,000 new jobs for educated tribal youths in next five years and construct all-weather pothole- free roads in next six months.
The BJP president also promised to set up three engineering colleges, two medical colleges and three nursing colleges in the state, if the party came to power after the Assembly elections.
He said the BJP government would give rice to all BPL families at Rs 1 per kilogram through ration shops. Shah also promised inclusion of the Mizo language in the Eighth Schedule.
Assam finance minister and BJP in-charge of Mizoram elections, Himanta Biswas Sharma, who accompanied Shah, said when Union home minister Rajnath Singh visited south Mizoram's Siaha town, he had promised greater autonomy for three autonomous district councils if BJP candidates are elected.
Shah also addressed a poll rally at Vairengte village on the Mizoram-Assam border before leaving for Delhi.
The BJP has fielded 39 seats for the Assembly elections on November 28.
The party has promised to create 50,000 new jobs in the next five years, the party manifesto released by BJP national secretary Ram Madhav said.