Attack on ex-AASU leader, protesters
Unidentified men fired upon the house of Rupa and Pranjal Rajkhowa and damaged a car owned by Binay Baruah, all anti-CAA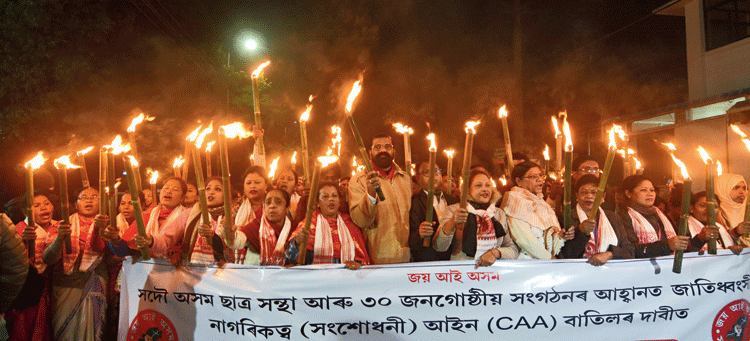 ---
|
Golaghat
|
Published 03.01.20, 07:35 PM
---
Unidentified men attacked Citizenship (Amendment) Act protesters in Golaghat district and a former All Assam Students' Union leader and his friends in Udalguri district in Assam on Thursday night.
In Golaghat district in Upper Assam, unidentified men fired upon the house of Rupa and Pranjal Rajkhowa and damaged a Maruti van owned by Binay Baruah, all anti-CAA, at Habial village, on the outskirts of Golaghat town. The Rajkhowas and Baruah had taken the lead in organising a protest against the Citizenship Amendment Act (CAA) at Ganakpukhuri market place, adjacent to Habial village, on Thursday.
Rupa, who is also the president of Dhekial gaon panchayat, said, "I was attending to guests when I heard gunshots. Some bullets even landed in our courtyard. After the incident, we apprehend a threat to our lives and are feeling insecure."
Baruah said, "After our protest programme, I went to Rajkhowa's house to discuss some matter. My vehicle, which was parked outside, was severely damaged as bullets pierced it. It was a well-planned conspiracy to create terror among the masses and gag our voice of protest."
AASU assistant general secretary Monowar Hussain said, "This is not the first time that anti-CAA movement leaders have been targeted. On December 12, bullets were fired at AASU member Nitu Saikia's house at Melamora. A case was registered at Kamargaon police station but the police have failed to make any headway till date."
Hussain alleged, "People are alleging that BJP Khumtai legislator Mrinal Saikia is the mastermind behind these incidents but the police do not have the guts to interrogate him. We will submit a memorandum to the director-general of police, superintendent of police and the Golaghat deputy commissioner, demanding immediate arrest of Saikia and to ensure protection of life and property of people living in Khumtai."
Golaghat superintendent of police Pushpraj Singh said, "It's too early to comment on the motive as the investigation is at an initial stage. We have picked up some people for interrogation and sent the empty cartridge shells to the forensic science laboratory. We hope to crack the case in three to four days."
In Udalguri, the car that former AASU leader Intajul Ali was travelling in was attacked by two bike-borne persons at Christenpara along the Udalguri-Tamulpur Road in lower Assam.
Ali, 25, former president of AASU's Paneri unit, was returning from Udalguri town, after visiting a relative, to his house in Paneri with three friends when the Bolero they were travelling in was attacked. Paneri is 22km from Udalguri town and Christenpara is 3km from Paneri. Police said the driver side's window pane and rear view mirror on the right side of the car were damaged but no one was injured. Ali said, "The assailants stopped our car and started hitting the window pane with some object. We crouched to save our lives. We couldn't see whether it was a firearm or a dagger in the darkness. They fled the scene in seconds." AASU assistant general secretary Jayanta Kumar Bhattacharya said, "Ali was associated with the students' union. We urge the police to investigate the matter."
Udalguri superintendent of police Ripul Das said, "It appears to be a case of road rage as the Bolero had hit the motorcycle's headlights before being attacked. It might have irked the bike-borne youths and they hurled stones to damage the car's window panes."
Bhergaon sub-divisional police officer Nirmal Ghosh, refuting claims of use of firearms in the incident, said, "An FIR has been lodged and an investigation is on."
Singer Zubeen Garg, who is a leading anti-CAA voice, on Friday appealed to protesters not to disrupt the T20 tie as sports and cultural functions should not be disturbed.
"I request everyone not to disrupt the tie because sports and music are things which keep us going. We will protest when (Prime Minister Narendra) Modi comes. The protest will be at the airport and will be non-violent as he will have to see our protest," Zubeen told a television channel.
AASU president Dipanka Nath, reacting to twin incidents, said they were still examining the Udalguri incident but wanted strict action against those involved in the Golaghat incident.
"They were secret killers. We are yet to see concrete police action but we want to convey to the government : this agitation cannot be suppressed," Nath said.