Assam varsities hoist black flags against JNU attack
Move came in response to a call given by the North East Students' Union and its constituent, the AASU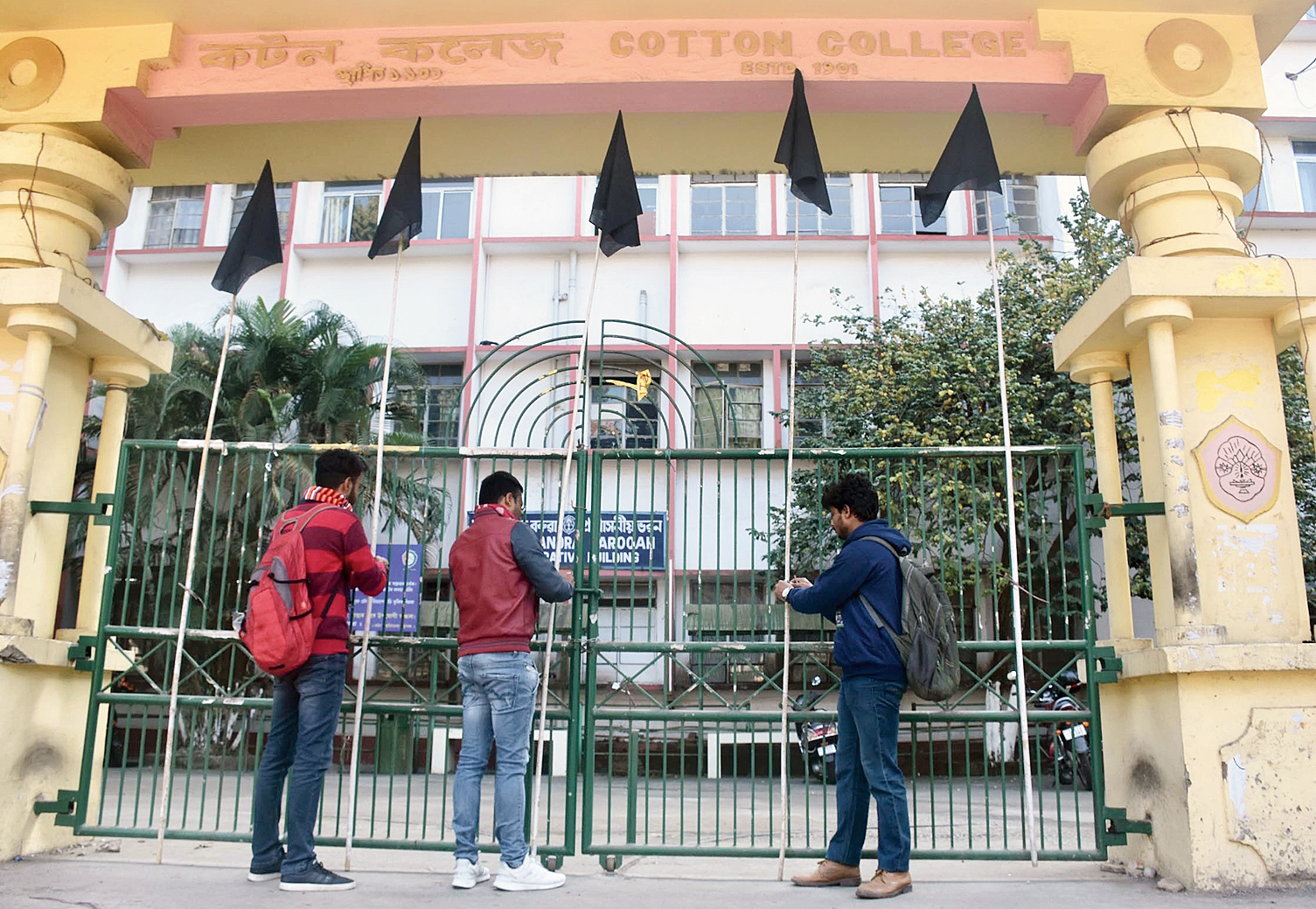 Students put up black flags at the entrance to Cotton University in Guwahati on Wednesday.
Picture by UB Photos
---
Guwahati
|
Published 08.01.20, 08:05 PM
|
---
Cotton and Dibrugarh universities hoisted black flags and demonstrated in front of their institutions on Wednesday in protest against Sunday's "barbaric attack" on students and teachers of Jawaharlal Nehru University and pledged to keep up the fight against alleged government excesses.
The move came in response to a call given by the North East Students' Union (Neso) and its constituent, the All Assam Students' Union (AASU), to hoist black flags at public places and educational institutions across the region on Wednesday and Thursday in protest against the attack.
Cotton University Students' Union assistant general secretary Abhilasha Neog condemned the attack and said students will not tolerate the government's "fascist attitude". "Goons and police cannot enter campuses and wreak havoc. We can feel the pain of those attacked in JNU because security personnel had attacked us too during our protest against the Citizenship (Amendment) Act here on December 11. We condemn the attack and seek action against the guilty. We will continue our fight against government excesses," Neog said.
Dibrugarh University Students' Union general secretary Rahul Chetri also condemned the JNU attack and said it should not be seen in isolation. "It is an attack on the entire student community. The students were attacked in the national capital and the government failed to protect them. We condemn the attack and seek action against the guilty," he said. Dibrugarh University is about 410km east of Guwahati.
Protests were not held at Gauhati University because of exams but GU Students' Union president Anurag Kumar Buragohain said they would stage one after the exams. GU students and teachers had protested on Monday and Tuesday. Exams are not being held in Cotton and Dibrugarh universities at present.
Assam Students' Forum president Hirak Jyoti Bora, who is a Cotton University student, said, "The brutal attacks in India's prestigious institutions — Jamia Millia Islamia University, Aligarh Muslim University and now Jawaharlal Nehru University — is a sign of dictatorship and a process to kill the soul of our country by destroying our Constitution."
He alleged that Prime Minister Narendra Modi was trying to suppress students' voice. "In Assam, the BJP-led government has been trying to stop students from protesting against CAA by killing them. At JNU, they sent goons. Tomorrow we may be targeted but we will fight to save our motherland Assam and India," Bora said, seeking a probe into the attack.
The JNU Students' Union has been agitating against steep hike in hostel fees for over two months now.
Additional reporting by Avik Chakraborty in Dibrugarh