Assam strategises to curb liquor during poll
Steps taken to check the sale and supply of illicit liquor by plugging the loopholes in the system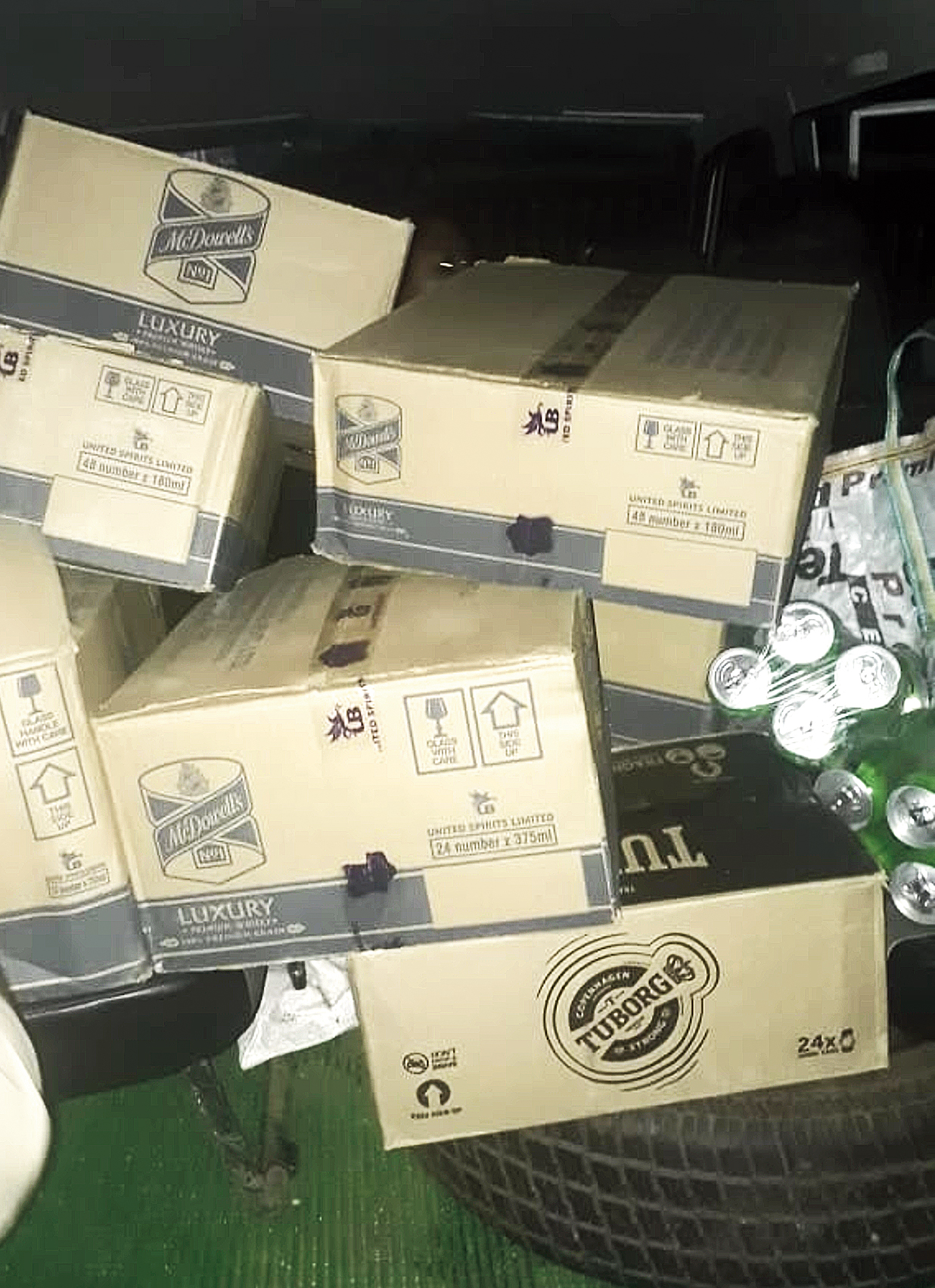 Smuggled liquor from Meghalaya seized in Boko in Kamrup district on Sunday.
The Telegraph picture
---
Guwahati
|
Published 25.03.19, 08:48 PM
|
---
Assam is formally coordinating with neighbouring Arunachal Pradesh, Meghalaya and Nagaland for "special enforcement arrangement" to check the unauthorised movement of liquor through the state during the Lok Sabha elections.
In separate letters to the excise commissioner of the three states on Monday, Assam excise commissioner Rakesh Kumar has sought their cooperation in sharing information regarding liquor consignments which originate in Meghalaya and Arunachal Pradesh and pass through Assam "on their Whatsapp number 9435052381 and email id excomassam@gmail.com and their toll free number 18003453545 so that they can escort the consignment to rule out possible en route dumping of stock". Excise department PRO Sailendra Pandey said this would help control possible allurement of voters during polls. Assam goes to the polls on April 11, 18 and 23.
On Sunday, the Congress had alleged that the ruling BJP was going to lure tea garden workers by distributing a huge amount of alcohol. The party flayed the state government for not making public the one-man committee report on the February hooch tragedy in Jorhat and Golaghat districts that killed 155 persons in and around three gardens — Halmira, Woka and Borholla.
In the letter to his Nagaland counterpart, Kumar said a lot of consignments are passing through Assam under permit from Arunachal Pradesh in the name of paramilitary/canteen stores departments supply. He sought "the list of bonded warehouses for paramilitary/CSD under the defence ministry so that it is easy to verify the validity of permits and thereby illegal liquor stock movement can be controlled."
The excise department has admitted the challenges emanating from unauthorised stocking of liquor on non-licensed premises in areas declared sensitive. "We have noticed supply of liquor to Guwahati-based consumers from several IMFL shops in Meghalaya on the Assam-Meghalaya border adjoining the city. The same challenge will also be faced in the areas adjoining the Assam-Arunachal border," Pandey said.
Since Assam is a route through which liquor consignments of adjoining states are transported, there are chances that liquor may be dumped in various areas in Assam during election time.
"It is because of the price difference of between Rs 50 and 75 for a similar brand. The difference is more for liquor which comes from Arunachal Pradesh. Therefore, to check such dumping, the excise department has written to the three states seeking their support in curbing the menace. Effective coordination can help us check this menace," Pandey said.
Excise department sources said a lot of steps have been initiated to check the sale and supply of illicit liquor by plugging the loopholes in the system after it faced criticism for the hooch tragedy.
The excise department had, soon after the model code of conduct came into effect on March 10, also launched a web-based application for redressal of excise-related complaints.
"A central enforcement squad has been constituted to conduct drives against excise offences. All district excise superintendents have been instructed to constitute district-level enforcement squads to conduct raids to curb illegal distillation, storage, movement and sale of liquor throughout the district," Pandey said.