Assam SFI takes out mock funeral procession to protest citizen bill
Symbolic 'immersion 'of Prime Minister Modi, Union minister Rajen Gohain, chief minister Sarbananda Sonowal and others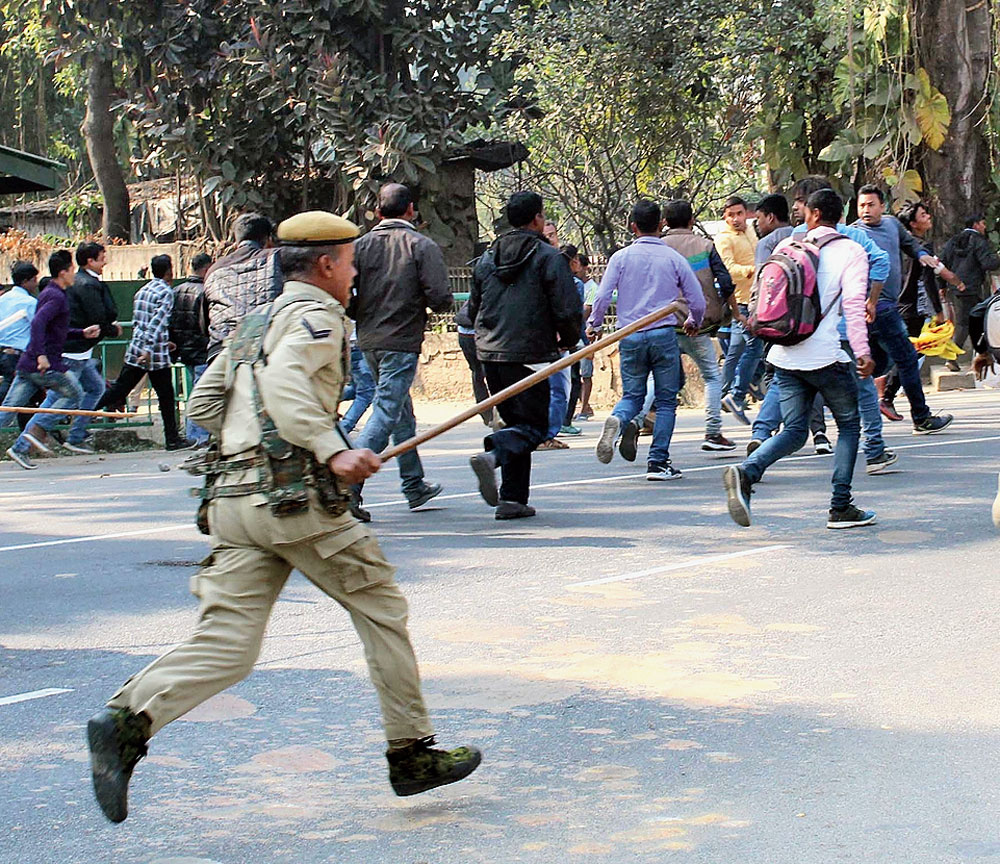 ---
Guwahati
|
Published 09.01.19, 06:48 PM
|
---
Protests against the Citizenship (Amendment) Bill, 2019, continued on Wednesday here and in other parts of Assam.
Protesters, including students and activists of various groups, hit the streets in hundreds, shouting slogans.
Members of the Krishak Mukti Sangram Samiti, Asom Jatiyatabadi Yuva Chatra Parishad and 68 other organisations stormed the Assam secretariat on GS Road and shouted anti-government slogans in protest against passing of the bill in the Lok Sabha.
"We have come out on the streets and converged in front of the state government headquarters to express our opposition to the bill. If Delhi and Dispur don't understand our democratic way of protest, we will be forced to adopt other means," an AJYCP protester, Pradip Gogoi, said.
The protesters sat on GS Road when security personnel tried to detain them. Police resorted to moderate baton charge to disperse them. After about half an hour, the protesters marched towards Ganeshguri. The police said the protesters hurled stones and vandalised barricades and other public property. The protest lasted around 45 minutes. More than 100 protesters were detained and sent to Dispur and Paltan Bazar police stations.
Supporters of Students' Federation of India (SFI) staged semi-nude protests, wearing white Axomiya dhoti, generally worn during funerals, and took out a mock funeral procession of BJP leaders, including Prime Minister Narendra Modi, Union minister of state for railways Rajen Gohain, chief minister Sarbananda Sonowal, MPs Bijoya Chakravarty, Pradan Baruah, Rameshwar Teli, Ramen Deka, R.P. Sarma.
About 60 students took part in the mock funeral procession from Bamunimaidum to Kachari Ghat, where they immersed the "bodies" in the Brahmaputra.
"This is death of democracy. The BJP government didn't listen to the people of Assam. We don't want the bill and we don't want illegal immigrants to be divided in the name of religion. This will ruin the social fabric of Assam," SFI secretary Nirankush Nath said.
The protesters said the shamshan yatra was a figurative representation to convey that by passing the bill and "deceiving" the people of Assam, the BJP leaders were dead to the people here.
"We are adamant that if the bill is passed, we will not allow its implementation here. The current BJP leaders are dead to us and they will not have a next term here again," a protester said.