Assam: Northeast gets biggest solar plant
CM Himanta Biswa Sarma inaugurated the 70MW Amguri Solar Park in upper Sivasagar district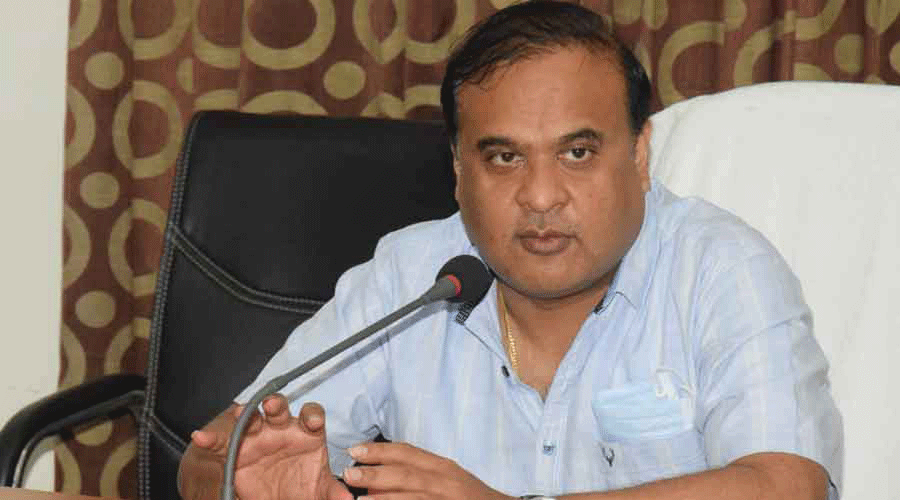 Himanta Biswa Sarma.
File photo
---
Guwahati
|
Published 02.06.22, 03:11 AM
|
---
The Northeast's biggest solar power plant was inaugurated in Assam on Tuesday.
 Assam chief minister Himanta Biswa Sarma, while inaugurating the 70MW Amguri Solar Park in upper Sivasagar district, said the project set up on a 340 acre of land was in line with meeting "our renewable energy obligations under Sustainable Development Goals".
Senior government officials said the inauguration of the plant has taken the state's capacity to generate solar energy to around 180MW "within a year and the government is set to launch projects that would add another 1,000MW within a short time".
They also said the solar park was developed by M/s Jakson Power Pvt Ltd through a transparent competitive bidding as per guidelines of the Union power ministry.
"It is biggest plant in the Northeast capacitywise, either in the government or in the private sector. Entire power generated from this project will be supplied to APDCL at a fixed tariff of Rs 3.98 per unit for 25 years. The project is expected to be constructed with investment of around Rs 344.20 crore. Jakson has invested around Rs 290 crore," an official said.
The official said that the chief minister has planned to install 1,000MW of solar power plants in free government lands.
 "The state government is actively deliberating on notifying a renewable energy policy soon. Meeting renewable energy obligations is a pre-requisite for a state to meet its commitments under sustainable development goals," he said referring to the SDGs adopted by the United Nations in 2015 to ensuring a sustainable development and future for all by 2030.
However, the inauguration of the project was as much a source of joy as it was of relief to both the people of Amguri and the state government.
  Power minister Bimal Borah in a tweet said the solar park was an offshoot of the historic 1985 Assam Accord that ended the six-year long anti-foreigners agitation to protect the state from influx.
Former chief minister Sarbananda Sonowal, who had laid the foundation of the solar park on February 19, 2019, also said the project was an offshoot of the 1985 Accord.
Borah further said the land on which the solar park came up was acquired in 1987 (during AGP's first term in power) to accelerate Assam's economic development.
The then AGP-led government under chief minister Prafulla Kumar Mahanta had proposed a 360-MW gas-based power project on the 340-acre plot and had accordingly laid the foundation stone in 1990 but the project never took off even after its capacity was reduced to 100MW, mainly due to uncertainty surrounding adequate supply of gas to run the project.
The project, however, took off but in a new avatar in 2019.
"The project was converted into solar project from a gas-based project as it aligned with India's push for producing clean, emission-free and renewable energy to check greenhouse gases which are a key source of pollution and global warming. It is a great day for Assam's power sector," a source said.
Borah said the newest addition to Assam's power infra would go a long way towards augmenting the state's power generation capabilities, while creating employment avenues for youth. "Under HCM's leadership, GoA shall strive to make the state #AatmaNirbhar in electricity generation," he tweeted.
--