Assam govt, IIT Guwahati sign MoU to set up healthcare institute
State government has committed Rs 546 crore for the project while the IIT-G, established in 1994, will contribute the required land and expertise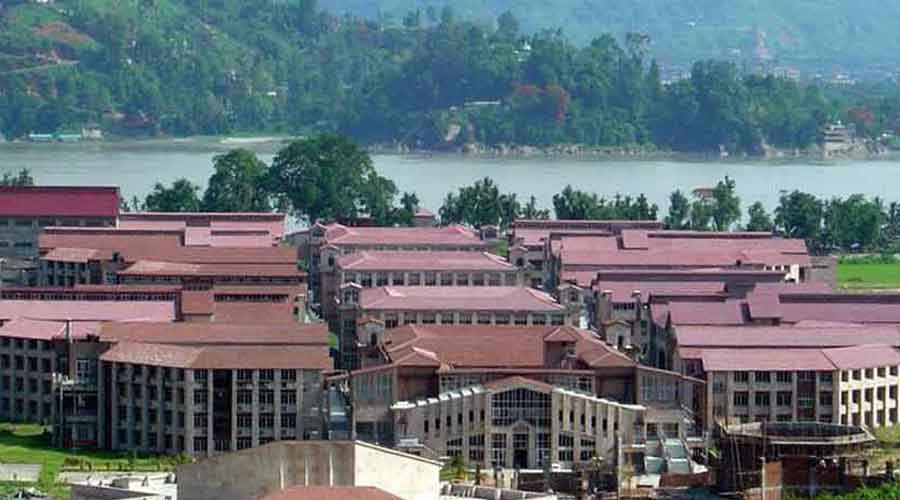 Indian Institute of Technology, Guwahati.
File photo
---
Guwahati
|
Published 23.05.22, 02:18 AM
|
---
The Assam government and IIT Guwahati on Friday signed an MoU to set up the first-of-its kind medical research institution along with an integrated multi-speciality 350-bed hospital to "facilitate" innovation in the medical field.
Assam chief minister Himanta Biswa Sarma said the upcoming institute — Assam Advanced Health Innovation Institute (AAHII) — would mark a "new paradigm" in interdisciplinary medical research and innovations, enhancing India's medical tech industry in the coming years.
The state government has committed Rs 546 crore for the project while the IITG, established in 1994, will contribute the required land and expertise.
Sarma said the signing of the MoU was a "momentous day for Assam" and the collaboration is a "first-of-its-kind" between a state government and an academic institution.
"While our medical colleges primarily focus on clinical aspect, the new institute will focus on tech and research to facilitate innovation in medical field. We shall be supporting IIT Guwahati with a financial grant of Rs 546 crore and would also extend other support for a period of seven years in the first phase. This is for the first time that a state government has come forward to support a centrally funded technical institute in medical research and innovation," Sarma said.
The scope of this unique partnership between the IITG and Dispur involves establishing a research institute and post-graduate medical college offering advanced medical degrees (DNB, MD, PhD, MS and MD-PhD) and 350-bedded 'connected' multi-speciality hospital spread over 50,000sq metre at the IIT campus, an official statement said.
The joint venture will also invite participation from corporates/ business houses/research institutions and philanthropic organisations.
An IIT official said the upcoming institute is expected to start functioning from December 2022 or July 2023.
The signing of the MoU for the proposed research institute followed the inauguration of the three-day North East Research Conclave (NERC) 2022, jointly organised by the IIT G, the science, technology, and climate change department and the Assam education department at the IIT Guwahati campus. The conclave is aimed at creating an environment that promotes and encourages research in science and technology.
The conclave is hosting around 5,000 eminent personalities from all over the country and from various sectors such as industry, academia, start-ups, research councils, PSUs, laboratories, technical institutes including schools and colleges.
Union education minister Dharmendra Pradhan inaugurated the event in presence of Sarma, Union ministers Sarbananda Sonowal, Rajkumar Ranjan Singh, Rameswar Teli and IIT G director T.G. Sitharam.
Pradhan said: "There is a need for greater synergy among industry, academia and policymakers for solving the problem of the country and meeting the needs of the poorest of the poor. The NERC gives a platform for all strata of stakeholders to come together and collaborate. This conclave will help create a strong ecosystem of research and innovation and take it to a scalable stage."
The third edition of Assam Biotech Conclave 2022 is also being held as part of NERC 2022, which offered a unique platform for academia and industry to showcase their expertise, products, and technology innovations. The conclave is expected to benefit all stakeholders in terms of setting up long-term collaboration for research and development innovations towards the goal of establishing R&D innovation-based sustainable northeast.
Sarma said research and development were crucial for a fast-developing nation like India. "It is an investment for boosting our capability to make life easier, comfortable and advanced. I am hopeful this conclave will give a unique opportunity for meeting of minds and doing something great for the country," he said.