Assam: Former Congress strongman Gautam Roy finds office locked
A section of BJP members has protested against bringing Roy into the party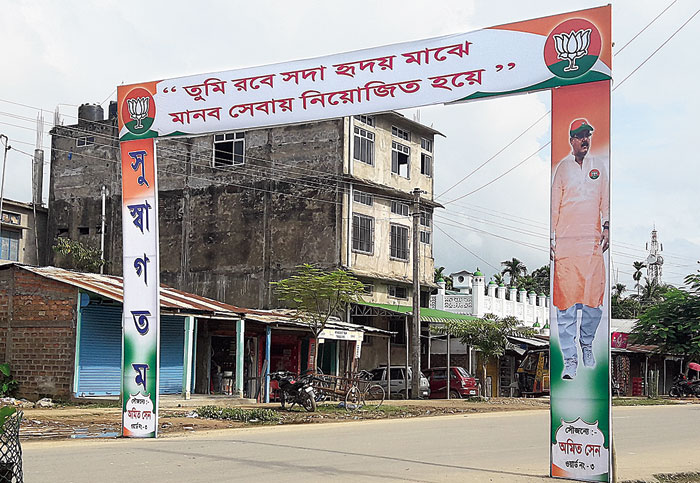 ---
---
There was a lack of fanfare after former Congress strongman Gautam Roy returned to Silchar on Wednesday. He had joined the BJP in Guwahati on Sunday.
Around 50 vehicles carrying his supporters went to receive him at Kumbhirgram airport but there was no welcome surge on the streets.
At the Silchar BJP office, Roy was received by deputy Speaker Aminul Haque Laskar, Silchar MP Rajdeep Roy and Cachar BJP president Kaushik Rai but when he arrived at the BJP office on Ekadash Shahid Sarani in Hailakandi town in the evening, nobody was present to welcome him. It was locked on Wednesday as well.
A large number of BJP members had demonstrated in front of the party office here on Tuesday. They gheraoed state committee officials, including organisational secretary Phanindra Nath Sarma and vice-president Biswarup Bhattacharjee, and demanded the resignation of Hailakandi BJP president Subrata Nath. Later, the office was closed. The members threatened to continue their protest against the inclusion of Roy.
Later, Roy told the media in Silchar that he did not pay heed to the protests by BJP workers here. He reiterated that he joined the BJP to work for the Hindu community and according to him, the BJP is the only party to speak for the Hindus. He said he would continue to work and would not get bothered by criticisms.
Nath said he objected to the inclusion of Roy but added that "it was the party's decision".
Roy visited Satsang Ashram en route to Hailakandi town from Silchar on Wednesday. His vehicle was followed by a convoy of vehicles carrying his supporters.
Roy, a six-time former legislator from Katlicherra Assembly constituency in Hailakandi district, along with former Rajya Sabha member Santiuse Kujur, were inducted in the BJP at its state headquarters on Sunday. Earlier, former Congress Rajya Sabha member Bhubaneswar Kalita also joined the BJP.
Roy was a minister in the Hiteshwar Saikia and Tarun Gogoi cabinets for four times.
Roy, Kujur and Kalita are not the only leaders from the Congress who have joined the BJP. Cabinet minister Himanta Biswa Sarma also came from the Congress.