BJP-led Assam govt's tea wage hike from Rs 167 to Rs 217 disappoints
The workers' representatives were expecting an increase in the gross daily wage to Rs 351, a long-standing demand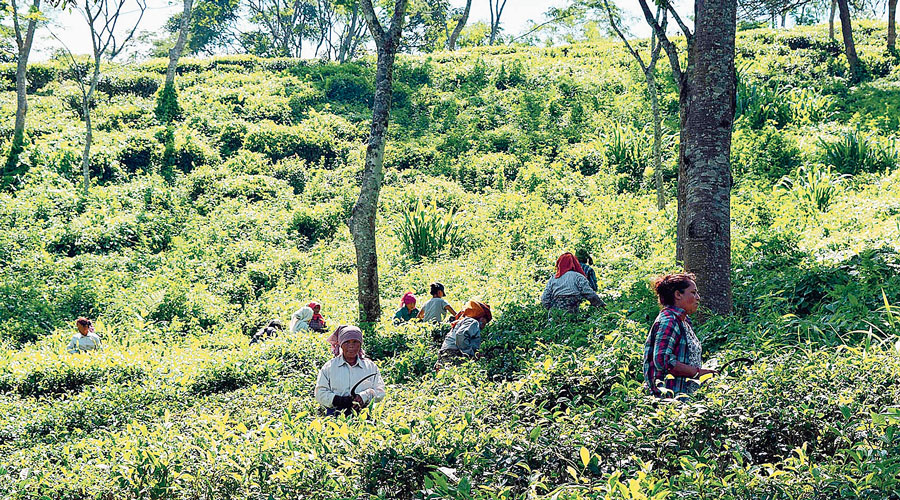 The notification on the tea wage hike is expected next week, sources said
File picture
---
Guwahati
|
Published 21.02.21, 01:32 AM
|
---
The BJP-led Assam government on Saturday hiked the minimum daily wage of tea garden workers from Rs 167 to Rs 217 in the run-up to the Assembly polls, the Rs 50 rise leaving both the representatives of the workers as well as management disappointed.
The workers' representatives were expecting an increase in the gross daily wage to Rs 351, a long-standing demand. The tea wage hike was among the 13 cabinet decisions taken on Saturday. The cabinet has also decided to form a one-man committee under principal secretary J.B. Ekka for equal wage to workers associated with small tea growers. 
Industry minister Chandra Mohan Patowary said after the meeting that the total daily wage has risen by Rs 80 under the BJP-led government and that garden workers will also be given rations worth Rs 101 taking the gross daily wage to Rs 318.
However, Assam Chah Mazdoor Sangha president and Congress leader Paban Singh Ghatowar said the hike is disappointing because the government-appointed committee had recommended a minimum daily wage of Rs 351.
"But we need to wait for the government notification on the hike to know the actual position. We will, however, continue to raise our demand for a daily wage of Rs 351 and better working conditions for those associated with the small tea growers. We also demand that the increased wage be paid from 2018, when the interim relief was announced," Ghatowar said.
The influential ACMS represents tea workers and also participates in discussions related to the daily wage, among others.
The notification on the tea wage hike is expected next week, sources said.
The move has also disappointed the industry representatives. "What we are hearing is that it is an interim relief, which is high. We were expecting a final hike. We will have to wait for the notification," one of them said.  
On February 6, Assam finance minister Himanta Biswa Sarma had announced in the Assembly about hiking the daily wage of tea workers within 10 days but had not specified the amount. Raising the daily wage was also a pre-poll promise of the BJP in 2016.
On February 14, Congress leader Rahul Gandhi, addressing a rally in Sivasagar's Boarding Field, promised to hike the daily wage of tea workers to Rs 365 if his party wins the upcoming polls. "Our brothers from tea gardens, please listen carefully: you get Rs 167 and we will put another Rs 200 minus two in your pockets. Every day you will get Rs 365," he had said.
The Congress was quick to hit out at the government with PCC chief Ripun Bora promising to increase the wage of workers within 30 days of the party coming to power.
Bora tweeted: "Promises measure your intentions & @BJP4Assam has none for welfare of tea workers. Why should wages of tea workers in Assam be less than those in Kerala? @INCAssam will fix difference. Rs 365 daily wage within 30 days of coming to power. #CongressGuarantees."