Assam and Nagaland sign pact, agree to withdraw forces along disputed border
Sources said the police forces of both the states had been locked in an 'eyeball-to-eyeball' confrontation since May-end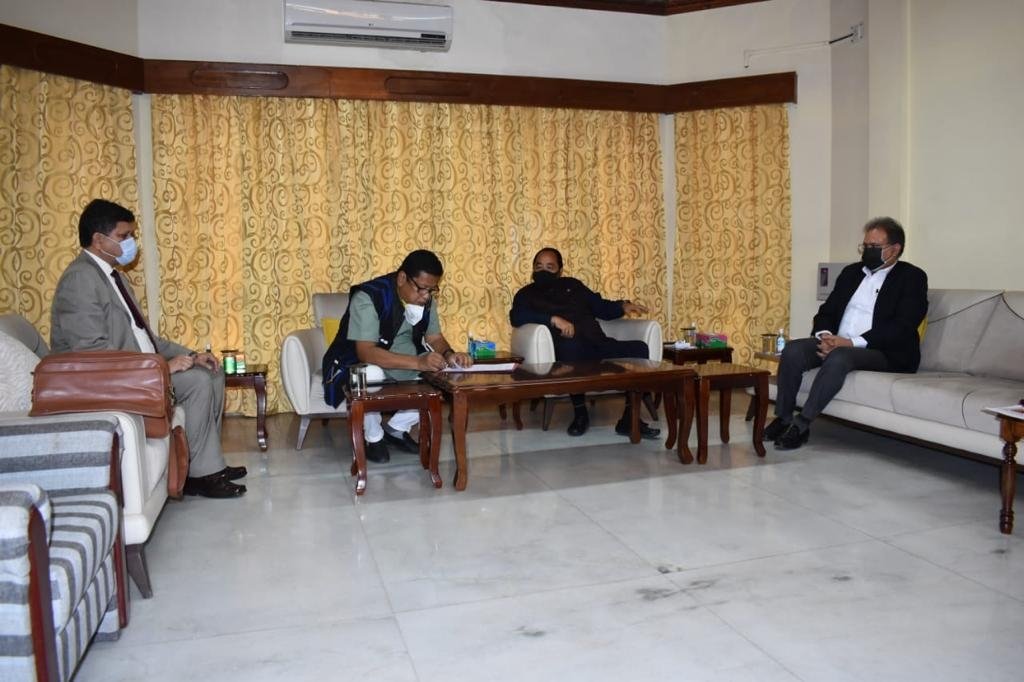 Chief Secretaries of Assam and Nagaland on Saturday signed an agreement to de-escalate tense situation prevailing at two locations in the Dessoi valley forest/Tsurangkong valley.
Twitter/@himantabiswa
---
Guwahati
|
Published 01.08.21, 01:04 AM
|
---
Assam and Nagaland signed a pact on Saturday to withdraw forces and de-escalate tension along their disputed border, a move seen as an attempt to avoid a confrontation between the police of the two states.
A flare-up on the contested border between Assam and Mizoram that led to the death of six policemen on Monday prompted Assam and Nagaland to find ways to ease tensions, sources said.
Assam has border disputes with four of the six states it shares its boundary with — Nagaland, Mizoram, Meghalaya and Arunachal Pradesh. Flare-ups have become frequent of late, affecting life and traffic along the border.
The police forces of Assam and Nagaland had been locked in an "eyeball-to-eyeball" confrontation since May-end, sources said. Under the pact, they will retreat from the disputed area simultaneously.
The minutes of the meeting at which the pact was signed, accessed by The Telegraph, said the agreement was reached to de-escalate tensions in the disputed Dessoi Valley Reserved Forest/ Tsurangkong Valley. Both states claim this area as their own. While Assam calls the area Dessoi Valley, Nagaland identifies it as Tsurangkong Valley.
The agreement was signed by Nagaland chief secretary Jan Alam and his Assam counterpart Jishnu Baruah at the Chumukedima Police House in Nagaland in the presence of Nagaland deputy chief minister Y. Patton and Assam education minister Ranuj Pegu.
The key features of the agreement are:
⚫ As part of steps towards maintaining peace in areas around Ao Senden village and Vikuto village (as known in Nagaland) and Jankhona Nala and Nagajankha and Compartment No. 12 (as known in Assam), both states will withdraw their security personnel "simultaneously" from their present locations to their respective base camps "in the next 24 hours as far as possible".
⚫ The police superintendents of Mokokchung (Nagaland) and Jorhat (Assam) shall ensure orderly withdrawal of the respective forces.
⚫ Both states will carry out surveillance of the area using unmanned aerial vehicles and satellite imagery to maintain status quo.
The Assam-Nagaland border is 512km long. Border disputes started after the state of Nagaland was carved out of Assam in 1963. Assam's Jorhat, Sivasagar, Charaideo, Golaghat and Karbi Anglong districts border Nagaland.
Efforts have been made by the Centre and the states since 1971 to resolve the dispute. Assam moved the Supreme Court in 1988. The apex court has asked the two states to maintain status quo till a final solution is found.
While Assam insists on going by the constitutional boundary decided in 1963, Nagaland wants to go by its "historical boundary" comprising Naga-inhabited areas till 1826, the year the British annexed Assam. The British India government created the Naga Hills district as part of its Assam province in 1866. According to Assam's revenue department, people from Nagaland have encroached on 19,819.62 hectares.
Assam chief minister Himanta Biswa Sarma tweeted on Saturday that a "major breakthrough" had been achieved towards de-escalating tensions at the Assam-Nagaland border.
In a major breakthrough towards de-escalating tensions at Assam-Nagaland border, the two Chief Secretaries have arrived at an understanding to immediately withdraw states' forces from border locations to their respective base camps. 1/2 pic.twitter.com/mFbz1YCnoX

— Himanta Biswa Sarma (@himantabiswa) July 31, 2021
Sarma thanked Nagaland chief minister Neiphiu Rio for the "historic step", adding that Assam was committed to ensuring peace along all its borders.