Artists' plea to maintain aesthetics
Harping on sustainable development, Cyril V.D. Diengdoh said tourism that respects nature should be promoted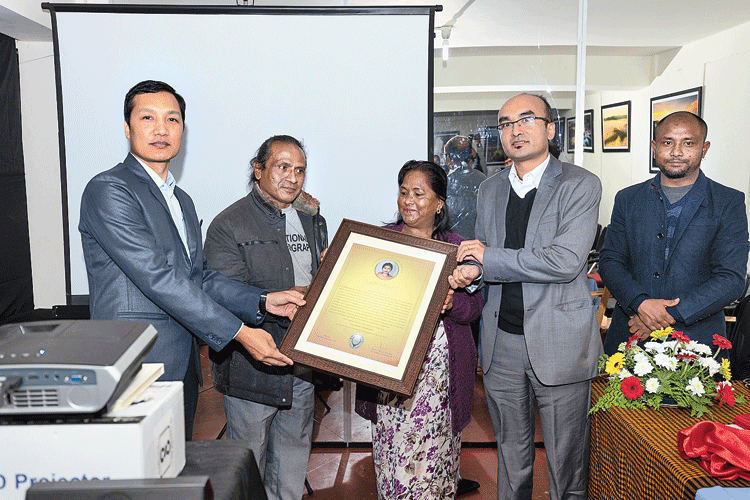 Debraj Debbarma receives the award from tourism director Cyril V.D. Diengdoh
Souyrced by The Telegraph
---
Shillong
|
Published 29.12.19, 08:25 PM
|
---
Visual artists and photographers have expressed disappointment over construction activities in tourist spots, which have spoiled the aesthetics of the spots.
This was spoken of at an award function organised by the Riti Academy of Visual Arts here on Saturday evening.
For this year's Crystal Gayle Memorial Award for excellence in visual arts, Dr Debraj Debbarma, a medical practitioner, was chosen for his work in landscape photography.
Renowned visual artist and academy chairman Rap-hael Warjri lamented the fact that several tourist spots in Meghalaya have seen large-scale human intervention in the form of construction of roads and footpaths, which have only blemished the natural beauty of such places.
Warjri said several natural landscapes are being damaged by the rampant human intervention of artificial structures perpetrated by the authorities on the pretext of providing comfort and convenience to visitors.
He urged the state government to preserve the pristine conditions of nature and suggested that structures could be erected with aesthetic consideration to suit the surrounding environment.
Debbarma, while stating that photographs have the potential to boost tourism, pleaded for the preservation of beautiful landscapes. "Please do not spoil them," he said.
He asked the government to sustain the immaculate conditions of various landscapes throughout the state.
He said some of his works were rejected at certain international platforms due to the haphazard artificial elements that disrupted the natural landscapes.
The medical practitioner had earlier received accolades from institutions like indiaphotographyawards.in, NiSi filters India, DJ Memorial and others. His pictures were also published in reputed journals, including Smart Photography.
Debbarma has also ventured into aerial photography and astrophotography.
One of his most significant inventions is custom-made footwear that he designed specifically for the perilous monsoon terrains of Meghalaya.
Meghalaya tourism director Cyril V.D. Diengdoh, who gave away the award, lauded the role played by visual artists and photographers in boosting tourism.
Harping on sustainable development, he said tourism that respects nature should be promoted.
Diengdoh said there was a need to keep guides in various tourist spots to ensure that tourists experience the best of Meghalaya tourism.
"We want tourists to come, but how do we regulate them? We should have guided tours where tourists would need to trek to gain the best experience," he added.
He said while human intervention in tourist spots was required, the safety of tourists was also paramount.